TØNSBERG, MHI's Massive RO/RO Vessel, Awarded "Ship of the Year 2011":
High Transport Efficiency and Environmental Compatibility Recognized
Tokyo, June 12, 2012 - TØNSBERG, the world's largest roll-on/roll-off (RO/RO) ship*, built by Mitsubishi Heavy Industries, Ltd. (MHI), has been awarded the "Ship of the Year 2011" by the Japan Society of Naval Architects and Ocean Engineers (JASNAOE). Every year JASNAOE selects what it considers to be the most technologically, artistically and socially superior ships and marine structures built that year, and the TØNSBERG was chosen for its highly evaluated transport efficiency and environmental compatibility. The award ceremony is slated to take place on July 25.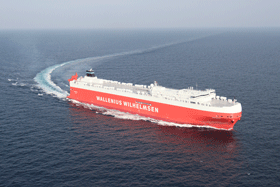 The TØNSBERG is the first in a series of four ships ordered by the Wilh. Wilhelmsen group and Wallenius group: the former a Norway-based group of maritime industrial firms having global scope, and the latter a Swedish shipping group. The ship was completed in March 2011 at MHI's Nagasaki Shipyard & Machinery Works and delivered to the Wilh. Wilhelmsen group. The 74,622 gross tonnage ship measures 265 meters (m) in length overall (LOA), 32.26m in breadth and 33.22m in height (ship bottom to upper deck).

The TØNSBERG features capability to transport high and heavy (H&H) cargo such as large-size construction machinery and machine tools, plant components, railway cars and pleasure boats. To enable flexible loading of such cargo, three of the ship's nine decks are electrically hoistable. To reduce environmental burdens and save energy, the ship is equipped with a ballast water treatment system, waste heat recovery system, electronically controlled engine, etc.

The Ship of the Year awards were established in 1990, hosted by JASNAOE and sponsored by the Japanese Ministry of Land, Infrastructure, Transport and Tourism, to promote construction of superior ships and marine structures and induce greater sea-mindedness among the general public. Award contenders apply in one of six categories: large passenger ships; small passenger ships; large cargo ships; small cargo ships; fishing and work vessels; and special vessels, marine structures and marine equipment. Earlier, MHI received JASNAOE's first "Ship of the Year" for the CRYSTAL HARMONY (present name: ASUKA II), the cruise ship built in 1990. The award given to the TØNSBERG marks the 6th won by MHI from JASNAOE.

Taking renewed encouragement from this latest award, MHI will now make further efforts in the development and construction of high value-added vessels demonstrating strong international competitiveness in many aspects, including energy savings and environmental compatibility. At the same time, the company will also expand its shipbuilding and ocean development activities by strengthening its engineering business in providing related technologies to other companies in Japan and other countries.

*Note: A roll-on/roll-off ship is a vessel designed to carry wheeled cargo such as automobiles, truck trailers, etc. that permits direct driving of such vehicles on and off the ship on their own wheels. This feature enables swift loading of such cargo even at ports not equipped with cranes and other conventional hoisting devices. RO/RO ships today constitute the mainstream of Japan's cargo transport fleet.
---
About MHI Group
Mitsubishi Heavy Industries (MHI) Group is one of the world's leading industrial groups, spanning energy, smart infrastructure, industrial machinery, aerospace and defense. MHI Group combines cutting-edge technology with deep experience to deliver innovative, integrated solutions that help to realize a carbon neutral world, improve the quality of life and ensure a safer world. For more information, please visit www.mhi.com or follow our insights and stories on spectra.mhi.com.