MHI to Restructure Forklift Truck Production
-- Production to be Transferred to Overseas, Consigned to Nichiyu --
Tokyo, June 7, 2012 - Mitsubishi Heavy Industries, Ltd. (MHI) today announced its intention to restructure the company's forklift truck production. Under the restructuring plan, the manufacture of small- and medium-sized forklift trucks currently undertaken at the General Machinery & Special Vehicles Sagamihara Machinery Works in Kanagawa, Japan, will be terminated. Production of small-sized forklift trucks for exportation and medium-sized model will be transferred to the company's overseas manufacturing bases. To meet the needs of small-sized models in the domestic market, the company will enter discussions on consigning production to Nippon Yusoki Co., Ltd. (Nichiyu), with which MHI has capital ties. Through these initiatives, MHI aims to evade currency risks and realize a globally optimized production structure in a quest to enhance its revenue base.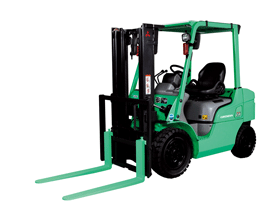 The restructuring plan calls for the transfer of production of small-sized engine-powered forklift trucks for export now manufactured at Sagamihara to Mitsubishi Heavy Industries Forklift (Dalian) Co., Ltd. (MFD) in Dalian, China, and of medium-sized engine-powered forklift trucks for the global market to Mitsubishi Caterpillar Forklift America, Inc. (MCFA) in Houston, Texas. The production of small-sized engine-powered forklift trucks for the domestic market is planned to be consigned to Nichiyu. Even after this restructuring, the Sagamihara Machinery Works will continue to manage and oversee all activities related to the company's forklift truck business.

The production transfers and consignment are slated to begin this autumn and will be carried out sequentially. Sagamihara is scheduled to end production of the vehicles for forklift trucks at the end of December 2013 and of parts by the end of June 2014.

MFD, a forklift truck manufacturing subsidiary established in China in 2008, currently produces advanced small-sized models. MCFA, a forklift truck business company jointly established in the U.S. by MHI, Caterpillar Inc. and Mitsubishi Corporation, is engaged in the manufacture, sales and servicing of both engine- and electric-powered models.

This spring MHI and Mitsubishi Caterpillar Forklift Europe B.V. (MCFE) jointly announced its intention to transfer forklift truck production at MCFE in the Netherlands to other production bases, including Rocla Oy in Finland, in which MCFE has a 100% equity stake. The restructuring plan for forklift truck production in Europe will be carried out after discussions with the parties concerned.

Going forward MHI will target continuous expansion of its share in the global forklift truck market through a structure enabling swift response to customer needs worldwide.
---