Indonesia's Largest and Most Efficient Coal-fired Power Plant Inauguration
-- Supercritical Pressure Plant for Paiton Thermal Power Station --
Tokyo, June 5, 2012 - Delivery was completed of an 815 MW (megawatt) supercritical pressure coal-fired power generation plant to PT Paiton Energy, an independent power producer (IPP) in Indonesia. Mitsubishi Heavy Industries, Ltd. (MHI) and other companies had received the orders to construct the plant as part of a project, under way by Paiton Energy, to expand the Paiton Thermal Power Station. The delivered plant becomes Indonesia's first supercritical pressure coal-fired facility as well as the country's largest and most efficient coal- fired power plant. The power generated at the plant will be sold to PT PLN (Persero), Indonesia's state-owned power utility, for a period of 30 years based on a long-term power purchase agreement (PPA), to meet the country's rapidly increasing demand for electricity.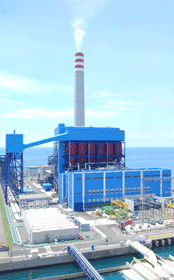 The inauguration ceremony of the plant took place today at the plant site. The ceremony was attended by Jero Wacik, Energy and Mineral Resources Minister of Indonesia; Shigeru Ushio, Minister, Embassy of Japan in Indonesia; Low Kian Min, President of Paiton Energy; and by many people concerned, including Koji Hiramoto, Deputy Head of Power Systems, MHI.

The project to expand the existing 1,220 MW Paiton Power Station, which Paiton Energy has been operating since 1999, began in 2008. The new 815 MW power plant was constructed at a site adjacent to two existing coal-fired power plants (units 7 and 8) within the Paiton complex, which is located some 150 kilometers southeast of Surabaya, the provincial capital of East Java. The new plant mainly consists of a steam turbine and supercritical pressure boiler. MHI manufactured and supplied the steam turbine and boiler, while installation and construction work was undertaken jointly by TOA Corporation and Mitsui & Co., Ltd. of Japan.

PT Paiton Energy is an IPP established in Indonesia in 1995. Equity is owned by Mitsui & Co., Ltd.; International Power of the UK; The Tokyo Electric Power Company, Incorporated (TEPCO); and PT Batu Hitam Perkasa of Indonesia.

Supercritical pressure coal-fired power generation provides higher generation efficiency than subcritical pressure generation and is capable of reducing coal consumption relative to power output, which results in lower carbon dioxide (CO2) emissions. Going forward MHI will continue to conduct aggressive marketing activities for high-efficiency and environmentally friendly supercritical and ultra-supercritical pressure power generation systems in Japan and abroad.
---
About MHI Group
Mitsubishi Heavy Industries (MHI) Group is one of the world's leading industrial groups, spanning energy, smart infrastructure, industrial machinery, aerospace and defense. MHI Group combines cutting-edge technology with deep experience to deliver innovative, integrated solutions that help to realize a carbon neutral world, improve the quality of life and ensure a safer world. For more information, please visit www.mhi.com or follow our insights and stories on spectra.mhi.com.