MHI and Imabari Shipbuilding Agree on Collaboration
In Container Carrier Technology, to Lead Market
Through Synergy of Development Capabilities and Cost Competitiveness
Tokyo, May 28, 2012 - Mitsubishi Heavy Industries, Ltd. (MHI) and Imabari Shipbuilding Co., Ltd. have signed a technological collaboration agreement on container carriers. The initiative aims to combine MHI's technological capabilities, as in the development of energy-saving vessels, and Imabari's strong cost competitiveness, in order to establish an advantageous framework for competing in the international shipbuilding market. By effectively utilizing the shipyards of both companies, together MHI and Imabari will become capable of flexibly accommodating bulk orders - e.g. construction of multiple ships of the same design - thus strengthening and expanding their respective business for high-value-added container carriers.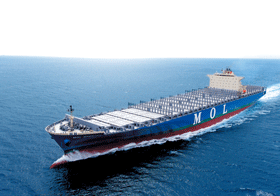 The three-year collaboration agreement, which can be extended upon discussion, encompasses all container carriers, without setting limitations on container carrying capacity or propulsion systems. Going forward, for business opportunities relating to container carrier construction, the two companies will exhaustively consider the appropriate ship type, propulsion system and other technological features to match the shipowner's needs, and propose the optimum solution.

Given the current trend toward adoption of international marine transportation rules for reducing environmental burdens, coupled with continuing fuel price escalation, demand by shipowners for more energy-saving vessels is increasing significantly. In particular, many large container carriers are now powered by marine diesel engines using heavy oil fuel, which emits much more carbon dioxide (CO2) than other fuel types. In response MHI has developed various differentiating technologies to meet the needs of customers. These include technology enabling use of liquefied natural gas (LNG), which is more environment-friendly, as fuel for a ship's propulsion system and the Mitsubishi Air Lubrication System (MALS). MALS is MHI's proprietary technology that reduces frictional resistance between a vessel hull and seawater using air bubbles produced at the vessel bottom, thus achieving reductions in energy usage and carbon dioxide (CO2) emissions.

MHI is recognized as a pioneer in Japan's container carrier construction industry, completing the Hakone-maru, the first Japanese-built container ship, for Nippon Yusen Kabushiki Kaisha (NYK Line) in 1968. To date MHI has built 147 container carriers in total (including vessels currently under construction). Imabari Shipbuilding is Japan's largest shipbuilder, both in newbuilding tonnage and shipbuilding sales. The company is one of only a few dedicated shipbuilding companies capable of constructing large-size container carriers.

MHI has adopted a long-term strategy for its shipbuilding and ocean development business to focus on high-value-added vessels and to strengthen its engineering operations by providing proprietary technologies to other companies both in Japan and abroad. Imabari has been seeking to obtain advanced ship-related technologies, including energy-saving features. The intentions of the two companies thus meshed and led to the conclusion of the collaboration agreement.

Going forward, the two companies will further strengthen their active exploration for demand in the new shipbuilding market, which has long suffered from sluggish demand, by proactively conducting a variety of proposal-type business development activities.
---
About MHI Group
Mitsubishi Heavy Industries (MHI) Group is one of the world's leading industrial groups, spanning energy, smart infrastructure, industrial machinery, aerospace and defense. MHI Group combines cutting-edge technology with deep experience to deliver innovative, integrated solutions that help to realize a carbon neutral world, improve the quality of life and ensure a safer world. For more information, please visit www.mhi.com or follow our insights and stories on spectra.mhi.com.