New Director for MHI's Mitsubishi Minatomirai Industrial Museum
-- Visitors in Fiscal Year 2011 Pass 160,000 Mark --
Tokyo, March 30, 2012 - Effective April 1, the Mitsubishi Minatomirai Industrial Museum will be headed by a new director: Hiroshi Yanagi. Yanagi is currently on the staff of the Corporate Communication Department in the Presidential Administration Office of Mitsubishi Heavy Industries, Ltd. (MHI).

Yanagi joined MHI in April 1993. After working in the General Affairs and Material Departments of the Sagamihara Machinery Works and Planning & Accounting Department at General Machinery & Special Vehicles Headquarters, he was assigned in July 2004 to the Corporate Communication Department, where his duties included participation in long-term planning for the museum.

The Mitsubishi Minatomirai Industrial Museum was opened in Yokohama in June 1994 with the aim of promoting exchanges with the local community and raising public awareness of science and technology. The museum is divided into six zones: Transportation, Daily Life Discovery, Environment/Energy, Aerospace, Ocean and Technology Quest. Each zone introduces state-of-the-art MHI technology and products through models, descriptive panels and displays of actual machines. Explanations of all exhibits are provided in both Japanese and English.

In February, the museum opened two revamped exhibition areas: the Transportation zone and the Daily Life Discovery zone. Both zones introduce visitors to different aspects of the exciting potential offered by tomorrow's "smart communities" - social units that integrate a broad palette of optimized systems, including those for achieving a stable balance between power generation and supply, those for transportation management and those for enhancing lifestyles. The exhibits dealing with generating, storing and using electricity wisely offer an enjoyable game-like experience that invites easy understanding. Children who came to realize the importance of electricity after the Great East Japan Earthquake have been particularly drawn to these exhibits, which are designed to inform and entertain adults as well.

On March 17, the total number of visitors to the museum during the current fiscal year (April 2011-March 2012) surpassed 160,000. This marked the first time in its history that the museum had exceeded this number in a single fiscal year. The revamped exhibitions, together with the staff's efforts to encourage repeat visitors and boost public awareness of the museum, have succeeded in producing a steady rise in attendance.

Under its new director, Hiroshi Yanagi, the museum intends to further enhance its exhibits and deepen its ties with the local community.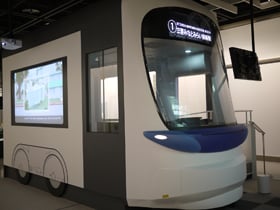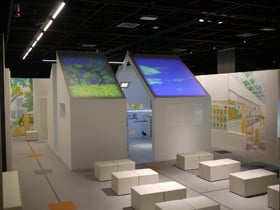 [Pittari Tram]                                                            [Pittari Home]
Outline of Mitsubishi Minatomirai Industrial Museum
Location: Mitsubishijuko Yokohama Building, 3-1, Minatomirai 3-chome, Nishi-ku, Yokohama-shi, 220-8401
Telephone: +81-45-200-7351
Fax: +81-45-200-9902
Website: https://www.mhi.com/expertise/museum/minatomirai/

Access: 3-minute walk from Minatomirai Station on the Minatomirai Line 8-minute walk from Sakuragicho Station on the JR Negishi Line or Yokohama Subway Line
Open hours: From 10:00 a.m. to 5:00 p.m. (admission until 4:30 p.m.) 
Closed Days: Every Monday (following day if Monday is a national holiday)
Specially designated closed days and year-end/new-year holidays.
Admission Fee: 300 yen for adults, 200 yen for junior and senior high school students, 100 yen for elementary school students, 100 yen discount per person for groups of 10 or more people
Admission is free for elementary school, junior and senior high school and university field trip visits, provided a reservation is made at least a day in advance of the visit.
Business contact:Mitsubishi Minatomirai Industrial Museum
---
About MHI Group
Mitsubishi Heavy Industries (MHI) Group is one of the world's leading industrial groups, spanning energy, smart infrastructure, industrial machinery, aerospace and defense. MHI Group combines cutting-edge technology with deep experience to deliver innovative, integrated solutions that help to realize a carbon neutral world, improve the quality of life and ensure a safer world. For more information, please visit www.mhi.com or follow our insights and stories on spectra.mhi.com.