MCO Receives Order for 9 Compressors
For Ichthys LNG Project in Australia
-- Securing Role in Large-scale LNG Project Led by Japanese Company --
Tokyo, March 26, 2012 - Mitsubishi Heavy Industries Compressor Corporation (MCO), a wholly owned subsidiary of Mitsubishi Heavy Industries, Ltd. (MHI), has received an order for nine compressors and seven motors to drive compressors for the Ichthys LNG Project. The equipment on order, which gives MCO a key role in the first large-scale LNG development project led by a Japanese company, will be sequentially delivered beginning in August 2013.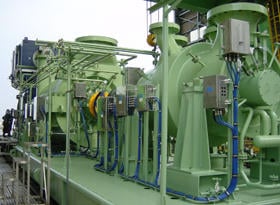 MCO received the compressor order from JKC Ichthys LNG Joint Venture (JKC JV), a joint venture formed by JGC Corporation (JGC), KBR, Inc. (KBR) and Chiyoda Corporation (Chiyoda), which has contracted the engineering, procurement and construction (EPC) of the land-based LNG plant facility for the project. Daiichi Jitsugyo Co., Ltd. will handle the trade particulars.

The Ichthys LNG Project is a joint venture between INPEX (76%, the operator) and Total (24%). Gas from the Ichthys Field, in the Browse Basin approximately 200 kilometers offshore of Western Australia, will undergo preliminary processing offshore to remove water and extract condensate*. The gas will then be exported to onshore processing facilities in Darwin via an 889km subsea pipeline. The Ichthys LNG Project is expected to produce 8.4 million tonnes of LNG and 1.6 million tonnes of LPG per annum, along with approximately 100,000 barrels of condensate per day at peak. The total cost of the project is US$34 billion.

The compressors to be supplied by MCO will support processes to produce LNG from natural gas and at the same time play a role in reusing the vaporized gas in LNG/LPG tanks as fuel gas.

The project's annual LNG production volume is equivalent to more than 10% of Japan's annual LNG import amount. As approximately 70% of the LNG produced through the Ichthys LNG Project is slated for export to Japan, the project has significant meaning for Japan in terms of long-term stability in energy supply and diversification of the country's energy sources.

Both INPEX and Total engage in the development and production of crude oil and natural gas. INPEX is Japan's largest oil and gas exploration and production (E&P) company and Total is one of six international oil supermajors. JGC, KBR and Chiyoda are major engineering companies in Japan and the U.S., and they all enjoy a high reputation globally in the LNG plant field.

MCO has delivered numerous LNG production facility-use compressors to JGC and Chiyoda and also has experience in many projects in Australia. Most recently, the company received an order in January this year for compressors to be used at the world's first floating LNG production, storage and offloading facility (FLNG), which Shell will operate at a field located off Australia's northwest coast.

Going forward MCO will aggressively strengthen its marketing activities in the areas of gas and energy - areas expected to undergo robust growth - and in the petrochemical field, an area in which it enjoys great strength, targeting further business expansion globally.

Note:Condensate is a kind of crude oil (light hydrocarbon liquid) produced from natural gas field. It exists in the gaseous state in the underground gas fields and becomes liquid at the surface. Gas condensates are used as feedstock of petrochemical products.
---
About MHI Group
Mitsubishi Heavy Industries (MHI) Group is one of the world's leading industrial groups, spanning energy, smart infrastructure, industrial machinery, aerospace and defense. MHI Group combines cutting-edge technology with deep experience to deliver innovative, integrated solutions that help to realize a carbon neutral world, improve the quality of life and ensure a safer world. For more information, please visit www.mhi.com or follow our insights and stories on spectra.mhi.com.