MHI Receives Order for 3 M501GAC Gas Turbines and 1 Steam Turbine
Along with Long-term Service Agreement
From Virginia Electric and Power Company of the United States
Tokyo, March 20, 2012 - Mitsubishi Heavy Industries, Ltd. (MHI), through its wholly owned subsidiary in the U.S., Mitsubishi Power Systems Americas, Inc. (MPSA), has received an order from Virginia Electric and Power Company (VEPCO) with headquarters in Richmond, Virginia, in the U.S. to supply three M501GAC gas turbines and one steam turbine to be installed at VEPCO's Brunswick County Power Station some 60 miles south of Richmond, Virginia. The three gas turbines will be partially manufactured and fully assembled at MPSA's Savannah Machinery Works (Savannah, Georgia) for scheduled plant completion in the summer of 2016. The new gas turbine combined cycle (GTCC) power plant will have more than 1,300 megawatts (MW) of generation capacity and reflects Mitsubishi's innovative energy technology. The Brunswick County Power Station would produce enough electricity to power more than 325,000 homes in the U.S.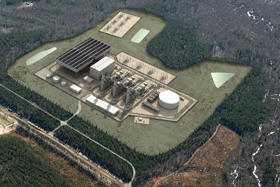 The gas and steam turbines have been ordered through Mitsubishi Power Systems Americas, Inc. (MPSA), the business base for MHI's power system operations in the U.S. Under a separate long-term service agreement, MPSA will provide comprehensive turbine maintenance, repair and outage services, replacement parts supply and dedicated remote monitoring for the gas turbines.

The Brunswick County Power Station is the second supply contract between VEPCO and MHI's subsidiary, MPSA, within the last two years. The first supply contract was for the Warren County Power Station, which was awarded to MPSA in 2010.

The M501GAC is one of the most efficient and large-capacity - 60 Hz (hertz) - gas turbines in the world. To date, MHI and MPSA have received orders for over 75 units of M501G worldwide, including more than 35 units in the North America.

GTCC power stations use gas and steam turbines in combination to generate electricity in two stages, utilizing high-temperature exhaust gas from the gas turbine to produce the steam to drive the steam turbine. This configuration enables GTCC power plants to achieve a higher thermal efficiency, which in turn reduces fuel consumption and lower emissions.

VEPCO, a subsidiary of Dominion Resources, Inc., is a public utility that provides services in electricity generation, transmission and distribution. Dominion is one of the nation's largest producers and transporters of energy, with a portfolio of approximately 28,000 megawatts of generation, 11,000 miles of natural gas transmission, gathering and storage pipeline and 6,300 miles of electric transmission lines. Dominion operates the nation's largest natural gas storage system with 947 billion cubic feet of storage capacity and serves retail energy customers in 15 states. For more information about Dominion, visit the company's website at www.dom.com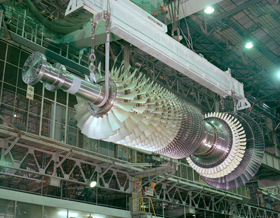 [Mitsubishi G-Series Gas Turbine]
 Products Page
---
About MHI Group
Mitsubishi Heavy Industries (MHI) Group is one of the world's leading industrial groups, spanning energy, smart infrastructure, industrial machinery, aerospace and defense. MHI Group combines cutting-edge technology with deep experience to deliver innovative, integrated solutions that help to realize a carbon neutral world, improve the quality of life and ensure a safer world. For more information, please visit www.mhi.com or follow our insights and stories on spectra.mhi.com.