Tokyo, March 14, 2012 - Mitsubishi Heavy Industries Compressor Corporation (MCO), a wholly-owned subsidiary of Mitsubishi Heavy Industries, Ltd. (MHI), has received an order for six compressor packages to be installed on a floating production, storage & offloading system (FPSO), which Tupi BV plans to operate in the area of BM-S-11 at Brazil's coast. The compressor packages are the core unit of equipment to export natural gas extracted from oil fields.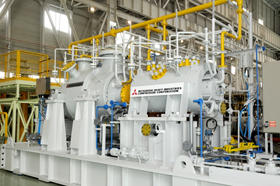 MCO received the order from MODEC Offshore Production System (Singapore) Pte Ltd., a subsidiary of MODEC Inc., MCO will be responsible for the design, procurement, manufacture and yard test of the compressor packages.

The FPSO, with compressor package on board, is slated to arrive at Cernambi South area, approximately 300 kilometers south of Rio de Janeiro, 3Q of 2014. The FPSO will have a capacity to produce 150,000 barrels (approximately 24,000 cubic meters) of crude oil and 280 million standard cubic feet (approximately 8,000,000 cubic meters) of gas per day.

Previously, MCO delivered compressors in 2011 for a FPSO, which Petrobras is deploying for use at Sapinhoá field. MCO believes its design, manufacturing and engineering capability, including engineering services for various gas compression systems, contributed to the awarding of this order.

In Brazil, MCO has a good track record in equipment delivery, including that of compressors for pipelines, and recently it received an order of propane refrigerant compressors for gas processing plants. With added momentum through the latest order for compressor packages from MODEC, a leader in FPSO construction, MCO will further accelerate its global marketing activities for compressors in the resources and energy fields.
---
About MHI Group
Mitsubishi Heavy Industries (MHI) Group is one of the world's leading industrial groups, spanning energy, smart infrastructure, industrial machinery, aerospace and defense. MHI Group combines cutting-edge technology with deep experience to deliver innovative, integrated solutions that help to realize a carbon neutral world, improve the quality of life and ensure a safer world. For more information, please visit www.mhi.com or follow our insights and stories on spectra.mhi.com.