MHI Signs Joint-Development Agreement with Sinopacific Shipbuilding of China
To Provide Technological Support in Commercial Vessel Construction
-- Joint Development of 82,000 DWT Class Bulk Carrier Planned --
Tokyo, March 12, 2012 - Mitsubishi Heavy Industries, Ltd. (MHI) today signed a joint-development agreement with Sinopacific Shipbuilding Group Co., Ltd. of China under which MHI will provide technological support to Sinopacific in the area of commercial vessel construction. MHI is currently promoting expansion of its engineering business mainly through licensing of technology, while Sinopacific is taking steps to strengthen its shipbuilding business through introduction of technologies from advanced shipbuilders. The respective aims of the two companies thus meshed in concluding the agreement. As their first collaborative work, the two firms will jointly develop an 82,000 deadweight ton (DWT) class bulk carrier.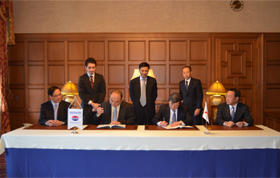 Under the agreement, MHI will provide the conceptual design, including hull shape, for a new ship to be developed by Sinopacific. The initial period of the agreement is five years, with an option to extend. The agreement was signed in Tokyo by Hisashi Hara, Representative Director (Member of the Board), Executive Vice President and Head of the Shipbuilding & Ocean Development business segment at MHI, and Simon Liang, Chairman and Chief Executive Officer (CEO) of Sinopacific.

The bulk carrier to be developed will be the flagship model in Sinopacific's "CROWN" series, the company's bulk carrier brand name. The development program will aim to exceed international standards in carrying efficiency, environmental protection, operability and controllability. MHI will support Sinopacific in optimizing the ship's design through provision of related technologies. The ship will be built at Yangzhou Dayang Shipbuilding Co., Ltd., a Sinopacific group company, with development slated for completion in 2013.

Sinopacific is headquartered in Shanghai and has eight subsidiaries in Yangzhou, Ningbo and Hong Kong that handle ship construction, auxiliary equipment manufacture, design and marketing. The group's product lineup includes bulk carriers, container ships, small-size gas carriers and offshore support vessels. The group has eagerly sought to establish a broad range of collaborative relationships with foreign shipbuilders possessing advanced technologies in a quest to enhance its international competitiveness.

MHI is now promoting engineering business as the growth strategy for its Shipbuilding & Ocean Development business sector. The Joint-Development Agreement with Sinopacific will be MHI's third in the area of shipbuilding, coming on the heels of similar agreements reached with Oshima Shipbuilding Co., Ltd. and L&T Shipbuilding Limited last year. Gaining momentum from the latest agreement, going forward MHI will further strengthen its engineering business activities targeting shipbuilders and explore new business opportunities.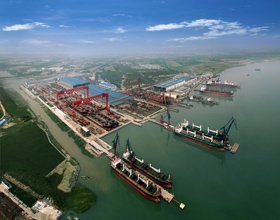 [Yangzhou Dayang Shipbuilding, a Sinopacific Shipbuilding group company]
---
About MHI Group
Mitsubishi Heavy Industries (MHI) Group is one of the world's leading industrial groups, spanning energy, smart infrastructure, industrial machinery, aerospace and defense. MHI Group combines cutting-edge technology with deep experience to deliver innovative, integrated solutions that help to realize a carbon neutral world, improve the quality of life and ensure a safer world. For more information, please visit www.mhi.com or follow our insights and stories on spectra.mhi.com.