MCO Receives Compressor and Power Generation System Order
For World's First Floating Liquefied Natural Gas Facility
-Shell Project in Australia-
Tokyo, January 11, 2012 - Mitsubishi Heavy Industries Compressor Corporation (MCO), a wholly owned subsidiary of Mitsubishi Heavy Industries, Ltd. (MHI), has received orders for three compressor trains and a power generation system to be used at the world's first floating liquefied natural gas production, storage and offloading facility (FLNG). Shell will deploy the FLNG facility to the Prelude field located off the northwest coast of Australia.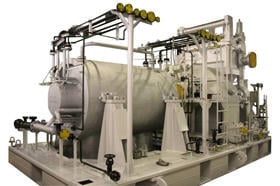 The three compressor trains on order are used for gas recovery from gas wells and for the transmission and compression of gas in the gas treatment and for stabilization. The power generation system consists of three 40 megawatt (MW) steam turbine power generation units. MCO, with cooperation from Mitsubishi Corporation, received the orders for the compressors and power generation system from Technip France, part of the Technip Samsung Consortium which Shell has tasked to engineer, procure, construct and install the Prelude FLNG facility.

The 488 meter (m) long, 74m wide FLNG facility forms the core of Shell's Prelude Floating Liquefied Natural Gas Project. The FLNG facility - the world's largest offshore floating facility - will be moored at a site approximately 200 kilometers offshore from the coast of Western Australia.

Conventionally, LNG has been produced from large-scale gas fields on land or near shore and production has been handled by a gas liquefaction facility on land. However, development of large-scale offshore gas fields, at great distance from land, has been an industry challenge. FLNG is a breakthrough innovation that will allow the production, liquefaction, storage and transfer of LNG at sea, helping to open up offshore natural gas fields that are currently too costly or difficult to develop.

Shell's facility, which is expected to be the world's first FLNG to go on-stream, will use mechanical drive steam turbines. Compared with gas turbines, which are generally used in conventional land LNG facilities, steam turbines permit continuous long term operation as well as easier maintenance performed at extended intervals between regular inspections, thereby contributing to higher productivity. They also are able to respond flexibly to fluctuations in production volume. MCO is the world's leading manufacturer of mechanical drive steam turbines. The company believes its compressors' recognized advantages, combined with its track record in deliveries, led to its winning of the latest order.

Last May MCO concluded an Enterprise Framework Agreement with Shell relating to the supply of main compressors for use at LNG plants, and the company now looks to progressively build up a stable, long-term relationship with Shell as a strategic supplier. Upon receiving the order for the FLNG installations, MCO began enhancing its production facilities, ordering needed new equipment last October.

Going forward MCO will aggressively strengthen its global business activities further by focusing on attracting steady orders especially in the resources and energy field, an area projected to mark solid growth in the years ahead.
---
About MHI Group
Mitsubishi Heavy Industries (MHI) Group is one of the world's leading industrial groups, spanning energy, smart infrastructure, industrial machinery, aerospace and defense. MHI Group combines cutting-edge technology with deep experience to deliver innovative, integrated solutions that help to realize a carbon neutral world, improve the quality of life and ensure a safer world. For more information, please visit www.mhi.com or follow our insights and stories on spectra.mhi.com.