MHI's Wind Power Generation Business Gets Underway in Bulgaria
-- Project to Contribute to Japan's Acquisition of Emission Credits --
Tokyo, August 8, 2008 - Mitsubishi Heavy Industries, Ltd. (MHI) has commenced business in generating electric power by wind turbines in Bulgaria, and selling it locally, through Kaliakra Wind Power AD (KWP), a joint venture established locally with the Bulgarian engineering firm inos Ltd. The wind farm, Bulgaria's first, has already been built by KWP and is now in operation. All electricity produced will be sold to Natsionalna Elektricheska Kompania EAD (NEK), Bulgaria's state-owned electricity utility.
The Kaliakra wind power generation and sales project has been planned as a Japanese-Bulgarian Joint Implementation (JI)* project to reduce greenhouse gases (GHG) sanctioned under the Kyoto Mechanisms framework. The project will simultaneously contribute to the promotion of renewable energy utilization in Bulgaria and to the acquisition of credits based on emission reduction units (ERU) by Japan.

The KWP wind farm, located at Kaliakra Cape on the Black Sea coast, incorporates 35 MWT62/1.0 wind turbines and has a capacity to generate 35 megawatts (MW) of electricity. The wind turbines, each having a rated power output of 1,000kW, were manufactured at MHI's Nagasaki Shipyard and Machinery Works and Yokohama Machinery Works.

MHI has coordinated construction of the farm and participates in its operation together with inos, the JV partner that performed civil construction work and wind turbine installation, and Mitsubishi Power Systems Europe, Ltd. (MPSE), the company's subsidiary in England for power systems business in Europe,

KWP was established in Sofia in late 2005 with MHI owning 70% and inos the remaining 30% (capitalization: €10 million). Investment by MHI and a subordinated loan to KWP were arranged by MHI Investment International BV, MHI's wholly owned investment company in the Netherlands. The project represents the first investment into power generation in Bulgaria by a Japanese company.

Bulgaria, in line with joining the EU in January 2007, aims to meet 11% of its total energy consumption needs with renewable energies by 2010. MHI began investing into the Kaliakra project prior to the country's joining the EU, through cooperation provided by Japan Bank for International Cooperation (JBIC). MHI's investment has also helped Bulgaria achieve an environment conducive to renewable energy investments. The project was financed through a syndicated loan furnished to Bulgaria by JBIC and Mizuho Corporate Bank in Japan. The total loan amount is approximately €37 million.

The KWP project is expected, availing of wind power, to reduce carbon dioxide (CO2) emissions by some 85,000 tons annually compared to conventional thermal power generation. Of the emission credits obtained through the project, up to 350,000 tons will be sold to Japan Carbon Finance, Ltd. (JCF), a company established by JBIC and major Japanese corporations in 2004. MHI will purchase any surplus credit beyond 350,000 tons.

The Kaliakra wind farm project is MHI's second overseas power generation investment initiative. The first involved investment in AES Energia Cartagena S.R.L., an independent power producer (IPP) in Spain which signed with MHI in 2003 and commenced commercial operations in 2006.

On the strength of its expanding track record in this area, going forward MHI aims to vigorously develop more business schemes geared toward acquisition of carbon emission credits and, leveraging its record in supplying power generation equipment, to expand its participation in power generation business operations while further strengthening its marketing of wind turbines in Europe.

* Note:Joint Implementation (JI) is a mechanism for obtaining emission credits under the Kyoto Protocol. Countries for which numerical targets have been set on GHG reduction jointly conduct projects that will reduce such emissions, and the project participants obtain credits based on the amount of ERUs generated by the project at hand. The Kaliakra project, once it wins approval as a JI project, will help Japan to achieve the 6% GHG reduction target set for it under the Kyoto Protocol.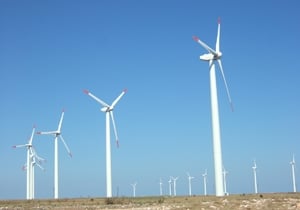 [ Kaliakra Wind Power Generation Farm ]
Products Page
---
About MHI Group
Mitsubishi Heavy Industries (MHI) Group is one of the world's leading industrial groups, spanning energy, smart infrastructure, industrial machinery, aerospace and defense. MHI Group combines cutting-edge technology with deep experience to deliver innovative, integrated solutions that help to realize a carbon neutral world, improve the quality of life and ensure a safer world. For more information, please visit www.mhi.com or follow our insights and stories on spectra.mhi.com.