MHI to License Shipbuilding Technology to L&T Group of India
-- Wide-ranging Technology Support Agreed --
Tokyo, December 27, 2011 - Mitsubishi Heavy Industries, Ltd. (MHI) has agreed with L&T Shipbuilding Limited (LTSB), the shipbuilding arm of India's Larsen & Toubro Limited (L&T), under which MHI will provide a broad range of technological support to LTSB for construction of commercial vessels. The two companies will sign the technical collaboration agreement tomorrow. MHI has recently been proactively promoting development of its engineering business, centering on technology licensing, while LTSB has been seeking to strengthen its shipbuilding business through the introduction of technology from a leader in the field. In reaching the latest agreement, under which MHI will provide licensing and technology support, including training of LTSB engineers, the intentions of the two companies have thus converged.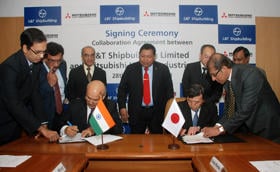 The agreement calls for MHI initially to provide support for a period of three years, with an option to extend beyond that time frame. Specifically, support from MHI to LTSB will consist of the provision of design drawings of vessels built by MHI and a broad range of training, including areas such as design, material procurement, ship construction and quality control. Support activities will further include consultation relating to potential expansion of L&T's shipbuilding facilities in the future and to overseas procurement of shipbuilding materials, as well as support for LTSB's market research activities. MHI will receive payment from LTSB according to the actual support it provides. Going forward MHI and LTSB will conduct collaborative ship marketing activities by branding them as vessels built by LTSB under exclusive technical collaboration with MHI.

Based on the agreement, starting in spring of 2012 MHI will begin training of LTSB engineers at the company's Nagasaki Shipyard & Machinery Works and the Shimonoseki Shipyard & Machinery Works in Yamaguchi Prefecture. In addition, MHI will send experts skilled in design, ship construction and quality control from its shipyards to India for training of LTSB employees.

L&T, headquartered in Mumbai on India's west coast, is a high technology-driven engineering and construction organization and one of the largest companies in India's private sector. Its diverse activities include shipbuilding and manufacturing of chemical plant equipment, power generation systems, and electrical and electronic products and systems. MHI and L&T have been in a partner relationship since 2007, with two joint ventures established to date in the power generation system sector.

LTSB already operates a shipyard in Hazira in India's northwestern Gujarat state, and it is currently building a new shipyard in Kattupalli, near Chennai, in the southeastern state of Tamil Nadu.

As India enhances its infrastructure in tandem with economic expansion, the country is focusing on a growth strategy calling for basic infrastructure improvements, including better port facilities, and for the nurturing of its shipbuilding and shipping industries. As a result, the acquisition and accumulation of globally competitive shipbuilding technologies has become a challenging demand that India's shipbuilding industry must address.

On the back of the latest shipbuilding technical collaboration agreement with LTSB, MHI now plans to step up its proactive exploration for, and aggressive development of, new engineering business opportunities relating to shipyards in the newly emerging economies.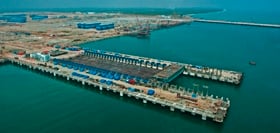 [Kattupalli Shipyard of L&T Shipbuilding]
---
About MHI Group
Mitsubishi Heavy Industries (MHI) Group is one of the world's leading industrial groups, spanning energy, smart infrastructure, industrial machinery, aerospace and defense. MHI Group combines cutting-edge technology with deep experience to deliver innovative, integrated solutions that help to realize a carbon neutral world, improve the quality of life and ensure a safer world. For more information, please visit www.mhi.com or follow our insights and stories on spectra.mhi.com.