MHI Establishes Marketing and After-sale Services Company in Shanghai
Jointly with Suning Appliance, China's Leading
Home Appliance Retail Chain, for Residential-use Air-conditioners
Tokyo, October 26, 2011 - Mitsubishi Heavy Industries, Ltd. (MHI) has established MHI Residential Air-Conditioners (Shanghai) Co., Ltd. (MHIRS), a joint venture with Suning Appliance Co., Ltd. in Nanjing, for marketing and after-sale services for residential-use air-conditioners. Suning Appliance is the largest home appliance retail chain in China. The formal signing ceremony between the two parent companies took place today in Nanjing. The new company is slated to begin operation on January 1, 2012 with a view to developing the growing residential-use air-conditioning market in China.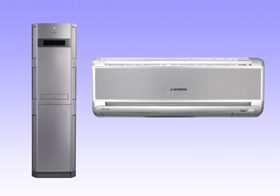 MHIRS is capitalized at 32 million yuan (approximately JPY390 million), with MHI holding 85% and Suning Appliance 15%. Masahiko Arihara, Director, Senior Vice President and General Manager of MHI's Air-Conditioning & Refrigeration Systems; and Wang Zhe, Deputy President of Suning Appliance, will concurrently serve as Chairman and Vice Chairman of MHIRS, respectively. Ra Shomin, President of Mitsubishi Heavy Industries Air- Conditioners (Shanghai) Co., Ltd. (MHIAS), MHI's subsidiary overseeing the company's air-conditioning and refrigeration system business in China, will concurrently serve as President of MHIRS.

By establishing MHIRS closely with MHIAS, which handles commercial-use air-conditioners, truck reefer refrigeration units and large-sized centrifugal chillers, MHI strives to unify the strategy and implementation function in the Chinese market as it amalgamates its human resources and its branch network. MHI has been producing and marketing residential-use air conditioners through Mitsubishi Heavy Industries - Jinling Air-Conditioners Company, Ltd. (MJA), a joint venture established in Jiangmen, Guangdong, in 1994. Some marketing and after-sale services functions of MJA will be charged to MHIRS.

The plans call for MHI and Suning Appliance to establish a joint project promotion section for product development to integrate the consumers' meticulous needs into its products. The two companies aim to realize supply chain innovation through the marketing tie-up of a manufacturer with comprehensive air-conditioning technologies and a home appliance chain. In business with retail chains, MHI looks to expand its market share in the short term by strengthening a strategic partnership relationship with Suning Appliance. In addition, MHI will also promote expansion and cultivation of the business network with retailers that do not belong to large retail chains. Through these initiatives, MHI intends to further enhance its presence in China.

In China, annual demands for residential-use air-conditioners are more than 30 million units per year; however, with large shares of the market taken by Chinese manufacturers, Japanese manufacturers are facing tough times. On the other hand, demand for air-conditioners with inverter functions has been increasing rapidly due to enhanced energy-saving regulations, etc. Taking this opportunity, Japanese manufacturers are aiming to gain ground through product technology established in the Japanese market.

MHI established MHIAS in 2010 and implemented brand strategy and integration of marketing functions. Taking the occasion of a sales tie-up with Suning Appliance as a specific program to enhance sales of residential-use air-conditioner, MHI will further strengthen its aggressive activities to develop the growing Chinese market by leveraging its strength as a comprehensive air-conditioning system manufacturer.
Outline of MHI Residential Air-Conditioners (Shanghai) Co., Ltd. (MHIRS)
Activities:Marketing and after-sale services for residential-use air-conditioners in China,excluding Hong Kong, Macau and Taiwan
Head office location:29F Shanghai Mart, 2299 Yan An Road West, Changning District, Shanghai, China
Chairman:Masahiko Arihara, Director, Senior Vice President and General Manager of MHI's Air-Conditioning & Refrigeration Systems (concurrent)
Capital:32 million yuan (MHI: 85%, Suning Appliance: 15%)
---