MHI Develops Truck Refrigeration Unit Enabling
Simultaneous Chilling and Warming of Two Cargo Compartments
-- World's First Application of Heat Pump Achieves 75% Energy Cut --
Tokyo, October 21, 2011 - Mitsubishi Heavy Industries, Ltd. (MHI) has developed a truck refrigeration unit which enables simultaneous temperature control of two separate cargo compartments with different temperature settings entirely by heat pump. The unit marks the world's first application of a heat pump for a truck refrigeration unit. The heat pump enables effective transfer of thermal energy from the compartment needing a lower temperature to a cargo room requiring higher temperature, and in this way the new unit provides more than double warming capacity compared with conventional systems that use heat from a compressor for heating. At maximum, the unit will enable a reduction in energy consumption by 75% compared with conventional systems; it will also realize significant energy savings and reduced CO2 emissions. MHI will launch sales of the new unit in April 2012, initially targeting installation in food transport trucks that require different temperature settings.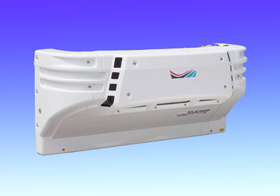 The new model, dubbed the "TDJS35HP" series, will be driven by the truck's main engine. In addition to the adoption of MHI's proprietary high-efficiency 3D scroll compressor*, the unit is the first in the industry to achieve the company's original chilling/warming free circuit, which reverses the flow of the refrigerant between the heat and cooling exchanging unit in each of the two compartments according to cooling and warming needs. With these features, high-capacity and high-efficiency operation is enabled under all operating conditions. The unit can maintain 5°C (Celsius) cold temperature in the front compartment and 20°C warm temperature in the rear compartment – a temperature suitable for warm rice-based foods and bread– with an ambient temperature range between minus 10°C and 40°C. Rated heating capacity is 5.7 kilowatts (kW).

The pre-existing "TDJ301DM" series, featuring 2.5 kW rated heating capacity, uses hot-gas bypass technology; it has earned a well reputation in the market, being adopted mainly in delivery trucks servicing convenience stores. Compared with the TDJ301DM, the new model achieves a 130% increase in heating capacity and 35% improvement in energy consumption, and as a result overall it realizes 3.5 times greater efficiency and 70% lower energy consumption.

To perform cooling of a cool compartment and heating of a warm compartment together, pre-existing models have been required to stop one operation and perform the two tasks in alternating succession. The TDJS35HP enables optimal efficiency in simultaneous operation, transferring the thermal energy from one side where the temperature is lower to the other side in order to raise the temperature of warm compartment. By performing heating and cooling together, the new model has achieved a 25% improvement in energy consumption, 70% increase in cooling capacity and 380% enhancement in heating capacity. Overall, the new model realizes 4.3 times greater efficiency (75% lower energy consumption), which also enables a 75% reduction in CO2 emissions.

The needs for a truck refrigeration unit that enables warming, chilling and freezing management in different temperature ranges within one truck has been increasing in the distribution industry in order to boost delivery efficiency in a quest to reduce energy consumption and CO2 emissions. When chilled products and warm foods, such as rice and bread products, are carried in different compartments, the new unit can meet industry needs by accommodating seasonal ambient temperature changes flexibly and providing optimal operations: for example, cooling of both compartments in summer, heating of both in winter, and simultaneous heating and cooling in spring and autumn.

MHI and Ryoju Cold Chain Co., Ltd. will exhibit the new truck refrigeration unit at the 2011 Tokyo Truck Show to take place at Tokyo Big Sight from October 27 through 29, and active business talks will be launched. Ryoju Cold Chain is a wholly owned subsidiary of MHI handling domestic marketing of truck refrigeration units. Going forward, on the strength of the new model's outstanding energy-saving features, MHI intends to aggressively develop the market for variable-temperature product distribution as a way of making ongoing contributions to the creation of a low-carbon society.

Note: The three-dimensional (3D) scroll compressor was developed by MHI as a next-generation scroll compressor. With conventional scroll compressors, compression is performed by horizontal movement (constant height) two-dimensionally. The 3D scroll system adopts vertical movement (height changes) by introducing steps into the scrolling mechanism, resulting in 15% higher compression efficiency.
---
About MHI Group
Mitsubishi Heavy Industries (MHI) Group is one of the world's leading industrial groups, spanning energy, smart infrastructure, industrial machinery, aerospace and defense. MHI Group combines cutting-edge technology with deep experience to deliver innovative, integrated solutions that help to realize a carbon neutral world, improve the quality of life and ensure a safer world. For more information, please visit www.mhi.com or follow our insights and stories on spectra.mhi.com.