APM System Begins Operation at Miami Int'l Airport,
Connecting Airport and Miami Intermodal Center in 4 Minutes
Tokyo, September 9, 2011 - The MIA Mover Automated People Mover (APM) system for Miami International Airport (MIA), which Mitsubishi Heavy Industries America, Inc.(MHIA), a wholly-owned subsidiary of Mitsubishi Heavy Industries, Ltd. (MHI), has been building, was completed and will begin operation on September 9 (U.S. time). The MIA Mover is two-kilometers long and runs between the stations at MIA and Miami Intermodal Center (MIC), an off-airport multi-modal transportation center. The trip takes approximately four minutes, replacing the previously existing bus service which passengers were using, and supports mobility of an ever-increasing number of passengers.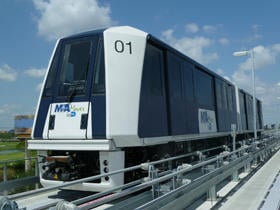 MHIA received an order for the MIA Mover project in September 2008 with support from Sumitomo Corporation and completed the project in three years. MHIA was responsible for integration of the entire APM system, including installation work. MHI provided the basic design and supplied the APM cars and signalling system. The MIA Mover represents fourth APM system implemented by MHI for the US market, following successful APMs at the Miami International Airport North Terminal and at Washington Dulles and Atlanta International Airports. For the MIA Mover, MHIA is also under a five-year contract to perform operation and maintenance work for the system.

The APM is a driverless, fully-automated passenger transport system. The eco-friendly system, which is driven by electric power, also features rubber-tired vehicles providing low-noise and a smooth and comfortable ride.

Outside of the US, MHI has received APM orders for urban transportation systems including the Senkang/Punggol Lines in Singapore as well as for several airports throughout the world including Hong Kong, Singapore (Changi), Korea (Incheon) and UAE (Dubai). Furthermore, MHI received an order for 108 new cars for the Yurikamome Waterfront Line in Tokyo in June 2010 and the Macau Light Rapid Transit system in March 2011. With this robust track record, MHI has established a leading position in the global APM market.

As we move forward into the future, MHI aims to further boost its continued marketing activities for APM systems for airports and urban transportation networks, worldwide.
---
About MHI Group
Mitsubishi Heavy Industries (MHI) Group is one of the world's leading industrial groups, spanning energy, smart infrastructure, industrial machinery, aerospace and defense. MHI Group combines cutting-edge technology with deep experience to deliver innovative, integrated solutions that help to realize a carbon neutral world, improve the quality of life and ensure a safer world. For more information, please visit www.mhi.com or follow our insights and stories on spectra.mhi.com.