MHI JV with EGAT and MC Sees Completion of New Plant in Thailand
For Maintenance of Gas Turbine High-temperature Components
-- Initiative Undertaken to Respond to Needs in Asia Region --
Tokyo, May 27, 2011 - A maintenance plant for gas turbine high-temperature components under construction by EGAT Diamond Service Co., Ltd. (EDS) in the Nava Nakorn Industrial Estate, near Bangkok, Thailand, was completed on May 26. EDS, which is capitalized at approximately 600 million bahts, was jointly established by Mitsubishi Heavy Industries, Ltd. (MHI), the Electricity Generating Authority of Thailand (EGAT) and Mitsubishi Corporation (MC) in November 2009 to provide repair services for gas turbine components that are exposed to very high temperatures. Completion of the new plant will enable MHI to further enhance its maintenance services for gas turbines and promptly respond to demand throughout the entire Asia region, including Thailand, a particularly promising market.
In celebration of the plant's completion, an open house ceremony was held at the site on May 26, attended by many local parties concerned, including EGAT Governor Sutat Patmasiriwat. Attendees from MHI included Director Ichiro Fukue.

The 9,000 square meter (m2) new plant building, situated on a site 24,000 m2 in area, is equipped with an array of advanced machinery and equipment for molding, coating and inspection. Initially the plant will handle repair services for combustor parts, and progressively expand its operations to turbine blades.

EGAT is Thailand's largest power producer, owning and managing roughly half of that nation's power generation capacity. MHI has delivered more than half of the large-size gas turbines EGAT owns. MHI and EGAT opted to establish and promote the JV in order to forge a closer relationship and to place both companies in a better position to pursue merits through collaboration.

Once each year, gas turbines need to undergo regular inspection, maintenance and replacement of parts that operate under very high temperatures, which are vulnerable to severe damage. In tandem with expanded sales of gas turbines, demand for repair of these parts is increasing globally. In order to firmly capture this global demand, it has been essential for MHI to establish service structures that are closely linked to local customers, including collaboration with major users, in each region. The new EDS plant will respond to these requirements effectively, satisfying a variety of market needs including shorter delivery time. In this way the plant is destined to play an important role in MHI's strategy for the Asian market.

With the new plant's completion, EDS will further enhance its technological expertise in maintenance by combining the two companies' respective strengths - EGAT's operational know-how as a power producer and MHI's technological expertise. Going forward MHI, while providing support to the new factory together with EGAT and MC, will establish an integrated follow-up structure from delivery to after-sale services. It will also step up its aggressive marketing activities in the expanding markets for large-scale power generation systems in Thailand and other Asian countries.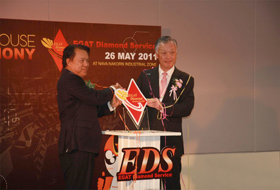 [EGAT Governor Sutat Patmasiriwat (left) and MHI Director Ichiro Fukue]
Products Page
---
About MHI Group
Mitsubishi Heavy Industries (MHI) Group is one of the world's leading industrial groups, spanning energy, smart infrastructure, industrial machinery, aerospace and defense. MHI Group combines cutting-edge technology with deep experience to deliver innovative, integrated solutions that help to realize a carbon neutral world, improve the quality of life and ensure a safer world. For more information, please visit www.mhi.com or follow our insights and stories on spectra.mhi.com.