MHI to Jointly Develop and Test All-electric Transit Bus
With Manitoba Government, Two Local Companies and College in Canada
Tokyo, April 27, 2011 - On April 26 Mitsubishi Heavy Industries, Ltd. (MHI), the government of Canada's Manitoba Province, two local companies and a Canadian college announced that the parties will jointly develop and test an all-electric transit bus to feature advanced battery and charging technologies. This project is the first development to come out of the memorandum of understanding (MOU) signed last December between MHI and the Manitoba government on a collaborative framework to contribute toward realizing an advanced low-carbon society.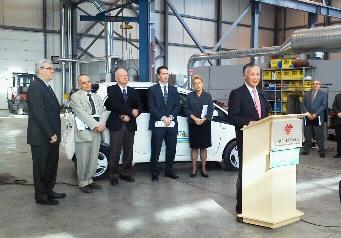 The parties who will participate at this project are the Government of Manitoba, MHI, the Manitoba Hydro, Red River College, and New Flyer Industries Canada ULC, a Canadian manufacturer of heavy-duty transit buses. As at last year's MOU signing, this announcement of the project was held at Red River College in Winnipeg, the provincial capital, attended by Manitoba Premier Greg Selinger, MHI Director Ichiro Fukue and the top managements of other project members.

For the three-year C$3 million project, which is targeted at developing and testing in cold weather an all- electric transit bus, it also looks to use the demonstration as a showcase for other potential markets within North America.

MHI will be responsible for the lithium-ion secondary battery packs for this prototype demonstration bus.

New Flyer Industries Canada ULC is an affiliate of New Flyer Industries, Inc., a leading manufacturer of heavy - duty transit buses in North America. Both companies have their head offices in Winnipeg. Manitoba Hydro is Manitoba's major energy utility, generating, transmitting and distributing electricity throughout the province. Red River College is a public educational institution with more than 30,000 students at campuses in Winnipeg and throughout Manitoba. Electric and hybrid vehicle applied research, development and education is a focus area for the College.

MHI positions energy and environment-related business as one of its areas of focus for the 21st century, and the company has been participating in many environment-related projects of governments and municipalities both in Japan and abroad. Gaining momentum from the latest collaborative project agreement, going forward MHI will continue to aggressively propose innovative solutions for energy and environmental issues worldwide, leveraging its expansive range of technologies and knowhow in these fields.
BUSINESS CONTACT:Sustainability Energy & Environment Strategic Planning Department
---
About MHI Group
Mitsubishi Heavy Industries (MHI) Group is one of the world's leading industrial groups, spanning energy, smart infrastructure, industrial machinery, aerospace and defense. MHI Group combines cutting-edge technology with deep experience to deliver innovative, integrated solutions that help to realize a carbon neutral world, improve the quality of life and ensure a safer world. For more information, please visit www.mhi.com or follow our insights and stories on spectra.mhi.com.