MHI Receives Order from PGS of Norway for 2 Ramform Vessels
Capable of High-accuracy, Wide-range 3D Seismic Data Acquisition
Tokyo, April 15, 2011 - Mitsubishi Heavy Industries, Ltd. (MHI) has received an order for two vessels capable of three-dimensional (3D) seismic data acquisition for sea bottom resource exploration from Petroleum Geo-Services ASA (PGS), a leading company in marine seismic and reservoir data acquisition, processing and analysis/interpretation services in Norway. The contract, which was signed on April 14 in Oslo, also provides an option to PGS to order another two vessels in the future. Delivery of the two ships on order is slated to begin in the spring of 2013.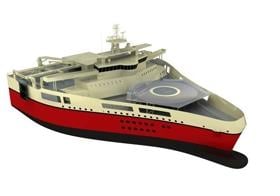 The vessels ordered are the "Ramform W-class," the newest generation in the Ramform series featuring today's most advanced 3D seismic data acquisition/analysis capability. The 104 meter (m) long vessel has a very wide breadth of 70m. For quiet operation, the vessel adopts diesel electric for the main propulsion system.

The Ramform W-class vessel employs multiple streamer cables, each several kilometers in length, towed from the vessel's stern. The cables contain a vibration sensor known as a "hydrophone" which detects echoes of sound waves emitted from sound sources and bounced back from the sea bottom and stratum boundaries. The detected echoes are used for 3D seismic analysis. The new Ramform vessels ordered by PGS have a 30m wider stern compared with existing vessels; this feature permits deployment of a greater number of streamer cables-up to 24 lines-enabling exploration of a wider area at one time.

In selecting a supplier for the two Ramform vessels, PGS solicited proposals from shipbuilders both in Norway and abroad. MHI is the leading company in Japan in building special ships-including various ocean exploration ships, training ships and cable-laying vessels. MHI believes its abundant experience and track record in this category and the company's diversified expertise and comprehensive technological capabilities accumulated through its long history in shipbuilding, plus the strength of the MHI brand, were highly acclaimed by PGS and contributed to the order.

PGS, which was established in 1991, currently owns and operates 16 offshore seismic vessels. The company has decided to introduce the newest-generation Ramforms in order to expand its fleet and further strengthen its competitiveness in the seismic industry.

MHI has instituted a policy to expand its business in ocean development field as part of a new strategy for its Shipbuilding & Ocean Development business segment. Gaining further momentum from the PGS order, going forward MHI will now further strengthen its aggressive activities to explore demand for special ships in Japan and other countries.
---
About MHI Group
Mitsubishi Heavy Industries (MHI) Group is one of the world's leading industrial groups, spanning energy, smart infrastructure, industrial machinery, aerospace and defense. MHI Group combines cutting-edge technology with deep experience to deliver innovative, integrated solutions that help to realize a carbon neutral world, improve the quality of life and ensure a safer world. For more information, please visit www.mhi.com or follow our insights and stories on spectra.mhi.com.