MHI Develops "ZE15B" Gear Grinding Machine
Enabling High-speed, High-accuracy Volume Production
- Shorter Non-operational Time for Higher Productivity -
Tokyo, January 24, 2011 - Mitsubishi Heavy Industries, Ltd. (MHI) has developed a new gear grinding machine, the "ZE15B," suitable for volume production of gears up to 150 millimeters (mm) in diameter. The new machine will be presented at "MHI Machine Tools Fair 2011," a private preview show of gear machines to be held by the company's Machine Tool Division on January 27 and 28 in Ritto, Shiga Prefecture. Marketing of the ZE15B is scheduled to begin before month's end. The machine's high-speed and high-accuracy machining capability will enable further enhancement of productivity, coupled with shorter time not used in machining operation, such as time required for workpiece changes. While primarily focusing on the automobile industry, MHI aims for expanded business by offering the ZE15B to a broad industrial market.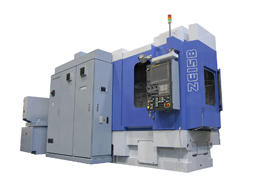 The ZE15B offers even greater volume production capability than the company's ZE15A gear grinding machine, which has earned a favorable reputation in the market since its introduction in 2004. In response to user demand for further space saving, installation space has been reduced by 10% compared to the ZE15A, to 3,980 millimeters (mm) in width and 4,000 mm in depth.

The ZE15B is equipped with a newly developed workpiece changer that shortens the time required for changeover; the twin tailstock model reduces non-operational time to just five seconds. Shorter high-efficiency grinding has been realized by increasing machine rigidity and adopting a 30% faster grinding wheel speed: 6,000 revolutions per minute (rpm) at maximum. For the dresser unit, which functions to maintain the shape and sharpness of the grinding wheel, a new high-speed, high-rigidity device was developed. With these improvements, the new ZE15B is now able to accommodate multiple thread dressers and tooth root grinding while simultaneously reducing dressing time.

By automating tooth meshing work required after grinding wheel and dresser changes, operability of the machine has also been enhanced. To accommodate complex tooth face shapes, the ZE15B is equipped with functions to correct tooth profiles and modify biased flank shapes, i.e. tooth surface torsion.

In the automobile industry, demand for machines that enable high-accuracy, high-efficiency machining of various gears, including transmission gears, at low cost, has been increasing in a quest to reduce cost while also enhancing the quietness and fuel consumption efficiency of automobiles.

Since developing the world's first dry-cutting gear production system using no cutting fluid in 1997, MHI has led the industry with its diverse gear cutting machines and cutting tools featuring high performance and accuracy while simultaneously addressing global environmental issues. With the addition of the ZE15B gear grinding machine to its product portfolio, the company will expand its customer base as it firmly captures demand from gear producers seeking enhanced quality and cost competitiveness in volume production.


 Major Specifications of ZE15B Gear Grinding Machine
Maximum workpiece diameter:φ150 millimeters (mm)
Maximum modules*:4
Maximum hob size (diameter x length):φ220 - 300 mm x 125 mm
Grinding wheel speed:6,000 revolutions per minute (rpm)
Rated output of grinding wheel motor:   25 kilowatts (kW)
Axial stroke:250 mm
Radial stroke:270 mm
Floor space (width x depth):3,980 x 4,000 mm
Machine weight:11,000 kilograms (kg)
* Module is the unit used to indicate gear size. Module = pitch circle diameter (millimeters) divided by number of teeth.
Products Page
---
About MHI Group
Mitsubishi Heavy Industries (MHI) Group is one of the world's leading industrial groups, spanning energy, smart infrastructure, industrial machinery, aerospace and defense. MHI Group combines cutting-edge technology with deep experience to deliver innovative, integrated solutions that help to realize a carbon neutral world, improve the quality of life and ensure a safer world. For more information, please visit www.mhi.com or follow our insights and stories on spectra.mhi.com.