MHI Receives Order for 2 Centrifugal Chillers
For District Cooling System to Serve Tokyo Sky Tree Area
- World's Top-level Efficiency and Energy Saving to Reduce CO2 Emissions -
Tokyo, November 24, 2010 - Mitsubishi Heavy Industries, Ltd. (MHI) has received an order for two 1,350 refrigeration ton*1 (RT) large-size centrifugal chillers for a large-scale district cooling system to serve the Tokyo Sky Tree cooling/heating supply service area currently under development in Sumida Ward in Tokyo, Japan. Tokyo Sky Tree is a 634 meter-high tower for digital broadcasting, the world's highest of the kind, now being constructed with completion scheduled in December 2011. The two chillers are slated for delivery in spring 2011.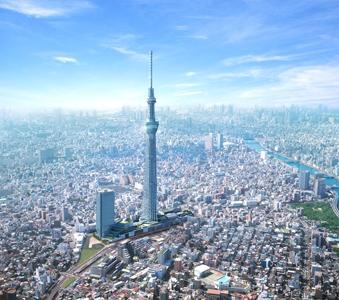 MHI's two chillers, offering the world's highest level of efficiency and energy-saving capability, will play an important role in the area's main cooling/heating supply plant, undertaking the majority share of local cooling, and simultaneously contribute to urban development addressing the demand for substantial reduction of CO2 emissions. The event represents the second order placed to MHI for the Tokyo Sky Tree area, following an earlier order for two 350 RT chillers; these are already in operation at the area's cooling/heating supply sub plant since October 2009.

The two chillers now on order are the AART-120, a system which has achieved the world's highest level of rated COP (coefficient of performance)*2, 6.4*3, and the AART-120I, which is capable of variable revolution control enabled by an inverter device. Both units adopt HFC-134a, a chlorine-free refrigerant with zero-ozone-depletion potential. Their high efficiency and energy-saving capability, which are deemed to have been the decisive factors behind the chillers'selection, have been verified and demonstrated in many actual operational situations.

The unit with inverter device in particular has achieved outstandingly efficient operation during partial loading, the result of fine and precise numerical control of compressor revolution and of device control systems. When the coolant water temperature is low, the inverter-equipped unit performs at an optimal COP 24.2*4 in partial loading - about four times higher COP value than rated COP, thus demonstrating superlative energy-saving capability during seasons when cooling water temperature is low - in spring and autumn as well as in winter. To cope with high-capacity requirements, a high-voltage (6,600V), harmonic, high-frequency wave generation-suppressed inverter is adopted.

The two chillers on order will be delivered to Tobu Energy Management Co., Ltd., which is undertaking district cooling/heating service supply for the Tokyo Sky Tree area, through Shinryo Corporation, a major air-conditioning system engineering firm. Tobu Energy Management is a wholly owned subsidiary of Tobu Railway Co., Ltd., a company leading the area's development.

The main plant for cooling/heating supply, which will provide service to an area of approximately 10.2 hectares, is slated for completion in December 2011. Tokyo Sky Tree is expected to attract 5.4 million visitors a year. The area as a whole is expected to draw 25 million visitors annually.

Within the Tokyo Sky Tree area, a prime focus is on establishing a "low-carbon community" by promoting reduction of CO2 emissions. As a pillar of this initiative, plans have called for the introduction of a district cooling/heating system targeting the highest efficiency in Japan - annual gross COP above 1.35 - through adoption of a thermal source concentration method. MHI's centrifugal chillers are expected to contribute substantially toward achieving that target.

MHI is Japan's largest centrifugal chiller manufacturer, and it has supplied many high-efficiency, energy-saving units for applications including district cooling and air-conditioning for plants and office/commercial buildings. To date the company has received orders for 2,000 units of its HFC-134a refrigerant type centrifugal chillers. Gaining momentum from the large-size chiller order for the Tokyo Sky Tree area, a new Tokyo landmark, going forward MHI will further strengthen its vigorous marketing activities for large-size, high-efficiency centrifugal chillers both within Japan and overseas.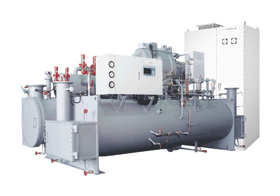 [Centrifugal Chiller AART-120I]
Notes:
1)Refrigeration ton represents refrigerating capacity for turning 1 ton of 0°C
   water into 0°C ice in 24 hours.    
   1 RT = 3,024 Kcal/hr.
2)Coefficient of performance (COP) indicates the ratio of a system's useful energy
   output to its energy    input. The higher a system's COP, the higher is its energy-saving
   efficiency. In the case of refrigeration systems,
   COP = rated cooling capacity (kW) / electricity consumption (kW).
3)COP 6.4 was achieved under JIS (Japanese Industrial Standards) conditions:
   Chilled water - entering: 12° C, exiting: 7° C  Cooling water - entering: 32° C, exiting: 37° C  
4)Cooling water - entering: 12° C
Products Page
For reference:
Tobu Railway Co., Ltd.: http://www.tobu.co.jp/foreign/
Tobu Energy Management Co., Ltd.: http://www.tobu-em.co.jp/
Tokyo Sky Tree: http://www.tokyo-skytree.jp(in Japanese only)
Tokyo Sky Tree's official mascot "Surakarta-chan" : http://www.sorakara-chan.jp(in Japanese only)
---
About MHI Group
Mitsubishi Heavy Industries (MHI) Group is one of the world's leading industrial groups, spanning energy, smart infrastructure, industrial machinery, aerospace and defense. MHI Group combines cutting-edge technology with deep experience to deliver innovative, integrated solutions that help to realize a carbon neutral world, improve the quality of life and ensure a safer world. For more information, please visit www.mhi.com or follow our insights and stories on spectra.mhi.com.