MHI Completes Construction of Commercial Production Verification Plant
For Lithium-ion Secondary Batteries
-- Annual Production Capacity of 66 MWh --
Tokyo, November 18, 2010-Mitsubishi Heavy Industries, Ltd. (MHI) has completed the construction of a commercial production verification plant for lithium-ion secondary batteries at its Nagasaki Shipyard & Machinery Works. The plant has a production capacity of 66 MWh (megawatt hours) of batteries a year, which is equivalent to 400,000 medium-size cells. Going forward MHI will verify various technologies as it aims for an early startup of full-scale commercial production.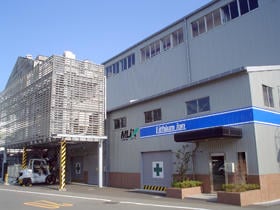 MHI began construction of the verification plant on a 2,000 square meter site in the fall of 2009. Beginning next month, the company will launch production in order to verify factors essential for commercial production, including operation rates, tact time and battery performance. For the verification production line, MHI has integrally incorporated various technologies from its diversified business areas, including those related to slurry preparation, coating, and mass-production management knowhow from turbocharger production. The company will make its decision on full-scale commercial production next year, taking into account the market situations in Japan and overseas, future prospects, and the verification results.

Besides producing lithium-ion secondary batteries, MHI has entered into the market for the products using the battery, by leveraging the company's abundant system development knowhow. In October 2009 MHI began marketing the world's first engine/battery hybrid forklift trucks using a lithium-ion battery as the power train; which have scored significant reductions in fuel consumption. Through incorporation of lithium-ion batteries, today MHI is looking to enhance the value of its products and systems in the fields of transportation and material handling equipment, including battery-operated forklift trucks, electric buses and cranes. The company is also proposing the battery system to other manufacturers for installation as a power train in their products.

In stationary applications, MHI has developed a large-scale energy storage system using a lithium-ion battery. The company began verification of the system for application as an auxiliary power source to supplement unstable electric power supply systems overseas, and as an electricity supply grid stabilization system in a quest to promote further adoption of renewable energies such as wind and photovoltaic power.

MHI, as a comprehensive manufacturer of energy-related machinery and systems, is looking to contribute further to the attainment of an energy-saving society by focusing on development of technologies and products for electric power storage, particularly for industrial applications.
---
About MHI Group
Mitsubishi Heavy Industries (MHI) Group is one of the world's leading industrial groups, spanning energy, smart infrastructure, industrial machinery, aerospace and defense. MHI Group combines cutting-edge technology with deep experience to deliver innovative, integrated solutions that help to realize a carbon neutral world, improve the quality of life and ensure a safer world. For more information, please visit www.mhi.com or follow our insights and stories on spectra.mhi.com.