MHI Develops Hybrid Turbocharger to Generate Electricity
Utilizing Exhaust Gas from Marine Engines
Built-in Generator Supplies Necessary Electricity at Sea and Reduces Fuel Consumption and CO2 Emissions


Tokyo, August 26, 2010 - Mitsubishi Heavy Industries, Ltd. (MHI) has developed the "MET83MAG," a generator-integrated hybrid turbocharger for marine propulsion diesel engines which utilizes engine exhaust gas not only to drive the turbocharger but also to generate electricity. The MET83MAG is capable of supplying all electric power necessary during normal sea going. At the same time, the hybrid turbocharger also enables reductions in fuel consumption and carbon dioxide (CO2) emissions.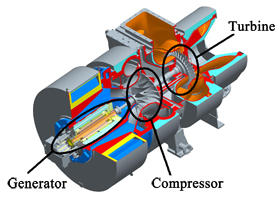 The hybrid turbocharger, which was commercialized in cooperation with Nippon Yusen Kabushiki Kaisha (NYK Line), Universal Shipbuilding Corporation and Hitachi Zosen Corporation, will be installed and tested on a bulk carrier that is slated to go into service in 2011. The event will mark the world's first on-board testing of a hybrid turbocharger using a commercial ship in actual operation. In celebration of the completion of the first MET83MAG unit, a presentation ceremony for the hybrid turbocharger took place at MHI's Nagasaki Shipyard & Machinery Works.

The generator of the MET83MAG, which is capable to generate a maximum power output of 754 kilowatts (kW) at 9,500 revolutions per minute (rpm), also can substitute the function of auxiliary blower from its use as an electric motor to enhance the performance of the turbocharger when engine speed is not fast enough,For the actual on-board testing, a hybrid turbocharger will be installed on a capesize bulk carrier currently under construction by Universal Shipbuilding for NYK Line.

The MET83MAG hybrid turbocharger is one of the waste heat recovery systems that utilize exhaust gas from the engine and is compact due to its built-in generator. The new turbocharger can accommodate demand for replacement of existing turbochargers. Previously MHI has developed and successfully commercialized the waste heat recovery system "MERS (Mitsubishi Energy Recovery System)," which enables a 10% reduction in fuel costs by generating electric power through combination of an exhaust-gas-driven turbine and a steam turbine, for vessels requiring large electric power, such as container carriers and crude oil carriers.

Leveraging its expertise and strength derived from providing various equipments for effective energy utilization in marine applications, going forward MHI will continue to develop innovative products and systems and propose new and better solution as Mitsubishi Marine Energy & Environmental Technical Solution System that meets stricter regulations in future as well as further enhancement of thermal efficiency.
---
About MHI Group
Mitsubishi Heavy Industries (MHI) Group is one of the world's leading industrial groups, spanning energy, smart infrastructure, industrial machinery, aerospace and defense. MHI Group combines cutting-edge technology with deep experience to deliver innovative, integrated solutions that help to realize a carbon neutral world, improve the quality of life and ensure a safer world. For more information, please visit www.mhi.com or follow our insights and stories on spectra.mhi.com.