Coagulation and Magnetic-Separation Solution, Hitachi Ballast Water Purification System
(ClearBallast), Receives First Formal Approval from Japanese Government
Hitachi Plant Technologies, Ltd.
Mitsubishi Heavy Industries, Ltd.
Tokyo, Japan, March 12, 2010 --- Hitachi Plant Technologies, Ltd. (HQ: Tokyo; President & CEO: Masaharu Sumikawa) and Mitsubishi Heavy Industries, Ltd. (HQ: Tokyo; President: Hideaki Omiya), were granted on March 5, 2010, the first formal approval by the Japanese government for their jointly-developed Hitachi Ballast Water Purification System (ClearBallast).*1 Formal approval was based on the Procedure for Approval of Ballast Water Management Systems (G8), which is in accordance with the International Convention for the Control and Management of Ships' Ballast Water and Sediments adopted by the IMO*2 in February 2004. This became the first formal approval issued by the Japanese government.
To gain this formal approval, the companies performed land-based testing near Tokyo Bay using an actual-scale device and on-board testing using a test device installed on an LPG tanker (capacity: 78,500 m3, built at the Nagasaki Mitsubishi Heavy Industries shipyard) owned by Yuyo Steamship Co., Ltd. (HQ: Kanagawa; President & CEO: Masashi Yoshizawa). These tests were carried out in parallel and both met the IMO Performance Standard.*3
Additionally, on July 17, 2009, ClearBallast received final IMO approval in accordance with the Procedure for Approval of Ballast Water Management Systems that Make Use of Active Substances (G9).
The company plans to aggressively market the system and has set orders for100 units as a sales target for fiscal 2012.
Notes:
*1. ClearBallast: Registered trademark of Hitachi,Ltd.used by Hitachi Plant Technologies under license.
*2. IMO: International Maritime Organization
*3. Ballast water discharge standards:

| | |
| --- | --- |
| Organism or bacteria class | Requirement |
| Organisms of 50 μm or larger (Note 1) | Less than 10 per cubic meter of water |
| Organisms of between 10 and 50 μm (Note1) | Less than 10 per ml |
| Toxicogenic vibrio cholerae (O1, O139) | Less than 1 cfu (Note 2)  per 100 ml |
| Escherichia coli | Less than 250 cfu (Note 2) per 100 ml |
| Enterococcus faecalis | Less than 100 cfu (Note 2) 100 ml |
Note 1: Minimum size dimension.  Note 2: cfu (colony forming unit)
          Shipboard Testing Equipment                          LPG Tanker with Shipboard Testing Equipment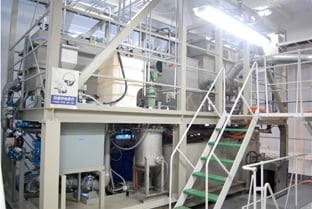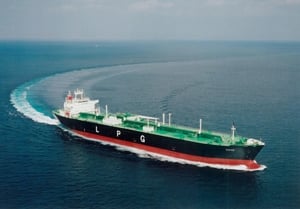 Land-based testing equipment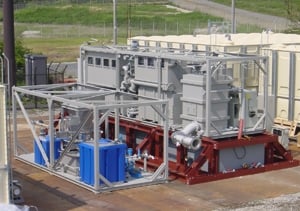 Overview of Hitachi Ballast Water Purification System (ClearBallast)
Used as ballast for stabilizing hull balance, ballast water usually contains plankton, bacteria, mud, and sand specific to the port from which it was drawn. Most ballast water is discharged in ports of nations different from where it was loaded. Consequently, foreign organisms are discharged along with the seawater, and the resulting impact on marine ecosystems has become an international issue.
To combat this problem, in February 2004, the IMO Council adopted the International Convention for the Control and Management of Ships' Ballast Water and Sediments (Ballast Management Convention). The Convention requires that the IMO Performance Standards be applied in a stepwise manner to ships undertaking international voyages in line with the year of building and the ballast tank capacity, with all ships required to adopt the standard by 2017. In line with these requirements, there is now a need for ships to be fitted with ballast-water treatment systems.
ClearBallast purifies ballast water by combining magnetic separation technology developed for high-speed water treatment during rainy periods and coagulation technology used to remove plankton and bacteria at many water treatment plants. In contrast to sterilization-type approaches, the coagulation method does not use chlorine, ozone, ultraviolet light, or other disinfectants, and therefore, the risk of residual chemicals causing secondary contamination is removed. ClearBallast also has a smaller footprint and offers high-speed treatment through the use of bacteria flocculation (aggregation of small particles), which enables the use of coarse filters compared with ordinary filtration machines.
ClearBallast had to be optimized in line with advanced ship-design techniques to ensure that such a purification device could be installed on ships and could then operate as part of a fully integrated system. Focusing their collective expertise and experience, Hitachi Plant Technologies and Mitsubishi Heavy Industries conducted joint research in order to develop and commercialize ClearBallast, and were ultimately successful in realizing a device suitable for on-board use.
Features:
(1) Enhanced biological, environmental, and maritime safety
1. Even organisms growing in an environment consisting only of water treated by this system show no signs of inhibited growth or deformities.(Confirmed through organism toxicity testing.*4
2. Requiring no use of disinfectants, the system poses no threat of secondary contamination from residual chemicals.
3. The system has no adverse effect on paint or other coatings within the ballast tank. (Confirmed through corrosion assessment testing.)
The above benefits demonstrate how the new system can help to enhance biological, environmental, and maritime safety.
Note:
4. Biological toxicity testing: Biological toxicity testing compliant with guidelines set by the OECD (Organization for Economic Co-operation and Development). Culture tests were conducted for marine species skeletonema (algae), apohyale barbicornis (invertebrate), and javanica (type of fish) using treated water.
(2) Reduced mud buildup inside ballast tanks
Capable not only of eliminating plankton, bacteria and the like from sea water, the system can also remove sand, mud, and other suspended solids originating from the sea bed before they accumulate in the tank. In addition, it can prevent the buildup of mud consisting of dead organisms within the ballast tanks.
(3) Suppression of the breeding of bacteria and algae inside ballast tanks
ClearBallast not only inhibits the propagation of bacteria within mud, but because it also removes the bio-essential element phosphorous that is suspended in seawater, the system is able to greatly suppress the proliferation of algae generated in large amounts by red tide or other causes is by chance mixed into the ballast tank.
(4) Full line-up including explosion-proof specifications
Also being studied are special versions of the system with specifications to prevent explosion, making them highly suitable for use in oil tankers, liquefied gas tankers, container ships carrying hazardous cargo, chemical tankers, and the like. Hereafter plans are being made to apply for additional Japanese government approval for such a version.
(5) Efficient power usage
At 21 kW for 200 m3/h or 112 kW for 1,600 m3/h of ballast water, the system's power consumption is relatively low, and as extra power-generation capacity may not necessarily be needed, the effect on the ship's electrical system can be minimized.
(6) No affect on loading procedures
The system treats ballast water during intake, not discharge. Accordingly, no modification is needed to existing procedures used during the loading of cargo.
Operation Sequence
(1) Treatment is done when the water is taken on. First, magnetic power and flocculation agents are added to seawater in a high/low-speed roiling tank, and the water is roiled to form magnetized floc measuring around 1mm consisting of plankton, bacteria, mud, and other material.
(2) When then passed through a magnetic separator, the floc adheres to magnetic disks and is removed. Finally, the treated water is filtered in a filter separator, before being pumped into the ballast tanks.
(3) The system is safe because the plankton and bacteria contained in the recovered floc are killed through heat treatment.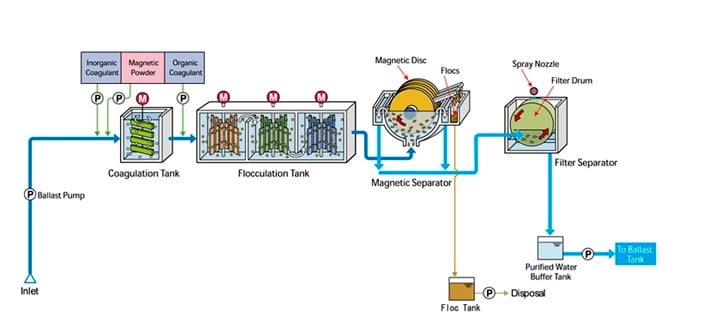 Specification (The figures are based on February,2010 designs.)
Ballast PumpCapacity
(m3/h)

Foot print(m2) **1

Electric Power
(kW)

Coagulation
Tank

Flocculation
Tank
(Vertical
 Blade)

Magnetic
Separator

Filter
Separator

Additive Processing Unit **2

Collected
Flocs
Heating  Equipment

Control  panel

200

1.2

3.3

4.2

4.3

4.5

1.4

1.2

21

400

1.8

3.7

6.8

7.5

8.3

1.4

1.2

31

800

2.5

11

14
---
About MHI Group
Mitsubishi Heavy Industries (MHI) Group is one of the world's leading industrial groups, spanning energy, smart infrastructure, industrial machinery, aerospace and defense. MHI Group combines cutting-edge technology with deep experience to deliver innovative, integrated solutions that help to realize a carbon neutral world, improve the quality of life and ensure a safer world. For more information, please visit www.mhi.com or follow our insights and stories on spectra.mhi.com.