Environment-friendly Air Bubbles
Experiments on Air-Lubrication System to Begin
-10% CO2 Reduction Expected by Lowering Seawater Resistance-
Nippon Yusen Kabushiki Kaisha
NYK-HINODE LINE, Ltd.
Mitsubishi Heavy Industries, Ltd.
NYK (head office: Chiyoda-ku, Tokyo, Japan; president: Yasumi Kudo) and Mitsubishi Heavy Industries, Ltd. (head office: Minato-ku, Tokyo, Japan; president: Hideaki Omiya) are to begin experiments on an air-lubrication system to reduce CO2 emissions during marine transport. Jointly developed by the two companies, the system effectively reduces the frictional resistance between a vessel's bottom and the seawater by means of bubbles generated by supplying air to the vessel's bottom. The world's first permanent installation of the system using an air-blower is expected to reduce CO2 emissions by approximately 10 percent. The experiments will be conducted using module carriers* operated by an NYK Group company, NYK-Hinode Line, Ltd. (head office: Chiyoda-ku, Tokyo, Japan; president: Sumio Kinoshita) Construction of the vessels will be completed on March 31 and in late November 2010.
Amid a strong demand for effective environmental measures to counter global warming, NYK has proactively taken initiatives to reduce CO2 emissions throughout its marine transport, while Mitsubishi Heavy Industries has focused on the development of vessels that meet the needs for CO2 reduction as an important issue. Since the planning stage of the construction of the new module carriers, NYK-Hinode Line has been of the opinion that the air-lubrication system is physically optimal for installation on module-type vessels, and has decided to proceed with an actual installation.

Compared to other large vessels, a module carrier has a wide, shallow-draft hull that generates relatively little water pressure and accordingly minimizes the electric energy required by an air blower to supply air to the vessel's bottom. Moreover, due to the flat, wide bottom, the supplied air is considered to be readily retained under the vessel's bottom. For these reasons, it has been determined that experiments into the effectiveness of CO2 reduction can be verified using module carriers. This project is subsidized through Japan's Ministry of Land, Infrastructure, Transport and Tourism's "Support for Technology Development from Marine Vessels for Curtailing CO2" project for fiscal 2009 (announced on May 29, 2009),** and is also supported by ClassNK and the Nippon Foundation.
* Special heavy load carrier with roll-on, roll-off rampway to transport thousand-ton prefabricated structures of plant facilities to be installed on oil/gas development sites, or industrial locations.
** Announced on July 1, 2009. For more information, please see the company's website:
www.nyk.com/english/release/31/NE_090701.html
Outline of project
1.  Specifics of experiments
1)  Verify fuel-reduction effects
2)  Verify the behavior of air bubbles that are supplied to a vessel's bottom under various operational and sea conditions
3)  Verify the relation between the amount of air supplied and its effects
4)  Demonstrate CO2 reduction effects
2.  Vessels installed with system: module carriers to be completed at Nagasaki Shipyard, Mitsubishi Heavy Industries, Ltd.
Scheduled to be completed on March 31, 2010: "YAMATAI"
Scheduled to be completed in late November 2010: "YAMATO"
3.  Image of a module carrier and the system (Reference: information supplied by Mitsubishi Heavy Industries, Ltd.)
    Image of a module carrier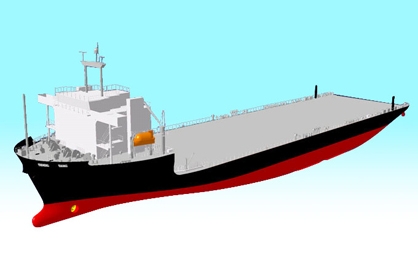 Image from the bottom of a module carrier equipped with an air lubrication system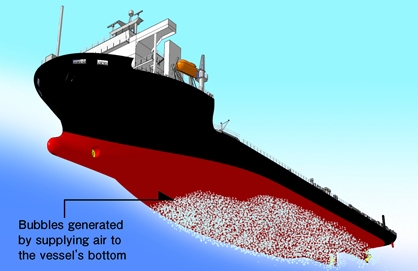 ---