MHI Licensee in China Completes First Marine Deck Crane
-- Strategic Development to Spur MHI's Entry into Chinese Market --
Tokyo, December 22, 2009 - Nantong Masada Ship Machinery Co., Ltd., a Chinese company located in Nantong*, Jiangsu Province, to which Mitsubishi Heavy Industries, Ltd. (MHI) licensed its marine deck crane technology, has completed production and delivery of its first MHI-licensed product. Delivery was taken by Jiangsu Hantong Ship Heavy Industry Co., Ltd., a major local shipbuilder. Nantong Masada aims to increase deck crane production in response to rapidly growing demand arising from a sharp increase in local construction of cargo ships, including bulk carriers. MHI is looking for its partnership with Nantong Masada to play an important role in launching its deck cranes into the robustly expanding Chinese market.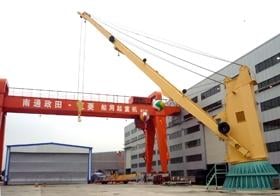 Nantong Masada Ship Machinery was jointly established in 2005 by Nantong Universal Machinery Co., Ltd., an industrial machinery manufacturer in Jiangsu, and Masada Ironworks Co., Ltd., a winch manufacturer in Osaka, Japan, to produce marine deck equipment. MHI licensed its deck crane technology to Nantong Masada in June 2008, following which a 30,000 square meter plant dedicated to deck crane manufacture was built with MHI's guidance. Production got under way at the plant in June 2009.

MHI is currently supplying the hydraulic machines and other core components for deck cranes with 30–35 ton hoisting capacities being manufactured by the Chinese plant. Gaining momentum from delivery of the first completed unit, the joint venture now plans to begin full-fledged production, initially targeting 50 units in 2010 and ultimately looking to produce 200 units per year.

Marine deck cranes are located on the decks of cargo ships; they are used for loading and unloading of cargo such as coal, iron ore and grains. MHI presently enjoys the largest share, 40%, of the Japanese market. Even amid the current economic slowdown, the company has a substantial backlog of orders; but in spite of this favorable business expansion, to date MHI has been unable to accommodate rapidly increasing demand in China. In order to resolve this issue, the company opted to license its marine deck crane technology to Nantong Masada, marking a first for the company. Going forward, MHI will seek expanded adoption of its deck cranes in the global market as it simultaneously works to maintain and develop its solid relationship with Nantong Masada.

Note: Nantong city is situated on the northern bank of the Yangtze River approximately 110 kilometers northwest of Shanghai. More than 800 Japanese companies are located here.
---
About MHI Group
Mitsubishi Heavy Industries (MHI) Group is one of the world's leading industrial groups, spanning energy, smart infrastructure, industrial machinery, aerospace and defense. MHI Group combines cutting-edge technology with deep experience to deliver innovative, integrated solutions that help to realize a carbon neutral world, improve the quality of life and ensure a safer world. For more information, please visit www.mhi.com or follow our insights and stories on spectra.mhi.com.