MHI Begins Mass Production of Forklift Trucks in Dalian, China
-- "Tetrapolar" Global Production Structure Now Completed --
Tokyo, December 4, 2009 - Mitsubishi Heavy Industries, Ltd. (MHI) has completed the construction of a new forklift truck production plant in Dalian, China, and launched mass production. Initially the new plant will manufacture the company's newest model forklift trucks with handling capacities between 1 and 3 tons and supply them in China, which has now grown into the world's largest market for engine-powered forklift trucks. MHI also aims for the new facility to function in the future as a forklift truck supply base to the markets of newly emerging countries. With the addition of the new plant in China to existing bases in Japan, the U.S. and Europe, MHI has now completed a "tetrapolar" (4-pole), globally optimized production/ procurement structure. Celebrating the event, a ceremony took place today on site.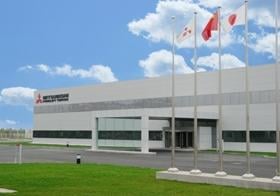 The new production plant is a facility of Mitsubishi Heavy Industries Forklift (Dalian) Co., Ltd. (MFD), MHI's wholly owned subsidiary established in November last year. The plant is located in the Dalian Economic and Technological Development Zone in Dalian, Liaoning Province, and has a 27,000 square meter (m2) floor area on a 100,000 m2 property. Annual production is targeted at around 7,000 units in three years later.

By establishing its own manufacturing base in China's huge emerging market, MHI will be able to conduct vigorous business operations closely adapted to the local market while simultaneously avoiding foreign exchange risks.

Initially core components will be provided from Japan and the new plant will produce major welded components. Since many Japanese affiliate companies capable of manufacturing high-quality parts operate in and around Dalian, other sheet metal parts will be procured locally. Parts procured in China will not only be supplied to the new production facility in Dalian; plans also call for their provision to other MHI forklift truck manufacturing plants located outside of China. In this way, the new plant will not only be a forklift truck production base in Asia, but also function as a cost-competitive component supply base.

Once business has gotten on track, MHI will gradually increase its production models and also mull sales area expansion, centering on newly emerging countries.

Today the Chinese market for engine-powered forklift trucks has grown into the world's largest, surpassing the North American market. While demand has slowed temporarily due to the recent financial crisis, the markets of the newly emerging countries are basically in a long-term expansionary trend. Given these favorable prospects, MHI has added the new base in Dalian to complement its three previously existing major forklift truck production bases: the General Machinery & Special Vehicle Headquarters in Sagamihara, Kanagawa, Japan; Mitsubishi Caterpillar Forklift America Inc. (MCFA) in Houston, Texas; and Mitsubishi Caterpillar Forklift Europe B.V. (MCFE) in Almere, the Netherlands. With its four bases now in place, MHI aims to expand its market share through establishment of a global structure capable of responding swiftly to customer needs while simultaneously achieving a flexible, tetrapolar production system and avoiding currency fluctuation risks as necessitated by the severe economic environment arising from sustained yen appreciation.
---
About MHI Group
Mitsubishi Heavy Industries (MHI) Group is one of the world's leading industrial groups, spanning energy, smart infrastructure, industrial machinery, aerospace and defense. MHI Group combines cutting-edge technology with deep experience to deliver innovative, integrated solutions that help to realize a carbon neutral world, improve the quality of life and ensure a safer world. For more information, please visit www.mhi.com or follow our insights and stories on spectra.mhi.com.