MHI Completes Construction of Plant Dedicated
To Nuclear Power Generation Core Component Production
- Newest Step Forward in Turbine Production for US/EU-APWRs -
Tokyo, September 11, 2009 - Mitsubishi Heavy Industries, Ltd. (MHI) has completed the construction of a new manufacturing plant at its Takasago Machinery Works in Hyogo Prefecture dedicated to production of steam turbine rotors for nuclear power plants (NPP), a core component of nuclear power generation systems. The new state-of-the-art facility is capable of integrated production of rotors, from material processing to finished products, at a rate of 10 units per year.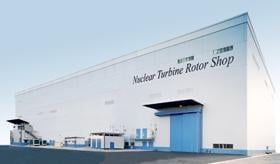 The new plant will play a key role for US-APWR and EU-APWR NPPs by producing one of the world's largest NPP turbines, featuring 70-inch class turbine blades. The US-APWR and EU-APWR are MHI's 1,700 MWe (megawatt electric) class advanced pressurized water reactors (APWR) for the US and EU markets, respectively. The plant will also contribute to ensuring the stable, reliable and highly efficient operation of existing and planned domestic NPPs.

The new rotor production plant is central to MHI's initiative to strengthen its production structure for high-efficiency, large-size NPP turbines, which are expected to see increasing demand in the years ahead. The plant will boost MHI's annual rotor production capacity from the current six units to 10 and significantly push forward the company's plan to establish a "two NPPs per year" production structure. Incorporating an array of the industry's most advanced production equipment, the plant will ensure high-quality processing at each production stage and enhance production capacity through streamlining. In the future, coupled with a plant dedicated to processing 70-inch class forged turbine blades to be completed within this fiscal year, the facility will underpin the production and supply of high-efficiency, large-size NPP turbines.

NPP turbines are a key component of nuclear power generation facilities. A rotor functions as the turbine shaft or axis – a rotating body into which the blades are set. To date, MHI has manufactured and supplied turbines for all 24 pressurized water reactors (PWR) NPPs in operation or under construction in Japan – making a total power output equivalent to more than 20,000 MWe. The company has also received export orders for NPP turbines from countries including China, Spain and Slovenia.

MHI is one among the world's leading suppliers capable of satisfying all NPP-related needs: from basic planning of PWR NPPs to design, manufacture, inspection, installation, test operation and services after startup. Based on its track record of numerous PWR NPP constructions, the company is currently conducting marketing activities and business negotiations for the US/EU-APWRs, which are among the world's largest PWRs. Together with AREVA it is also jointly developing the "ATMEA1," a 1,100 MWe class PWR. MHI has further been focusing its activities on the enhanced PWR (APWR) that is planned for construction in Japan and on the development of a next-generation PWR, demand for which is expected to emerge around 2030.

MHI's initiative to construct dedicated plants for NPP turbines is the company's response to robust development of this market. Going forward, leveraging the completion of its new plant, MHI aims to conduct further aggressive marketing activities for its PWRs and components.
---
About MHI Group
Mitsubishi Heavy Industries (MHI) Group is one of the world's leading industrial groups, spanning energy, smart infrastructure, industrial machinery, aerospace and defense. MHI Group combines cutting-edge technology with deep experience to deliver innovative, integrated solutions that help to realize a carbon neutral world, improve the quality of life and ensure a safer world. For more information, please visit www.mhi.com or follow our insights and stories on spectra.mhi.com.