Dubai Metro Commences Operation:
First Urban Rail System in GCC
-- World's Longest Driverless Rail System --
Tokyo, September 10, 2009 - The Dubai Rapid Link (DURL), an international consortium including Mitsubishi Heavy Industries, Ltd. (MHI), has completed the construction of Dubai Metro Red Line, a fully automated, driverless metro system, in Dubai, the United Arab Emirates (UAE). The system commenced operation on September 9 at 10 key stations. The other members of DURL include three Japanese companies - Mitsubishi Corporation (MC), Obayashi Corporation and Kajima Corporation - and Yapi Merkezi Insaat ve Sanayi A.S. of Turkey. The 53 kilometer-long Red Line (Phase I) runs between Dubai International Airport and Jebel Ali, a new area under development along the coast. The Dubai Metro is the first urban rail system in GCC (Gulf Cooperation Council).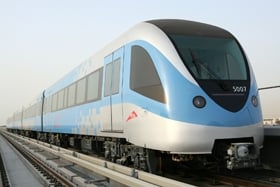 To celebrate the launch of operation, a ceremony hosted by His Excellency Mattar Al Tayer, Chairman of the Board and Executive Director of the Dubai Roads & Transport Authority, took place at Mall of the Emirates Station, one of the stations newly opened. Distinguished guests from the UAE included His Highness Sheikh Mohammed bin Rashid Al Maktoum, Vice President and Prime Minister of the UAE and Ruler of Dubai, along with numerous governmental officials. Attendees from Japan included: Takato Nishizawa, Senior Vice President of MHI; Hajime Katsumura, Executive Vice President of MC; Kazuyoshi Uehara, Managing Officer of Obayashi; and Seiichiro Tomioka, Senior Executive Officer of Kajima.

The Dubai Metro will be the world's longest driverless rail system, with a total length of approximately 75 kilometers, consisting of the newly completed Red Line and the Green Line (Phase II) currently under construction, which will run through the old city along Dubai Creek. The network will substantially ease Dubai's traffic congestion stemming from rapid population growth.

Since the commencement of Phase I construction work in August 2005, the five-partner Japanese-Turkish consortium supplied the fully automated driverless rail system and performed related civil and construction work. MHI and MC supplied the complete rail system, including rolling stock, automatic train control system, power supply system and rail tracks. Obayashi, Kajima and Yapi Merkezi together constructed the tunnels, station buildings and substructures for elevated rail tracks. The consortium completed for the starting of revenue service of Red Line in about 49 months, as contracted.

The consortium has also been engaged in Phase II construction, the Green Line, under the same role-sharing scheme since July 2006. Launch of this line is targeted for 2010.

Today, many other transportation infrastructure projects are being planned in the Middle Eastern countries, including rail projects in Abu Dhabi, Qatar and Saudi Arabia. Leveraging the completion of the Dubai Metro Red Line, going forward MHI now intends to proactively seek involvement in these other projects in the region.
---