MHI Delivers 2 Replacement Steam Generators for Doel-1
At Electrabel GDF SUEZ's Doel Nuclear Power Plant in Belgium
- More than half of steam generators operated in Belgium are made by MHI -
Tokyo, August 25 2009 - Mitsubishi Heavy Industries, Ltd. (MHI) has delivered two replacement steam generators (RSG), a core component of pressurized water reactor (PWR) nuclear power plants (NPP), for the Doel-1 NPP in Belgium operated by Electrabel GDF SUEZ, a leading European energy company. MHI received the order for the RSGs in February 2006 in line with the NPP's component renewal initiative. With the latest deliveries, MHI RSGs now account for over half of all SGs operated in Belgium - 10 of 19 at seven NPPs.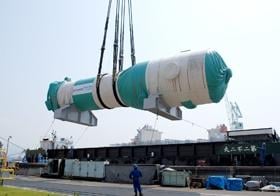 Doel-1, a 392.5 MW (megawatt) PWR NPP, which is scheduled to be uprated, locates near the port city of Antwerp, approximately 50 kilometers north of Brussels. The facility began commercial operation in 1975 and, after more than 30 years in service, has been in need of renewal.

The RSGs, manufactured at MHI's Kobe Shipyard and Machinery Works, measure 20 meters in height and weigh roughly 270 tons. SGs play a crucial role in PWRs by transferring the thermal energy generated in the reactor vessel to a secondary coolant and feeding the resulting steam to a turbine system to generate electricity. Their pressure-resistant container, made of low-alloy steel*1, houses approximately 4,800 heat transfer tubes made of a thermally treated alloy: Alloy 690*2, an advanced material. SGs require especially sophisticated capabilities in both design and manufacturing as well as outstanding safety and reliability, and in Japan MHI, which has long focused on PWR NPPs, is the only company that manufactures SGs.

To date MHI has delivered three RSGs each to the Electrabel GDF SUEZ Tihange-1 and Tihange-2 NPPs*3, respectively in 1995 and 2001, and two RSGs to the Doel-2 NPP in 2004. In total the company has processed overseas orders for 28 RSG units, mainly from North America and Europe. The total rises to 122 units when SGs and RSGs for the domestic market are included. By providing RSGs and other replacement components, MHI has helped extend the operational life and boost the safety and economic efficiency of existing PWR NPPs both in Japan and abroad.

Going forward, as a world-leading supplier comprehensively satisfying all NPP-related needs - from basic planning of PWR plants to design, manufacturing, inspections, installation, test operation and services after their operation commences - MHI will leverage its technological expertise and excellent track record to conduct overseas marketing of its NPP components aggressively.
Notes :
1.

Steam generators are manufactured with strong low-alloy steel made of manganese, molybdenum and nickel steel, a combination highly resistant to the strong pressures characteristic of pressurized reactor (primary) and secondary coolants.

2.

Alloy 690 is a thermally treated nickel-chromium-iron alloy offering enhanced resistance to stress corrosion cracks under high temperatures and pressures. It is used as a principal material of heat transfer tubes.

3.

The Tihange-1 NPP (962 MW PWR) began commercial operation in 1975 and the Tihange-2 NPP (1,008 MW PWR), in 1983. The Doel-2 NPP (430 MW PWR) went on-stream in 1975.
Products Page
---
About MHI Group
Mitsubishi Heavy Industries (MHI) Group is one of the world's leading industrial groups, spanning energy, smart infrastructure, industrial machinery, aerospace and defense. MHI Group combines cutting-edge technology with deep experience to deliver innovative, integrated solutions that help to realize a carbon neutral world, improve the quality of life and ensure a safer world. For more information, please visit www.mhi.com or follow our insights and stories on spectra.mhi.com.