MHI's New Turbocharger Plant in Thailand to Begin Mass Production
Move Completes Japan-Europe-Asia Tripolar Global Structure,
For Fully Optimized Production and Procurement
Tokyo, July 17, 2009 - Mitsubishi Heavy Industries, Ltd. (MHI) has completed the construction of a new turbocharger production plant near Bangkok, Thailand, and today began mass production. The new plant mainly produces cartridges, the core portion of turbochargers, and plays an important role in the company's global production and supply structure. With the addition of the new Thai plant, complementing production bases in Japan and the Netherlands, MHI brings to completion an optimum production and procurement system based on a tripolar global structure encompassing Japan, Europe and Asia. To celebrate the launch of mass production, a ceremony took place at the Thai plant today.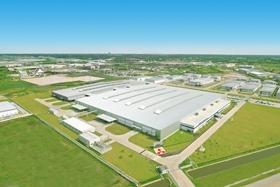 The new plant serves as a plant of Mitsubishi Turbocharger Asia Co., Ltd. (MTA), a wholly owned turbocharger manufacturing subsidiary established by MHI in January 2008 within the Amata Nakorn Industrial Estate, located approximately 80 kilometers southeast of Bangkok. The plant has capacity to produce 3 million cartridges p.a. (per annum) and undertakes a task of supplying cartridges globally, which has been so far performed exclusively by the Main Plant of MHI's General Machinery & Special Vehicle Headquarters in Sagamihara, Japan. The Thai plant also has capacity to produce 500,000 turbochargers p.a. as finished products, and undertakes sales and handle local marketing activities as well as technical and quality assurance services.

The new plant, construction of which began in April 2008, has a 60,000 square meter (m2) floor area on 147,000 m2 property. The plant started production equipment installation this January and began trial production in March. Initially the plant is operating with 130 employees, and staff will be expanded to 700 once production reaches full momentum.

Although market of turbochargers has been sluggish since last year under the influence of the economic and financial crises after continuous market expansion worldwide, the demand is expected to increase sharply again over the medium to long term due to implementation of intensified emissions controls from 2010 and more stringent fuel efficiency requirements.

With the addition of the new Thai plant, MHI has now completed a structure enabling swift customer response worldwide. While benefiting from avoidance of currency fluctuation risks and from flexible production shifting among its three production bases, MHI looks to establish a production structure for 6.9 million turbochargers p.a. and to secure a 25% share of the global market.
---
About MHI Group
Mitsubishi Heavy Industries (MHI) Group is one of the world's leading industrial groups, spanning energy, smart infrastructure, industrial machinery, aerospace and defense. MHI Group combines cutting-edge technology with deep experience to deliver innovative, integrated solutions that help to realize a carbon neutral world, improve the quality of life and ensure a safer world. For more information, please visit www.mhi.com or follow our insights and stories on spectra.mhi.com.