Tokyo, July 13, 2009 - Mitsubishi Heavy Industries, Ltd. (MHI) will ship the company's 500th gas turbine tomorrow from its Takasago Machinery Works in Hyogo Prefecture. Since its first gas turbine delivery in 1963, MHI has increased the shipment of gas turbines, at the same time enhancing their power generation capacity and performance, and will achieve the milestone shipment in 47 years. The 500th unit will be delivered to a large-scale power generation and desalination project - the Ras Laffan C Independent Water and Power Producer (IWPP) Project - currently under way in Ras Laffan Industrial City, Qatar.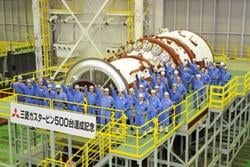 The 500th gas turbine is the first unit of eight M701F gas turbines ordered by Ras Girtas Power Company (RGPC)*, an IWPP formed by companies in Japan, Europe and Qatar. It will be shipped together with the identical 501st unit. The plant to be built in Ras Laffan will be one of the world's largest of its kind, consisting of a natural-gas-fired GTCC power generation facility with a total generation capacity of 2,730 MW and a desalination plant with capacity to produce 63 million gallons of water per day from seawater. The plant is slated to go on-stream in April 2011.

Takasago Machinery Works was established in 1962 as a dedicated turbine manufacturing plant of MHI's Kobe Machinery Works; it became independent in 1964. Manufacture of industrial-use gas turbines was launched in 1963, and its first unit, an MW171 gas turbine with inlet temperature of 732 degrees Celsius (about 1,350 degrees Fahrenheit), was delivered to the Chiba Plant of Asahi Glass Co., Ltd.

Since commencement of its gas turbine business, MHI has focused on technological development targeting higher gas turbine inlet temperatures to enable enhanced gas turbine power generation efficiency. In 1989 the company commercialized the 1,350 degrees C-class M701F and in 1996 developed the 1,500 degrees C-class G-Series. Earlier this year, MHI completed the world's largest and most efficient 1,600 degrees C-class J-Series, and moves are now under way toward its commercialization.

In tandem with these advances in efficiency, the paces of orders for and deliveries of MHI's gas turbines have also been accelerated. Especially after 2000, the shipment of gas turbines has risen to the level of 20 – 30 units per year, mainly 200 MW to 250 MW class large-size gas turbines, with cumulative orders now reaching 535 units. With the added momentum from marking its 500th shipment, MHI will now aggressively conduct its gas turbine marketing activities globally, responding to demand for high-efficiency power generation systems, such as gas turbine combined cycle (GTCC) power generation, that contribute to conservation of energy resources and environmental preservation.
Note:
The companies investing in Ras Girtas Power Company include Mitsui & Co., Ltd., Chubu Electric Power Co. Inc., Shikoku Electric Power Co., Inc., GDF Suez of France, Qatar Petroleum (QP), a state-owned oil company, and Qatar Electricity & Water Company (QEWC). MHI is to provide eight gas turbines and four steam turbines. Mitsui & Co. is the construction contractor of the power generation and desalination plant. Mitsubishi Electric Corporation will be responsible for 12 generators. The desalination facility will be supplied by SIDEM of France. Hyundai Engineering & Construction Co., Ltd. of Korea will play a coordinating role for the overall plant facility.
Products Page
---
About MHI Group
Mitsubishi Heavy Industries (MHI) Group is one of the world's leading industrial groups, spanning energy, smart infrastructure, industrial machinery, aerospace and defense. MHI Group combines cutting-edge technology with deep experience to deliver innovative, integrated solutions that help to realize a carbon neutral world, improve the quality of life and ensure a safer world. For more information, please visit www.mhi.com or follow our insights and stories on spectra.mhi.com.