MHI Receives 2nd Order for Automated People Mover
At Miami International Airport, following Initial Order Placed in 1999
-- 4th APM Order from the U.S. --
Tokyo, October 2, 2008 - Mitsubishi Heavy Industries, Ltd. (MHI), in cooperation with Sumitomo Corporation, has received an order to construct an automated people mover (APM) system for Miami International Airport (MIA) together with two American companies: Odebrecht Construction, Inc., the U.S. subsidiary of Construtora Norberto Odebrecht S.A., Brazil's largest general contractor; and Parsons Corporation, a leading U.S. consultant. The order is worth approximately 27.4 billion yen (US$260 million). The APM system is slated for completion in September 2011.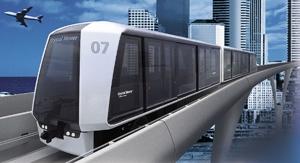 The latest order marks the fourth APM order placed to MHI from the U.S. and the second for MIA, following the system ordered for the airport's North Terminal in 1999. MHI has previously also received similar orders for Washington's Dulles International Airport and for Hartsfield-Jackson Atlanta International Airport.

The latest APM system for MIA, dubbed the "MIA Mover," is a 1.25-mile system to connect the airport terminals with the Miami Intermodal Center (MIC), an off-airport multi-modal transportation center for transfers to regional rail, bus and rental car facilities. The order calls for civil engineering work and supply of the APM system. MHI also expects to receive an optional order for system operation and maintenance for 15 years at the longest, which is currently being offered.

To cope with increasing numbers of users of the airport and nearby facilities, the APM system – a driverless, automated passenger transport system – was selected to replace the bus system currently used for transportation between the airport terminals and various facilities located in the immediate vicinity, including car rental offices and rail stations used for commuting. The APM features rubber-tired vehicles providing for low-noise, safe operation and a smooth and comfortable ride.

Elsewhere around the globe, MHI has successfully received APM orders for Hong Kong International Airport, Singapore's Changi International Airport, Korea's Incheon International Airport and Dubai International Airport, demonstrating its superior expertise and capability in APM systems worldwide. With these orders and the excellent operational performance of the systems delivered, MHI has established its position as a leader in the industry. MHI believes that in addition to this abundant experience and solid track record, the high acclaim given to its comprehensive technological expertise in integrating entire APM systems, including vehicles and signal systems, resulted in the latest order.

On the strength of the new order, MHI will aggressively conduct marketing activities targeting other APM projects planned at major airports around the world, seeking to expand its APM orders further while simultaneously solidifying its APM business base in the U.S.
---
About MHI Group
Mitsubishi Heavy Industries (MHI) Group is one of the world's leading industrial groups, spanning energy, smart infrastructure, industrial machinery, aerospace and defense. MHI Group combines cutting-edge technology with deep experience to deliver innovative, integrated solutions that help to realize a carbon neutral world, improve the quality of life and ensure a safer world. For more information, please visit www.mhi.com or follow our insights and stories on spectra.mhi.com.