THE MHI VISION:
2021 AND BEYOND
2018 MEDIUM-TERM BUSINESS PLAN
(FY2018-FY2020)
To solve society's issues through global integrated engineering,
ensuring long-term wellbeing and security for humanity.
EMBRACING A NEW
ENTREPRENEURIAL SPIRIT
Over the course of Mitsubishi Heavy Industries' long history, we've evolved our business to support society as the world changes and evolves. This Medium-Term Business Plan (MTBP) marks an important moment for us as we conclude a period of restructuring and look toward a bright future.
Since 2015, we have implemented significant reforms as we faced organizational and financial challenges. We have renovated and strengthened our risk management structure, built a strong financial foundation and shifted to a global management structure.
Today, we take a bright view of the future. These new structures and mechanisms enable MHI to support emerging societal needs, and thereby position the company for healthy, long-term growth. The work we have done to balance business growth with financial stability has positioned us to take controlled risk, and we are already driving earnings recovery, implementing a growth strategy and investing business expansion in line with societal needs and priorities.
The result of this MTBP will impact key stakeholders in numerous positive ways. For our investors, we will drive growth and value, and remain a sound, long-term investment. For our customers, we remain committed to providing exceptional customer service and solutions that help them navigate complex challenges. For our employees, we will instill an entrepreneurial spirit within a stable environment. With a strong foundation at our feet and the winds of change at our back, we set sail towards new horizons.


Shunichi Miyanaga,
President and CEO
STREAMLINED APPROACH TO
CORE BUSINESSES
STRONG FINANCIAL FOUNDATION
FOR CHANGE AND GROWTH
200
BILLION JPY
(APPROX. 2 BILLION USD)
IN FREE CASH FLOW
.38
DEBT-TO-EQUITY
RATIO - THE BEST IT
HAS EVER BEEN
By serving stakeholders and society at large in a sustainable and harmonious way, we aim to become a ¥5 TRILLION (≈ $50B USD) COMPANY BY 2020 which has a balanced Triple-One Proportion.
THE TRIPLE-ONE
PROPORTION (TOP):
Striving for a 1:1:1 Balance of Net Sales, Total Assets, and Market Capitalization for Stable Growth Aligned with Corporate Values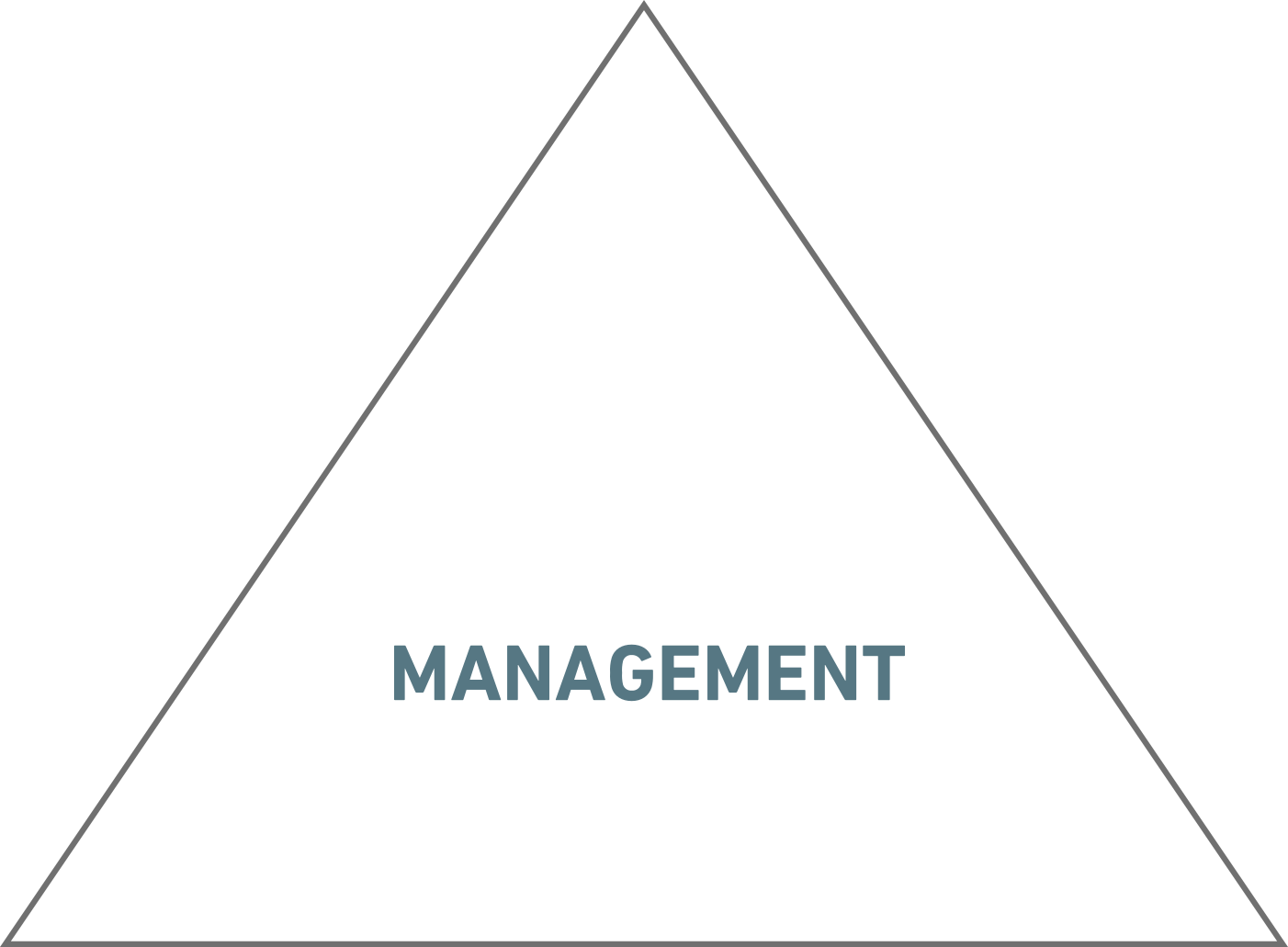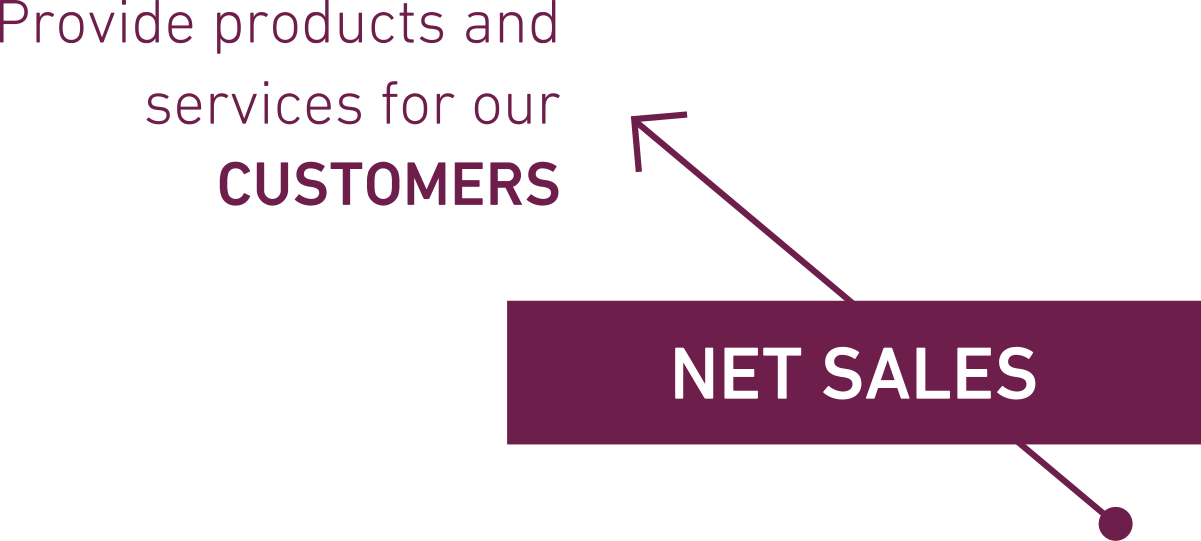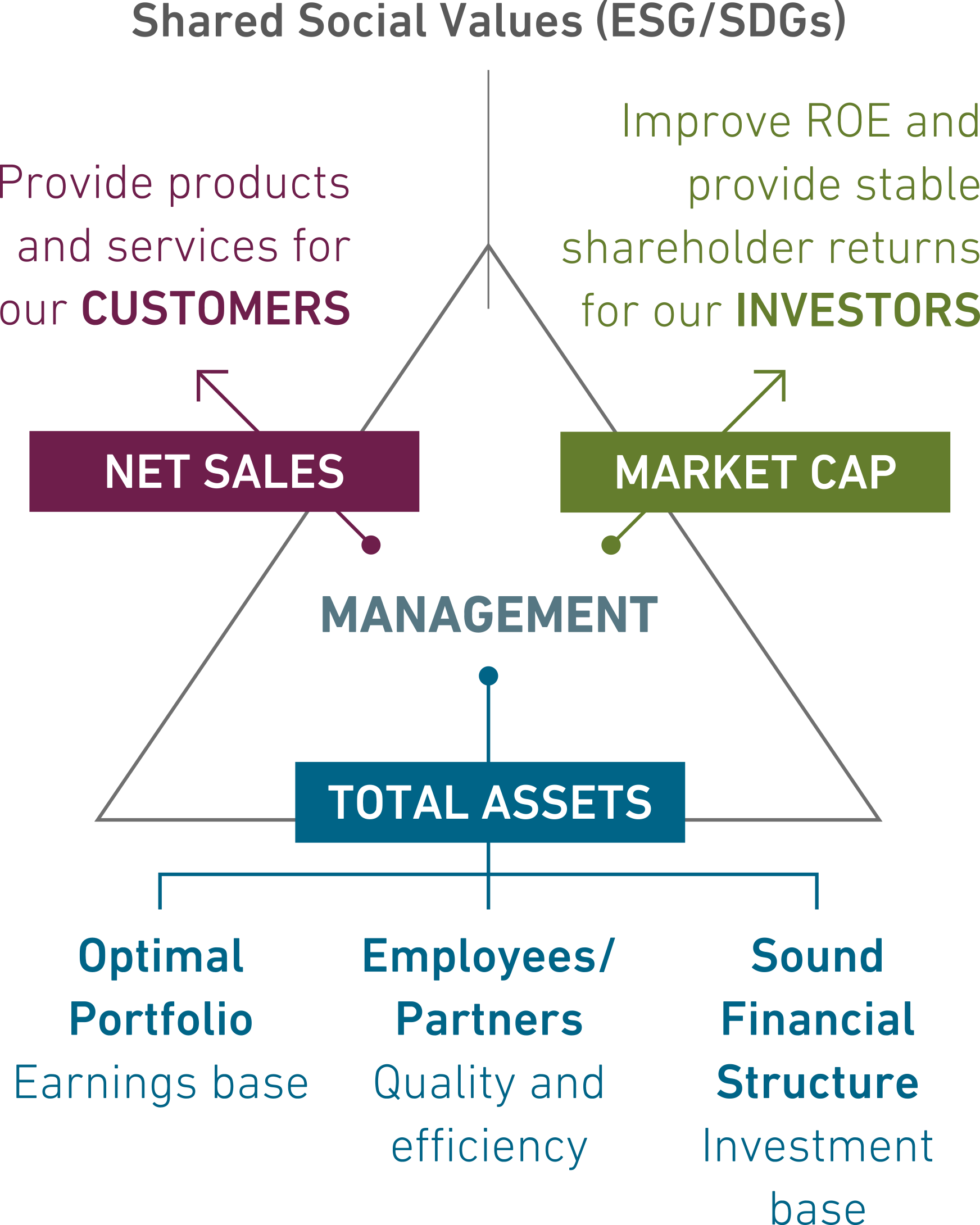 Ratio Projections
2018
1 : 1.3 : 0.3
2021
1 : 1.1 : 0.6
2024
1 : 1 : 1
The Triple-One Proportion aims to achieve balance through a 1:1:1 ratio of three key factors: net sales, total assets and market capitalization. Increasing the scale of our business to $50 billion allows room to navigate the challenges and opportunities inherent with pursuing new innovative projects, while the Triple-One Proportion concept provides the ability to withstand any change in circumstance.
TOP IS CLOSELY CONNECTED TO THE BASIC POLICIES OF THE 2018 MEDIUM-TERM BUSINESS PLAN
STEP 1

Embed business reforms and prioritize efficiency and quality (total assets)

STEP 2

Increase business scale (net sales) by implementing growth strategies

STEP 3

Increase market capitalization through business growth, increased profitability, and shareholder returns

STEP 4

Long-term, stable increase of corporate value
A PLATFORM FOR GROWTH
We will implement new tools and behaviors to shape and support our long term strategic direction for the company.
MHI FUTURE STREAM
MHI Future Stream will MOVE THE WORLD FORWARD by leveraging global megatrends and innovative new technology to transform society for the better. MHI Group will continue to develop solutions to address global issues, such as the transition to a lower carbon planet, smarter and more sustainable infrastructure, and a world that works for all.
EXISTING MARKET NEEDS
ENERGY-EFFICIENT

Industrial and logistics machinery

SAFETY

Defense technologies
Launch vehicles
NEW MARKET NEEDS
CARBON FREE

Hydrogen combustion
GTCC
SOFC

URBAN PROBLEMS

Logistics and transportation systems
Waste treatment

SAFETY

Advanced security products and autonomous operation
CARBON FREE

Heat/electrical storage, conversion
Nuclear fusion reactors

SOCIAL INFRASTRUCTURE INNOVATION

Future mobility and logistics

CO-EXISTENCE, CO-PROSPERITY

National Security Systems
Space development
TAKE ON CHALLENGES OF THE DISTANT FUTURE
A SOCIETY WHERE ALL HUMAN BEINGS CAN LIVE WITH PEACE OF MIND
GTCC: Gas Turbine Combined Cycle Power Plant
IGCC: Integrated coal Gasification Combined Cycle Power Plant
SOFC: Solid Oxide Fuel Cell
MEGA SCAN

Finding business opportunities in the world's megatrends

SHIFT THE PATH

Converting existing businesses to respond to emerging trends

TECHNOLOGY SCOUTING

Exploring innovative new technologies
ENHANCING EMPLOYEE BEHAVIOR AND
CULTURE IN FIVE KEY WAYS
01.

Encourage controlled risk taking

02.

Facilitate entrepreneurship

03.

Promote program and product ownership

04.

Enable cross-company collaboration

05.

Underscore the importance of quality and efficiency
A STRUCTURE FOR LONG-TERM SUSTAINABLE GROWTH AND DEVELOPMENT
To fuel organic growth, we are focused on macro-economic trends, specifically sustainable development and digital transformation. We will also invest in M&A to drive inorganic growth and will consider specific areas going forward.
SUSTAINABLE DEVELOPMENT

From low-carbon to carbon-free
Renewable energies
Electrification
Decentralization / Networks

DIGITAL TRANSFORMATION

Digitalization
Connected society
Shared economics
Increased focus on sense of security, trust

Big data / Analytics
Machine AI and automation
Security diversification
POWER SYSTEMS

The transition to a lower carbon society and the continued development of digital technology will drive our business and bring about significant change in the global energy market

We are evolving our gas, coal and geothermal power solutions to align with demand for a lower carbon energy mix, with solutions like hydrogen fired gas turbines, Solid Oxide Fuel Cell (SOFC), and Micro Gas Turbine (MGT) hybrid systems
We are helping realize a low carbon, zero emissions society by integrating various energy systems including renewable energies
With digital technologies like MHI ENERGY CLOUD® and MHPS-TOMONI™ we are optimizing energy production and power generation
We will continue to grow and develop to fulfill our mission as a "POWER & ENERGY SOLUTION PROVIDER" for the future

INDUSTRY &

INFRASTRUCTURE

The need for smarter and more sustainable social infrastructure is driving innovation in mobility, logistics, and industrial & urban areas

We are enabling smarter and environmentally sustainable transportation and logistics both on land and across the oceans
Our AGT (automated guideway transit) systems are making urban travel more convenient and comfortable
We are evolving eco-ships based on our marine engineering to respond to the ever strengthened maritime environmental regulations
We are offering AGF (Automated Guided Forklifts) with AI based ''Route Optimizer'' for optimal operation in a growing logistics market
In industrial and urban areas, we are providing highly efficient thermal and energy solutions. We are also providing innovative machinery and plants in various sectors minimizing associated environmental impact and contributing to the development of society

The increasing demand for global connectivity and security is driving investment and evolution in the aerospace and defense markets

We are providing dual-use solutions of defense-focused products for civilian use (e.g., InteRSePT®)
We are delivering expanded commercial access to space through launch systems featuring high reliability and on-time delivery
We are reinvigorating the regional commercial passenger aircraft market with the clean-sheet MRJ family of regional aircraft
We are supplying various components to the world's largest aircraft manufacturers