World Future Energy Summit 2013 (Dates: January 15 (Tue.) - 17 (Thu.), 2013)
World Future Energy Summit 2013
January 15 - 17, 2013
Abu Dhabi National Exhibition Centre
Masdar: The Abu Dhabi Future Energy Company
MAIN CONTENTS
This booth is a joint exhibition of 3 Mitsubishi companies: Mitsubishi Heavy Industries, Ltd., Mitsubishi Corporation, and Mitsubishi Electric Corporation.
Please visit our booth to find out our various activities which contribute to the quality of people's life and sustainable society.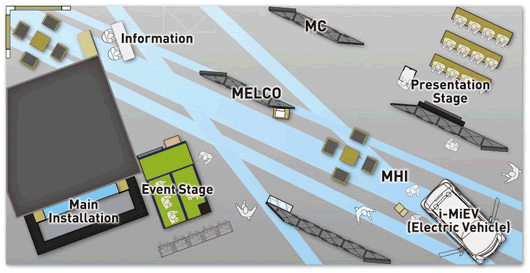 EV Solutions
Masdar and MHI have been jointly running the EV pilot project since January 2011.
The actual EV (Mitsubishi Motors Corporation's i-MiEV) and movies of the project will be exhibited.
You can also find our research into the electrification of road transportation in Abu Dhabi, which we study with Masdar Institute of Science and Technology.
Integrated Water Infrastructure System
MHI has vast experience and capability to construct Desalination Plant and Sludge Treatment System as well as Wastewater Treatment Plants and Water Reclamation Systems to the world.
Installation HANAGURUMA
Installing using "Hydraulic Turbine" transforms the flow of water into power.
Japanese Tea Ceremony
The Tea Ceremony, which is the traditional Japanese hospitality of welcome (Omotenashi) will be held everyday, in collaboration with Urasenke, one of the main schools of Japanese tea ceremony.
Please feel free to join us and enjoy Japanese tea "Matcha"!
DATE & TIME
January 15 (Tue.) - 17 (Thu.), 2013 10:00 a.m. - 6:00 p.m.
VENUE
Abu Dhabi National Exhibition Centre (ADNEC), United Arab Emirates
ORGANIZED BY
Masdar: The Abu Dhabi Future Energy Company
ADMISSION FEE
Free of charge for entrance to the exhibition
OFFICIAL WEBSITE
OF THE EXHIBITION
http://www.worldfutureenergysummit.com/
EXHIBIT PRODUCTS
Transportation
EV Solutions
ITS
APM
Rail Transit
Power Generation
Gas Turbines
Geothermal Power Plant
Nuclear Power Plant (EU-APWR)
CO2 Recovery Plant
Diesel Power Plant & Gas Engine Plant
Water
Desalination Plant
Total Water Solutions
Other
Waste to Energy System
OLED Panel