World Future Energy Summit 2012 (Dates: January 16 (Mon.) - 19 (Thu.), 2012)
World Future Energy Summit 2012
January 16 - 19, 2012
Abu Dhabi National Exhibition Centre
Masdar: The Abu Dhabi Future Energy Company
OUTLINE OF OUR PRESENTATION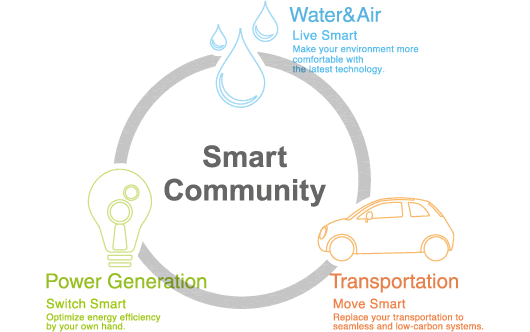 SMART COMMUNITY
Mitsubishi Heavy Industries and Mitsubishi Corporation introduce our next-generation environmental city known as a "Smart Community."
A Smart Community that dynamically integrates the entire city infrastructure is created through state-of-the-art technology, including transportation, power generation, water and air.
MAIN CONTENTS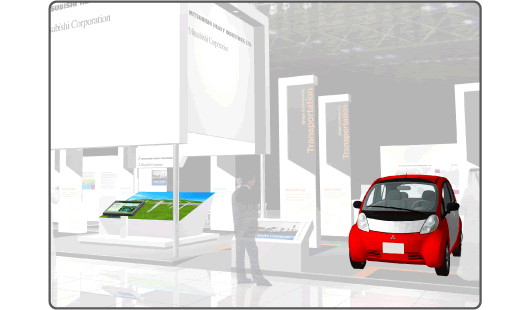 EV Solutions
Masdar and MHI have been jointly running the EV pilot project since January 2011.
The actual EV (Mitsubishi Motors Corporation's i-MiEV) and movies of the project will be exhibited.
Smart Community VR Flythrough
Various products for transportation, energy, and environment are to be presented on virtual Smart Community field.
Touch and try by yourself, experience the future Smart Community world!
DATE & TIME
January 16 (Mon.) - 19 (Thu.), 2012 10:00 a.m. - 6:00 p.m.
VENUE
Abu Dhabi National Exhibition Centre (ADNEC), United Arab Emirates
ORGANIZED BY
Masdar: The Abu Dhabi Future Energy Company
ADMISSION FEE
Free of charge for entrance to the exhibition
OFFICIAL WEBSITE
OF THE EXHIBITION
http://www.worldfutureenergysummit.com/
EXHIBIT PRODUCTS
Transportation
EV Solutions
ITS
APM
Rail Transit
Mitsubishi Regional Jet (MRJ)
Power Generation
Wind Turbine Generators
Geothermal Power Plant
Concentrated Solar Power Plant
Nuclear Power Plant (EU-APWR)
CO2 Recovery Plant
Lithium-ion Secondary Battery
Water & Air
Desalination Plant
Total Water Solutions
Home and Business Customers Air-Conditioner
Centrifugal Chiller
OLED Panel