5th INT'L SMART GRID EXPO (Dates: February 25 (Wed.) - 27 (Fri.), 2015)
5th INT'L SMART GRID EXPO
February 25 - 27, 2015
Tokyo Big Sight, Japan
ORGANIZED BY: Reed Exhibitions Japan Ltd.
MAIN CONTENTS
World's Leading International Exhibition and Conference Specializing in Technologies and Services related to the Smart Grid.
"Our Technologies, Your Tomorrow"
This CI statement represents our intention to "continuously provide an assured future where people can live safe, secure and enriched lives through technologies that can excite people and passion as a manufacturer for the sustainability of the earth and humankind."
We introduce four cases to achieve a safe, secure and resilient environment this time;
Factory Total Energy Management
Distributed Power & Total Energy Solution
The Latest Energy Technologies
Transportation Solution.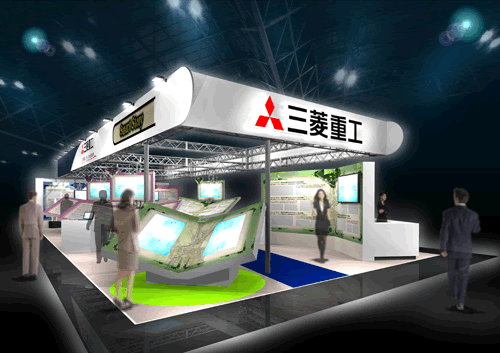 DATE & TIME
February 25 (Wednesday) - 27 (Friday), 2015
10:00 a.m. - 6:00 p.m. (10:00 a.m. - 5:00 p.m. on February 27)
VENUE
Tokyo Big Sight, Japan
ORGANIZED BY
Nikkan Kogyo Shimbun, Ltd
ADMISSION FEE
http://www.smartgridexpo.jp/en/

Invitation Ticket (Free) are requested at official website.

OFFICIAL WEBSITE
OF THE EXHIBITION
http://www.smartgridexpo.jp/en/
CONCURRENT SHOWS
http://www.fcexpo.jp/en/Home/
EXHIBIT PRODUCTS
MHPS (Notes 1) / MHPS-CS (Notes 2)
Control System "DIASYS Netmation",
Gas Turbine Combined Cycle "GTCC" Power Plant,
Integrated coal Gasification Combined Cycle "IGCC" Power Plant,
Solid Oxide Fuel Cell "SOLIDIA"
Geothermal Power Plant
Nuclear Energy Systems Div.
Nuclear Fusion Power Experimental Reactor,
High Temperature Engineering Test Reactor
MVOW (Notes 3)
Burbo Bank Extension 8 Megawatt Offshore Wind Turbine
Turboden
Organic Rankine Cycle - Turboden
PWPS (Notes 4)
Industrial Gas Turbine Packages
Distributed Power Business Development Dep.
Distributed Power & Total Energy Solution
Lithium-ion Secondary Battery Energy Storage System
Land Transportation System Div.
Taiwan High Speed Rail, Dubai Metro, YURIKAMOME,
Mitsubishi Aircraft Corporation
Engine Div.
Packaged Gas Engine "MEGANINJA"
Machine Tool Div.
Energy-saving Solution for own machines,
Double-column, 5-face milling machine "MVR"
Air-Conditioning & Refrigeration Systems Div.
Centrifugal Chiller,
Heat Pump "Q-TON", Heat Pump Chiller "VOXCEL"
Heat Source Control System
MHIPT (Notes 5)
Injection Molding Machine
MHIEC (Notes 6)
Co-firing Biomass with Coal
ICT Solution Headquarters
01

MHPS: Mitsubishi Hitachi Power Systems

02

MHPS-CS: MHPS Control Systems

03

MVOW : MHI Vestas Offshore Wind A/S

04

PWPS : PW Power Systems

05

MHIPT: Mitsubishi Heavy Industries Plastic Technology

06

MHIEC: Mitsubishi Heavy Industries Environmental & Chemical Engineering