RENEWABLE ENERGY 2011 EXHIBITION (Dates [JST]: December 5 (Mon.) - 7 (Wed.), 2011)
RENEWABLE ENERGY 2011 EXHIBITION
December 5 - 7, 2011
Makuhari Messe
ORGANIZED BY: Japan Council for Renewable Energy
OUTLINE OF OUR PRESENTATION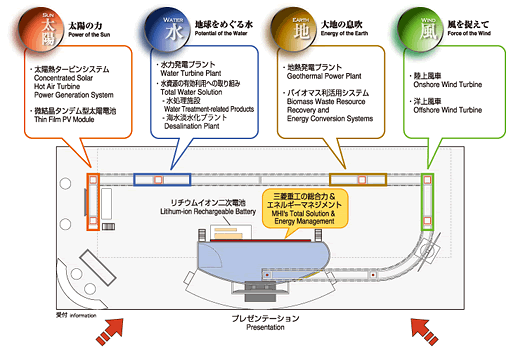 4 LARGE PANELS INTRODUCING TECHNOLOGIES FOR UTILIZING ALL NATURAL ENERGY RESOURCES
Force of the Wind
An introduction to the history of the development of wind turbines (starting with the first unit, employing helicopter blades, in 1980), the company's track record, and initiatives in offshore wind turbines.
Energy of the Earth
An introduction to the history of the development of geothermal power plants, the company's track record (delivery of 100 units worldwide since 1967), and current initiatives. Also includes an introduction to biomass systems.
The Potential of Water
An introduction to the history of hydroelectric power plants, dating to the first unit in 1916, and new initiatives in this field. Also including an introduction to Hitachi Mitsubishi Hydro Corporation and to MHI's comprehensive water treatment technologies.
Power of the Sun
An introduction to initiatives in the development of solar and solar thermal power stations.
MAIN PANEL
Our Technologies, Your Tomorrow
A broad introduction to MHI's comprehensive capabilities relating to all energies that will be required going forward - including both stable mainstay energies that support regional societies and renewable energies needing further expansion in the future - and to the company's ability to provide total solutions combining these various energies.
| | |
| --- | --- |
| DATE & TIME | December 5 (Mon.) - 7 (Wed.), 2011 10:00 a.m. - 5:00 p.m. |
| VENUE | Makuhari Messe |
| ORGANIZED BY | Japan Council for Renewable Energy |
| ADMISSION FEE | Free of charge |
EXHIBITOR
Mitsubishi Heavy Industries, Ltd.
---
EXHIBIT PRODUCTS
Energy Management
Lithium-Ion Battery
Water to Water Heat Pump
Force of the Wind
Energy of the Earth
Geothermal Power Plant
Biomass Waste Resource Recovery and Energy Conversion Systems
The Potential of Water
Water Turbine Plant
Water Treatment-related Products
Desalination Plant
Power of the Sun
Concentrated Solar Hot Air Turbine Power Generation System
Thin Film PV Module