Rapid, beautiful, economical! A newspaper offset press developed to lead the world.

A compact machine with a high production capacity of up to 160,000 copies per hour
Newspapers are published every day to serve their mission of sending out global news accurately and reliably. The newspaper offset press is a printing machine that continues to evolve better functions and performance levels to fulfill the newspaper mission. A conventional newspaper offset press nowadays is configured with a tower, a stack of printing units reaching the height of a 4-story building. The machine has tremendous power, printing out huge volumes of paper in short spans of time.
The development concept has varied with the times. High productivity was a main theme in the beginning of the 2000s. Later, from around 2010, "eco" and "compactness" became the main themes.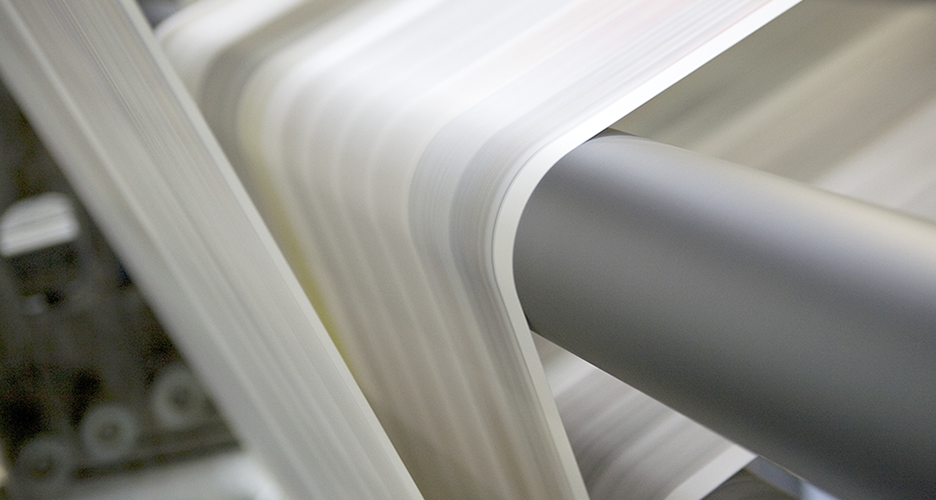 DIAMONDSPIRIT, released by Mitsubishi Heavy Industries Machinery Systems (MHI-MS) in 2009, achieved high productivity of 22 copies per second, 160,000 copies per hour, together with a compact design and drastically lower running costs.
With technologies enabling both lower running costs and higher printing quality, along with the new capability to print out two types of materials simultaneously, the innovative DIAMONDSPIRIT is lauded highly for anticipating industrial needs in advance. Newspaper companies across the country have selected DIAMONDSPIRIT for their organizations.
Folding machine that achieves high quality by repeating fine adjustments of only several microns in scale.
A growing number of newspaper companies have recently been scheduling some of their printing operations at night. Some, for example, print their own newspapers at night and print business papers and newspapers on an entrustment basis in the day. Newspaper advertisements and materials printed on an entrustment basis require especially beautiful finishes.
The print quality achieved by a newspaper offset press is determined by two parts of the system: the printing unit itself and the folding machine that stacks and folds the printed paper.
DIAMONDSPIRIT adopts a high-performance folding machine that folds multiple pages neatly without smudges, wrinkles, or deviations.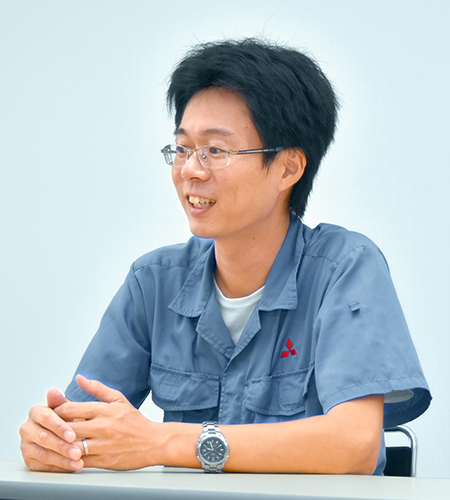 D.O, the engineer in charge of the machinery design, innovated a compact, high-performance folding machine and modified other important parts of the press.
Mechanism of a folding machine
Step1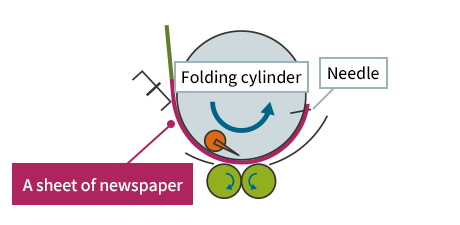 Needles pull a stacked paper bundle and wind it around a cylindrical device called a folding cylinder.
Step2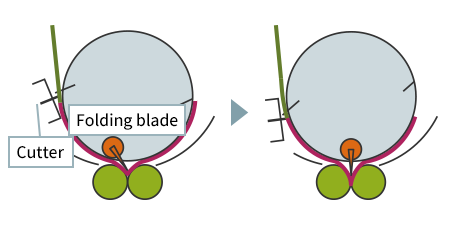 A device called a folding blade deploys out from the folding cylinder to catch the centerline of the paper.
At the same time, the cutter cuts the newspaper into separate sheets, one by one.
Step3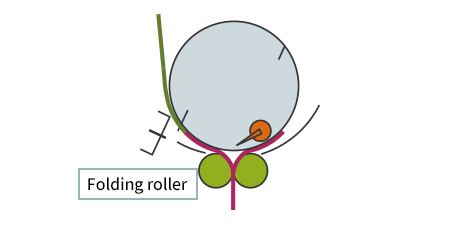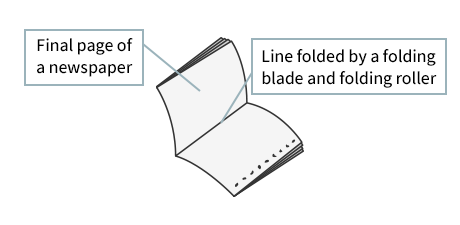 The paper is folded by rotating folding rollers while it is being sent out.
A neatly folded newspaper is completed through these steps.
The folding machine goes through the above process more than 20 times per second with the paper bundle stacked about 20 sheets high. These levels of performance enable the machine to handle more difficult operations when running at higher speeds.
The machine components must move with high accuracy and sensitivity during high-speed operation, even when the devices and paper are subjected to centrifugal forces about 100 times greater than the dead-weight of the machine itself.
This led to printing errors in the small folding machines initially developed. When the machines were operated at high speed, patterns of certain types were sometimes transferred to the opposite pages. He figured out the root cause: "The centrifugal force deflected the folding blade, causing it to press the paper onto the folding roller."
The high-precision folding blade is the core component of a folding machine.
We determined through a simulated calculation that the blade deviated from the assumed position by a very slight margin of 0.1 mm due to flexure deformation of the gear that drives the blade.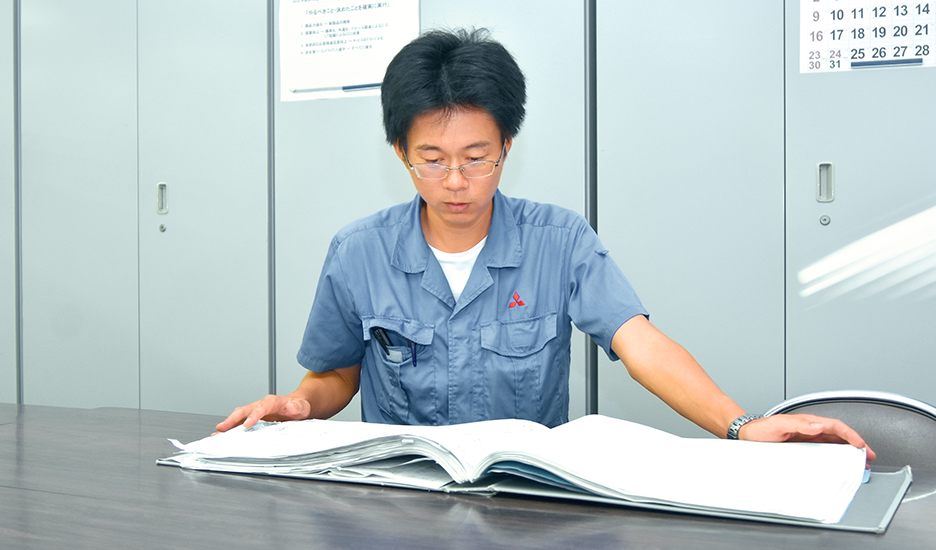 To decrease the deflection, the number of installation points for the bearings used to support the rotating shaft of the folding blade at both ends was increased from one to two. And by considering parameters in the actual operation environment, such as the component accuracy and heating, and by repeating inhouse tests several times, we calculated micron-level adjustments for the supporting points and bearing clearance.
These modifications, together with the adoption of many other technologies and innovations, greatly improved the reliability of the folding machine and eliminated all instances of transfer staining. Better still, the enhanced rotational accuracy ensures that the paper is folded more neatly and adjustments are more easily achieved.
"Though confident in the machine from my own first-hand experience in-house, it still felt great to hear high praise from customers in the factory."
New Cast Mechanism to improve productivity in printing
As mentioned at the beginning, DIAMONDSPIRIT can drastically reduce running costs. The biggest cost savings came from a 50% reduction in the size of the printing plate (the thin aluminum plate used to transfer printing patterns).
We developed our own technology to halve the diameter of the plate cylinder used to wind the printing plate. This allowed us to halve the size of the printing plate itself. Before, a printing plate for two pages was used for a single page. Now a printing plate for a single page gets the job done.
The downsized printing plate is also much easier to install than a conventional printing plate, which requires manual installation by two people with the line completely stopped.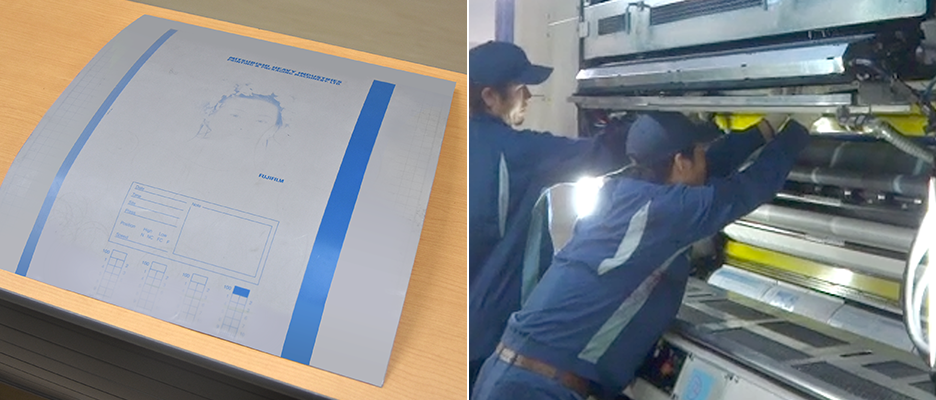 One person has pressed the plate while the other has unlocked it with a manual lever to install the printing plate in the past.
A faster, simpler procedure for manual printing plate replacement adds more additional value by improving productivity and economy.
D.O started developing remote clamping unit (simplified replacement unit) to achieve this. With a manual lever-type clamp that can be unlocked by the press of a button, a single person can perform the procedure.
But there are still many hurdles to overcome to realize a system using this unit. The unit must be easy-to-operate. It also must be durable to operate in an environment with strong vibrations and splashing ink.
A new operation panel installed inside the printing machine to enable operation by one person could potentially deteriorate or fail when infiltrated by ink or cleaning solvent.
To prevent such an outcome, we found a material with excellent solvent resistance. Then we repeated a series of trial manufacturing and element tests, and developed a sealing structure exclusively for the operation panel.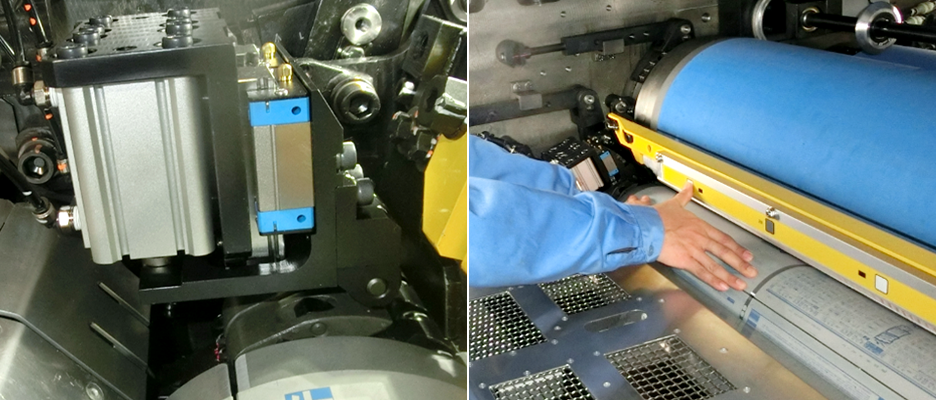 "Apart from the structure, we ran into a host of other unexpected issues to consider. We had to design a control system that could withstand unexpected operations, for example, and to write up an instruction manual for dealing with unlikely failures. I had a very hard time."
With help from customers and other parties involved with the product, we finally developed an autoclamp unit that could be replaced in 30 to 40% less time compared to the conventional unit at the factory where it was delivered.
The barrier between the initial idea and productization is a steep one. How can it be overcome?
"When first assigned to this department, I thought of the newspaper offset press as a completed product, D.O explained."
But DIAMONDSPIRIT has evolved through a long series of innovations since its release in 2009. Today's unit prints out more beautiful page spaces, handles a more diverse range of printing materials and printed products, automates more functions, and costs less to run.
Ten years have passed since DIAMONDSPIRIT was born. The machine continues to improve in many ways, with guidance from the clues gleaned from customer requests and feedback. The quality is enhanced day by day, drawing ever closer to perfection.
"There are many hurdles to casting ideas into shape. Real outcomes are brought up from ideas. Apart from the information sharing inside the company, cooperation from outside manufacturers and customers can be of tremendous help."
He sometimes requests people involved from both outside and inside the Engineering Department to review his progress. At other times he consults on technical issues with the Research & Innovation Center, as needed.
"Accumulated technologies and new perspectives" can be used for manufacturing (monozukuri) beyond organizational barriers. This is an advantage of the Mitsubishi Heavy Industries Group (MHI Group) that continues to spur technical innovations.
Pass the "creation of culture" by media to the next generation
DIAMONDSPIRIT is always getting better.
Take the computerization of paper-based manuals as an example. "I am struggling to create a system where operators can absorb operation instructions easily and directly from video examples inside electronic instruction manuals."
The introduction of IoT, meanwhile, is also expanding. If product operation data can be obtained and analyzed in real-time, failure signs and component replacement periods can be gleaned with high precision and reliability. The improved operator awareness of these points will strongly support stable production line operations and reduce customer costs.
Efforts are also underway to develop products by reexamining and devising functions for developing countries.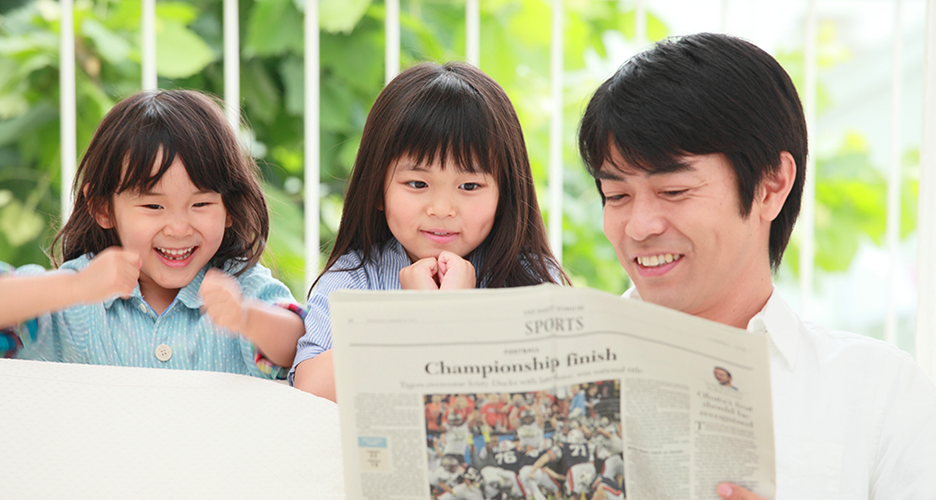 "In one ideal scenario, printed papers can be automatically produced with the push of a button without any preprinting preparations or maintenance. A simple press would be an ideal type," said D.O. "There is much more to improve before this can be achieved."
The commercial offset presses I am designing are used to produce catalogs and magazines. They are expected to produce more beautiful page spaces than newspaper print offset presses. They should also fold precisely enough for bookbinding, respond to various print formats, and work with various types of printing materials. The knowhow we gain from commercial offset presses can be applied in our work to develop newspaper offset presses.
The Printing Machinery Department engages in rational design work such as standardization and modular design, as well as business systems for designing and arranging large numbers of components. The department is endowed with a proper environment to develop higher-value added products.
"I believe that the newspapers, books, and magazines produced from our products play an important role even now, when digitalization has progressed. Materials printed on paper are edited more professionally and meet more excellent standards of quality. A more systematic approach is taken to arrange the information and improve its visibility, depth, and diversity. I have the pleasure and privilege of creating culture inside and outside the country with the printing machinery I develop."
Introducing the engineer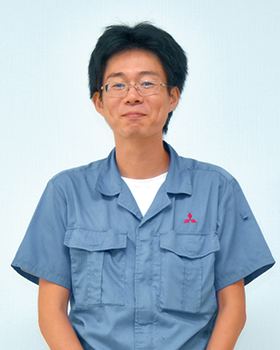 D.O
Web Offset Press Designing Section, Engineering Department
Printing & Packaging Machinery Headquarters
Joined the company in April 2006
Favorite book:
I purchase about 20 books a year to look for new information and ideas. Most of them are how-to's, but some are picture books for children. I enjoy "Body Worlds" and the picture books by Shinsuke Yoshitake.
PRODUCTS COVERED