Generate novel experiences in large-scale facilities that inspire and amaze people and awaken them to new possibilities.
Frontline "Moving Technology."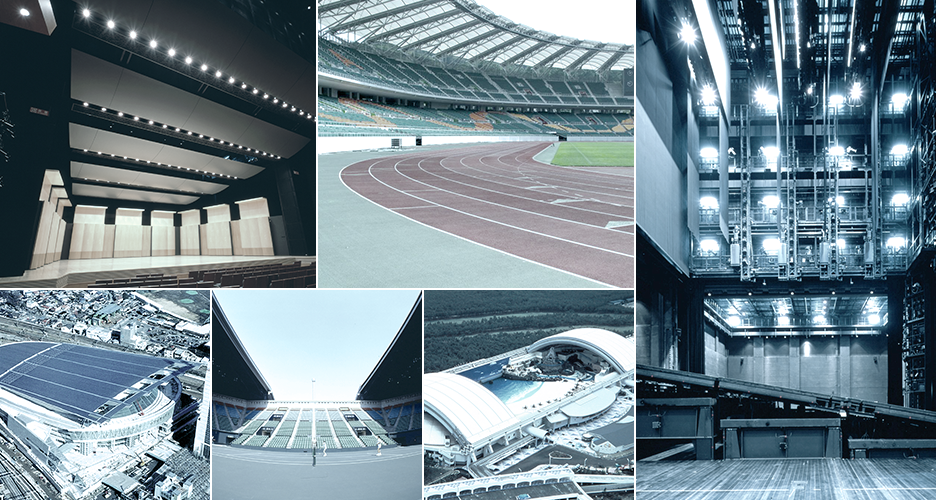 From retractable roof domes, pools, and leisure facilities to famous theaters.
People in Japan nowadays find values in "experience" rather than in "things." The places they choose to make memories or experiences are often cultural facilities such as stage theaters and movie theaters, large-scale sports facilities such as domes, stadiums and arenas, and leisure facilities such as theme parks. MHI-MS makes a diverse range of devices, structures, and mechanical systems used in places like these.
MHI-MS systems used in leisure facilities include the retractable roof of Fukuoka Yafuoku! Dome (seating capacity of about 52,500), the moving floor and retractable seats in Saitama Arena (a venue for performance events by the world's top artists), and the conversion floor of Yokohama International Swimming Pool (a well-known venue for various types of swimming competitions).
Year by year, we build up a history of wide-ranging achievements with various moving machinery systems, delivering them to places overseas like China and Singapore.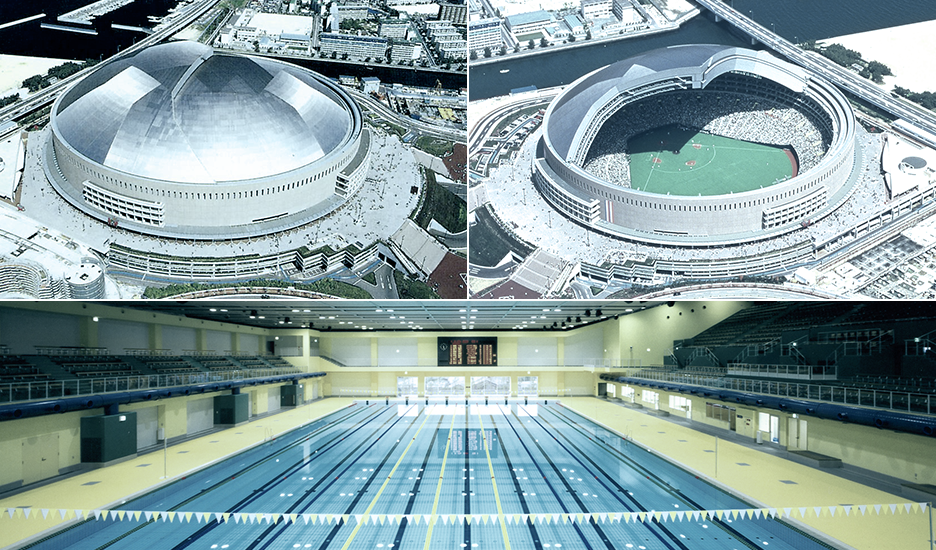 The MHI Group entered this product field 30 years ago. Group engineers in those days developed spectator seating structures for exhibitions and theater stage systems based on the know-how cultivated through steel structures such as multi-story parking systems, bridges, and penstocks.
In the years since, MHI-MS has developed diverse and innovative systems to create "moving large-scale facilities" with unique values.
A young innovator who has been fascinated with machinery from childhood.
M.W joined the company in 2016 to pursue her ambition to manufacture things useful for others. Today she is in the running to become a next-generation innovator.
She has been absorbed in machines since her early childhood years in Tokyo. Once when riding a roller coaster at an amusement park, she wondered how the ride was structured, and by whom: "Who on earth, I asked myself, created this amazing machine?"
She majored in biomedical engineering at graduate school. In those days, she spent all of her time enmeshed in micro-world technical research, researching and developing surgical robots for medical sites.
"As sort of a rebound from grad school, I took a strong interest in massive, large-scale machines after earning my degree. When I learned about the product fields at MHI-MS at an MHI Group joint orientation meeting, my heart leaped with hope. I wanted to make giant machines with my own hands."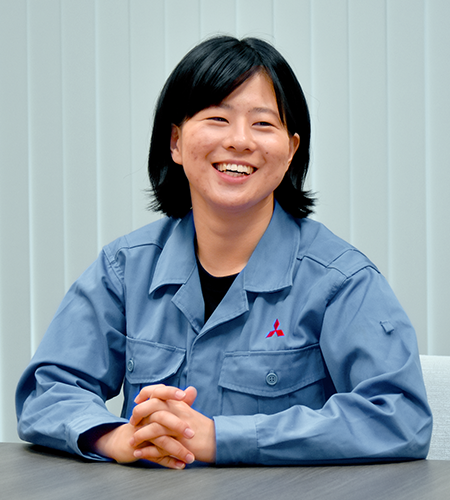 Among the various fields of business in MH-MS, she was attracted by the company's product lines for "Culture, Sports, and Leisure Facilities"–facilities that people visit and actually see. To join the business, she knew she would have to move from her home in Tokyo to the company's development base in Kobe. She also would have to go on frequent trips overseas to work on projects.
That didn't stop her: "It's the work that matters, not the place." Her passion for manufacturing outweighed everything else.
To breathe new life into a "Sacred Ground" for Tennis
After joining the company, she began to work on an R&D project to improve a safety system for an amusement facility. She worked intensively for two years to develop a system that was safer and easier to use for both children and adults without detracting from the pleasure of the attraction.
Later she took part in a project to update various large structures mainly for cultural and sports facilities. She often visited the sites, both before and during the construction. She gained rich experience of the value of manufacturing over that time.
Nowadays she is working on a project to update traveling bogies used to move the retractable roof of Ariake Coliseum, a well-known "Sacred Ground" for Tennis in Japan.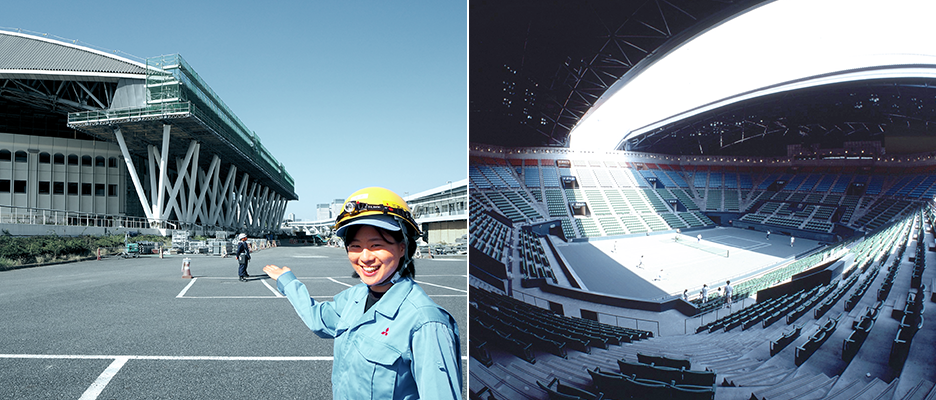 The retractable roof is an astoundingly huge machinery system spanning a length of about 100 mm and weighing several thousand tons.
Coincidentally, MHI-MS delivered the product in the Ariake Coliseum 22 years ago, in the same year she was born. It would be difficult to find a another structure that has so staunchly endured the changing seasons while continuously evolving with the adaptation of safer and smoother design technologies year by year.
Epoch-making products are based on MHI-MS's core technologies
In fact, M.W says, she repeats trial-and-error operations day-to-day.
"I ask senior colleagues to review the design drawings I prepare on a daily basis. I learn quite a lot from their feedback, gaining knowledge in efficient design methods and the operation of large structures with small power supplies. I find something to study every day."
Though they may look glamorous and elegantly simple from the outside, the products require technical expertise in mechanical engineering, structural dynamics, material mechanics, etc. in their development designs. Flexible inventiveness is also required to devise "optimal systems" that combine existing technologies and equipment.
A retractable roof relies on a base technology for ceiling cranes.
The clue to the innovation is not to create something from scratch, but to design rational and safe products that combine fundamental technologies with the core technologies in our company.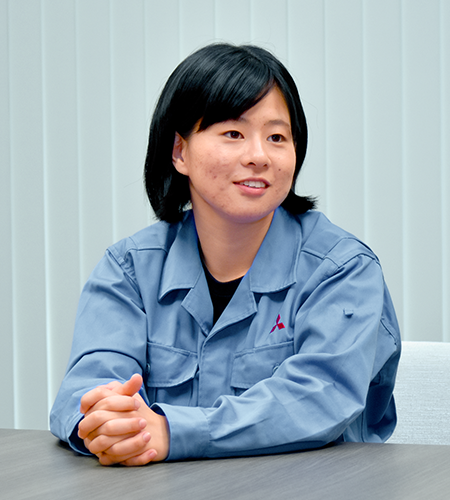 Shouting voices, intense sensations, and the tears people cry in sadness and joy are my greatest motivations.
The road to becoming a next-generation innovator has its ups and downs. A worthy challenge will always involve roadblocks and failures. But the lessons that come with the struggles build up, one by one. In time, they can be steadily applied in the field as valuable company knowledge (case studies).
A product that has stably operated for five or ten years, for example, may sometimes suddenly fail.
She says, "My senior colleagues look upon incidents like that as valuable case studies." "They share them with me in meticulous detail so that I can use their valuable lessons to prevent possible failures in the future."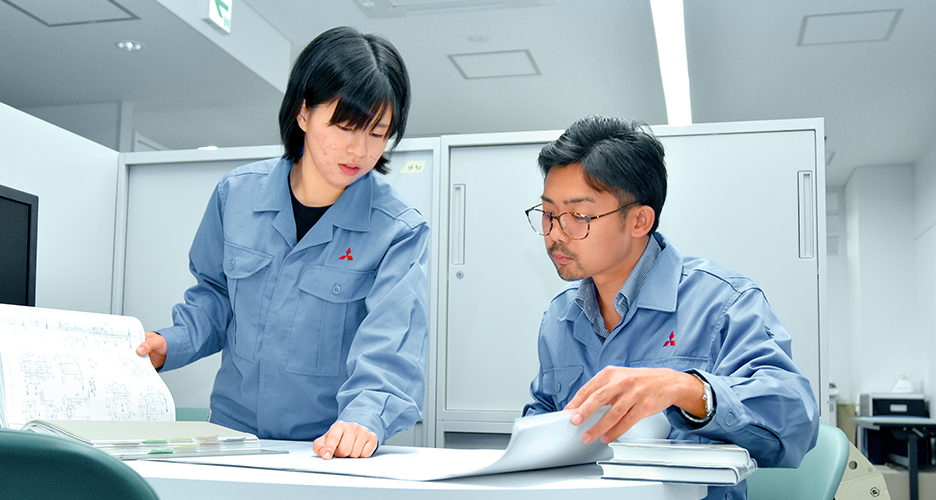 The fruits of our trials and errors always serve as "core knowledge" in our various facilities. This knowledge encourages engineers and motivates them to innovate.
The young innovator, she also feels the real joy of work.
"I want customers and their end users to enjoy the products I help to create. That has been my wish from even before my days at this company. When I see people cry out in excitement or gasp in amazement at a site I manage, I pump my fists into the air with a lifted heart."
Days spent brushing up knowledge and technology for a big project in the future
The Ariake Coliseum, a project she runs, is a sacred place in the world of sports where prominent tennis players fiercely compete. The coliseum sometimes draws international attention. She puts her heart and spirit into designing a safer and higher-quality facility where every player and spectator can enjoy the best experience.
As the 2020 Olympics approach, new sports facilities are likely to be born. A stage for dreams and passions adds color to the next era. Moving systems unlike anything before seen will have to be achieved.
Focusing on the core concept of "movement," we send out new products with features that move in unprecedented ways that people need.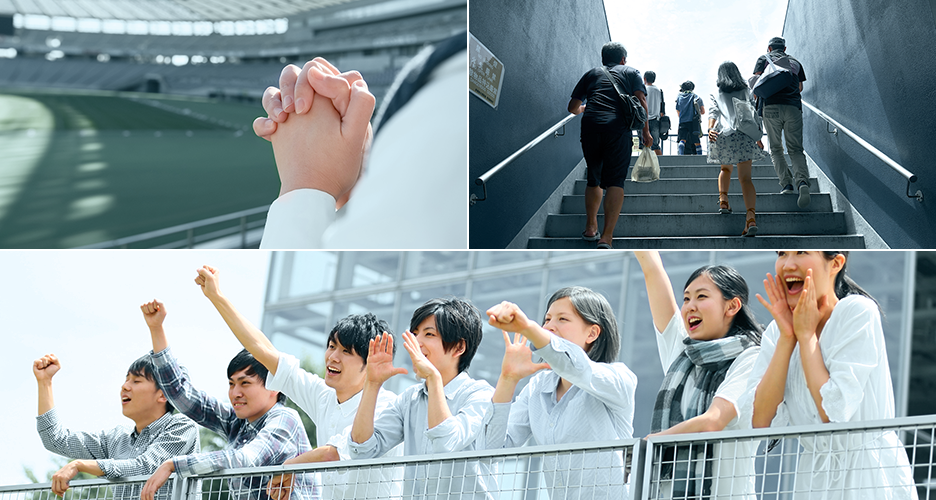 She passionately tells us, "I want to take on a big project like that someday."
"If I'm given a chance to work on such a project, my soaring expectations and the sheer pressure will thrill and confuse me. Now is the time to prepare for that challenge. I will absorb the knowledge and know-how of my senior colleagues and step up as an engineer."
MHI-MS has a corporate culture that allows engineers to participate in all processes of a project from planning and designing to on-site construction, final installation, and trial operation. Our engineers serve as lynchpins, not as cogs in the wheel. Our strength as an "engineering enterprise" is the satisfaction our engineers derive from their endeavors and the further development of their abilities.
Introducing the engineer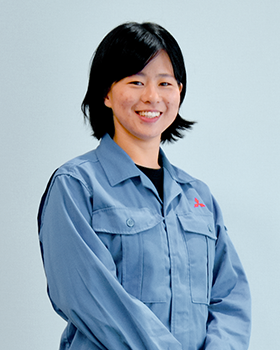 M.W
Special Facilities Designing Section
Infrastructure Facilities Business Division
Joined the company in 2016
Favorite book:
"Library War Series"
What she learned from her favorite book:
Encouraged by a heroine working on her favorite job in an environment with few female colleagues.