Intellectual Property Strategy
Basic Policy
Mitsubishi Heavy Industries Machinery Systems engages in intellectual property-related activities in unison with Mitsubishi Heavy Industries, thinking that intellectual property power is a source of corporate power.
The MHI Group Global Code of Conduct describes that intellectual property rights are one of MHI's greatest assets, and accordingly, MHI places great importance in the protection of our intellectual property rights. However, MHI also respects the intellectual property rights of third parties and seeks to avoid the unauthorized use of any third-party intellectual property in any MHI's products.
MHI-MS's basic policy is
to protect and utilize R&D achievements and company's own technologies globally as intellectual property, and
to respect intellectual property rights of others and treat them properly.
Intellectual Property Strategy
Mitsubishi Heavy Industries Machinery Systems sets out its intellectual property activities based on a business plan.
MHI-MS puts its business plan strategies in motion through close cooperation between its Business Department, Intellectual Property Department, and Research & Development Department.
The Company pursues three core intellectual property strategies :
Strengthen governance by intellectual property risk management.
Expand businesses and strengthen earning capacity using the intellectual property portfolio.
Use shared intellectual properties effectively throughout the MHI Group.
MHI-MS draws up and securely promotes intellectual property implementation plans under its intellectual property and R&D strategies.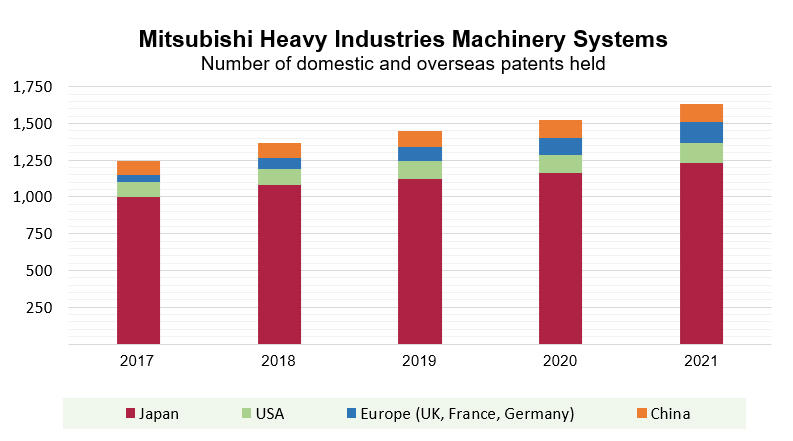 Respect for Intellectual Property Rights
MHI-MS endeavors to properly protect its intellect properties and use them in a positive manner while respecting the effective intellectual properties of others. In developing a business, we attempt to strengthen our own intellectual properties and work to pre-empt conflicts by fully investigating the intellectual properties of others in every phase of product R&D, basic planning, design, and manufacturing.
Intellectual Property Activity Organization
The Intellectual property activities of Mitsubishi Heavy Industries Machinery Systems are jointly promoted under the group intellectual property management of the MHI Intellectual Property Department. Intellectual Property Officer at MHI-MS coordinates and promotes collaboration with the Business Divisions in many of the IP-related activities performed.