We are sharing our excitement that the 24th ITS World Congress held in Montreal Canada has closed successfully with significant achievement.
During the 5 days conference from October 29, a team from Mitsubishi Heavy Industries Machinery Systems, Ltd. (Japan) and Mitsubishi Heavy Industries Asia Pacific (Singapore) has introduced its latest ITS Solutions including three papers presented at the sessions:
Download Technical Papers here
Along with offering our ITS solutions, the annual, congress is the place where public and private-sector exhibitors and attendees from all over the world gather for networking and showcasing its latest technologies.
Through the lively discussion among diverse ITS stakeholders we have learned a lot from each other and deepened our vision on future of Mobility.
We thank you for those who have joined the great event with us and we are looking forward to joining you again in the next ITS events.
Upcoming Events:
The 16th ITS ASIA Pacific Forum FUKUOKA 2018 from (May 8 to 10, 2018)
https://www.itsap-fukuoka.jp
The 25th World Congress Copenhagen 2018 (Sep 17 to 21, 2018)
http://itsworldcongress.com/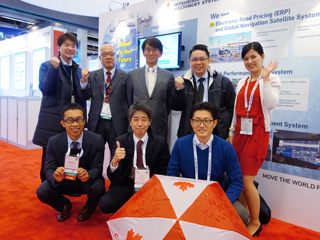 ---