MHI Compressor International Corporation awarded contract by world-class Gulf Coast ammonia facility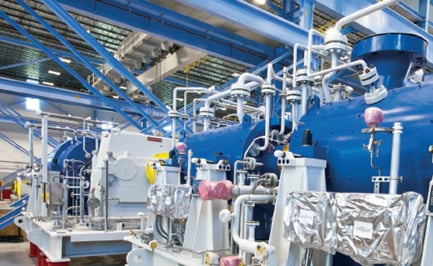 HOUSTON (August 20, 2020) – MHI Compressor International Corporation (MCO-I), a leader in the design and manufacture of compressors, drive turbines, gear boxes and their control systems, will supply the compression for Gulf Coast Ammonia's (GCA) new state-of-the-art ammonia production facility in Texas City, U.S.
The equipment will be purchased by Air Products, who will build and operate the facility in parallel with its largest ever U.S. investment. The equipment on order includes two compressor trains: (1) Syngas Compressor Train and (1) Ammonia Refrigerant Compressor Train. Together, the two trains consist of four compressors and supporting auxiliary systems.
The compressors will be jointly built and tested by MHI Compressor Corporation (MCO) at its factory in Hiroshima, Japan and at MCO-I's Houston facility. All trains are to be packaged at MCO-I.
The order further establishes MCO-I as a premier vendor for compression in ammonia applications. GCA's ammonia facility will produce approximately 3,600 metric tons per day of ammonia, which will make it the world's largest ammonia plant once fully operational.
Clayton Jurica, Sales Manager, MCO-I, said, "MCO-I has successful and wide-ranging history of experience in large capacity ammonia, which contributed to the success of this order. This demonstrable expertise, coupled with MCO-I's ideal location on the Texas Gulf Coast, approximately 40 miles from the future job site, made MCO-I the ideal candidate for the supply and long-term support of the equipment."
About MHI Compressor International Corporation (MCO-I)
Mitsubishi Heavy Industries Compressor International Corporation (MCO-I) was established in the United States in September 2012 as a group company of Mitsubishi Heavy Industries, Ltd. (MHI). Mitsubishi Heavy Industries Compressor Corporation (MCO), a wholly owned subsidiary of MHI in Hiroshima, Japan, holds a 70% stake with Mitsubishi Corporation (Americas) as a 30% joint venture partner. MCO-I is one of the world's largest manufacturers of process compressors and mechanical drive steam turbines. We are dedicated to providing advanced technology machinery and after-sales service to a variety of industries in the Americas.
About Air Products
Air Products (NYSE:APD) is a world-leading industrial gases company in operation for nearly 80 years. Focused on serving energy, environment and emerging markets, the Company provides essential industrial gases, related equipment and applications expertise to customers in dozens of industries, including refining, chemical, metals, electronics, manufacturing, and food and beverage.
Air Products is also the global leader in the supply of liquefied natural gas process technology and equipment. The Company develops, engineers, builds, owns and operates some of the world's largest industrial gas projects, including gasification projects that sustainably convert abundant natural resources into syngas for the production of high-value power, fuels and chemicals.
About Gulf Coast Ammonia (GCA)
GCA is a special purpose company formed for the development, financing, construction and commercial operations of the ammonia production plant and associated storage tank and marine loading facilities. GCA's operating partner is experienced with refrigerated gas terminals and logistics, and anhydrous ammonia in particular.
---