The natural gas which is produced underground contains carbon dioxide, hydrogen sulfide, and other impurities, as well as other substances such as sand. The gas is processed at a gas processing plant constructed at the wellhead in order to create clean gas, and is then either sent via pipeline or else liquefied at a LNG plant and transported to the locations of consumption.
The methods of processing natural gas include first using a separator to separate out water and sand, then using chemical solutions and other means to remove harmful components with CO2 gas and hydrogen sulfide removal equipment. Finally a refrigeration system removes the slight amounts of water vapor and oil contained in the gas, yielding natural gas in its product form.
Compressors delivered by MCO play key roles in this gas processing.
Gas processing compressors
Gas gathering compressors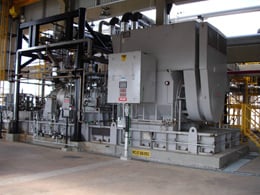 Sales gas compressor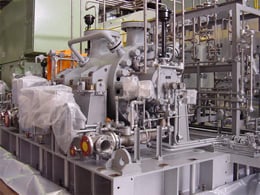 Propane (C3) refrigeration compressor