Super High Pressure Compressor
Super high pressure compressor proven to 700 bar using CO2
Concepts and Enhanced technologies
The MCO's super high pressure compressor has the improved efficiency, stability and operating range with compact body. The application is targeted for CO2 / Natural gas / N2 EOR, CCS, Oil & Gas plants and offshore equipment.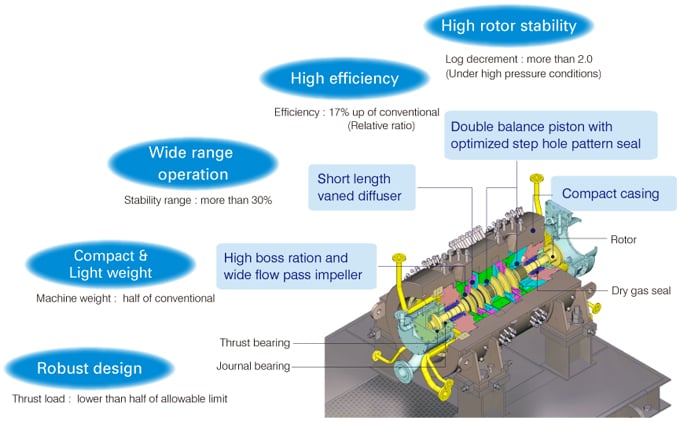 Technical Article
(Attention) Go to MHI Technical Review from each link.
Shop demonstration
The demonstration under actual conditions was conducted successfully in our Hiroshima shop in 2013. It confirmed this robust mechanical and aero performance, and consequently we received the first order of the 550 bar class compressors.
Process Conditions
(to optimize current operation conditions)
Test Gas
CO2, Natural gas, N2
Disch. Pressure
Up to 700 bar
(# 10,000)
Test speed
Up to 13,000 rpm (MCR)