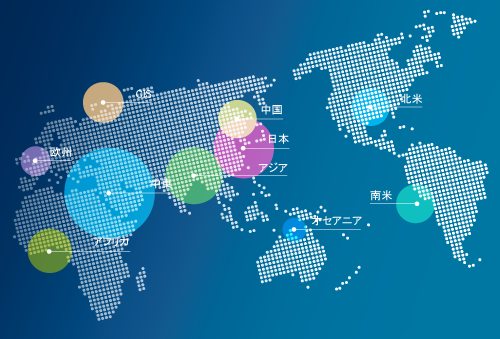 The Compressors and Turbines produced at Mitsubishi Heavy Industries Compressor Corporation (MCO) have been delivered and are operating at plants in 62 countries worldwide, at end users such as oil and gas companies, petrochemical companies, steelmaking companies, and industrial gas companies. MCO controls an approximate 25% share of the global market in the petrochemical and petroleum refining fields, and in particular we hold the global top share (approximately 50%) in the ethylene plant field.

Compressors and Turbines produced by MCO are primarily delivered to locations of oil and natural gas production in Middle Eastern countries, Russia, Central and South America, China, and Asian countries. This machinery is installed in a broad range of environments, from oil industrial complexes in the suburbs of major cities (such as Yokkaichi and Mizushima in Japan, and Houston, USA and Singapore overseas), petrochemical plants in the middle of the desert (such as in Saudi Arabia and Bahrain), offshore platforms and ships (such as in coastal waters off Niigata and Brazil), and pipeline stations in wide-open plains (such as in Russia and Bolivia).

As part of efforts to reduce greenhouse gases in recent years, we have also delivered ultra-high pressure gas compressors for use with EOR (Enhanced Oil Recovery), a process which recovers CO2 gas and injects it back into the earth.