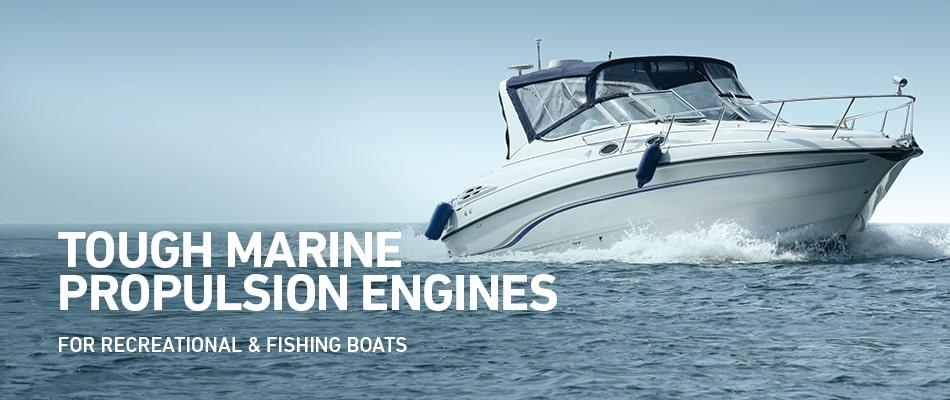 Whether it's land or water, you can always count on MVDE Diesel Engines to deliver peak performance for you. Our reliable marine diesel engines ensure that no ocean comes between you and your goals. 
Mitsubishi marine engines offer a wide range of power solutions for various marine applications. Each year,  we deliver thousands of marine diesel engines to Europe - one of the largest markets for recreational boats. 
Keeping in mind the rapidly growing fishing market in India, MVDE manufactures diesel boat engines ready to power their sail. Not just with fishing boats, MVDE high-speed diesel engines are compatible with Pleasure Craft Boats,  Passenger Boats, Ferry Boats, and Marine Diesel Generators.
Our marine diesel engine is one of the most fuel-efficient diesel engines available for Marine Diesel Generators. MVDE's marine diesel engines provide superior maneuvering and pulling power, as well as smooth sailing for endless progress.
Engine Model
MVL2E
MVL3E
MVS3L2
MVS4L2
MVS4L2-T
Type
4-Cycle Water-cooled Diesel Engine
Aspiration
Natural Aspirated
Turbocharged
Number of Cylinders
2
3
3
4
4
Bore and Stroke (mm)
76 X 70
78 X 92
Displacement (cc)
635
952
1318
1758
1758
Combustion system
Swirl Chamber
Rated output in kW
11.8
20
23.1
30.9
36.8
Rated Speed (rpm)
3600
3600
3000
3000
3000
All spec & ratings are subject to change without prior notice