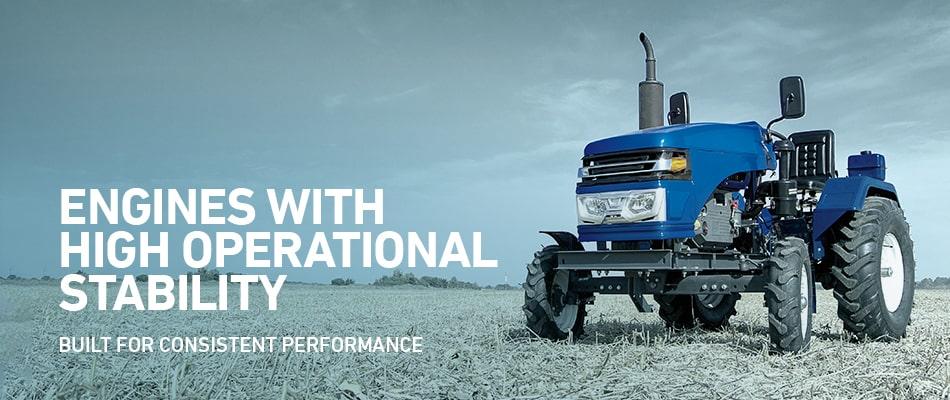 MVDE India manufactures a wide range of off-highway diesel engines for agricultural purposes. 
Globally, MVDE's diesel engines are trusted by numerous industry leaders. MVDE builds a multitude of diesel engines for agriculture ranging from 12hp to 50 hp. Our diesel engines are designed keeping in mind the growing demand for Small & Medium size tractors used in horticulture and precision farming, especially in India, the world's largest tractor market. 
MVDE's diesel engines are used in various agricultural machinery around the globe. Our diesel engines for tractors, mini harvesters, boom sprayers etc. are rugged, robust, and reliable, and are engineered to perform excellently when you most need it.
Engine Model
MVL3E
MVS3L2
Type
4-Cycle Water-Cooled Diesel Engine
Aspiration
Natural Aspirated
Number of Cylinders
3
3
Bore and Stroke (mm)
76 X 70
78 X 92
Displacement (cc)
952
1318
Combustion system
Swirl chamber
Rated output(Note) in kW
(HP)
13.4 (18)
15.3 (20.5)
16.3 (21.9)
17.8 (23.9)
18.4 (24.7)
16.4 (22.0)
19.6 (26.3)
19.9 (26.7)
21.3 (28.6)
22.3 (29.9)
Rated Speed (rpm)
2700
3000
2200
2400
2500
2600
2600
2700
2800
3000
Engine Model
MVS4L2
MVS4L2-T
Type
4-Cycle Water-Cooled Diesel Engine
Aspiration
Natural Aspirated
Turbocharged
Number of Cylinders
4
Bore and Stroke (mm)
78 X92
Displacement (cc)
1758
Combustion system
Swirl chamber
Rated output(Note) in kW
(HP)
21.7 (29)
23.7 (31.8)
26.5 (35.5)
27.5 (36.9)
30.3 (40.6)
34 (45.6)
36.8 (49.4)
Rated Speed (rpm)
2200
2400
2700
2800
3000
2800
3000
All ratings are without fan. Output may vary + or -5%
All spec & ratings are subject to change without prior notice