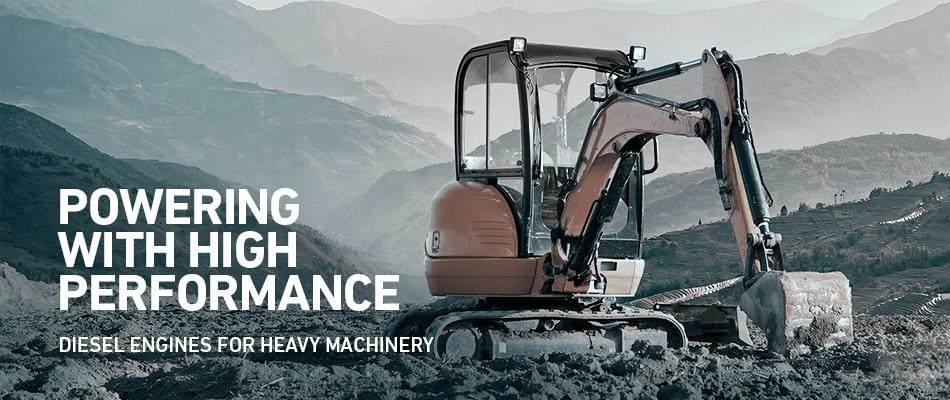 The spiralling development of construction and infrastructure around the globe, especially in developing nations like India, has given rise to the need for rugged & reliable diesel engines for construction equipment. 
MVDE's off-highway diesel engines are designed to meet the demands of your construction equipment by delivering more power at a compact size.
MVDE's construction diesel engines are engineered with state-of-art technology to boost durability and prolong service intervals. 
Our construction diesel engines are compatible with various construction machinery such as; concrete mixers, mini excavators, light towers etc.
Equipped with the power of cutting edge technology, our diesel engines for mini excavators ensure they're ready for tough jobs in rough environments. And, our reliable diesel engines for light towers ensure that work goes on in any condition. 
Our ability to power the progress of our industry peers makes us the most trusted name in the industry.
Engine Model
MVL3E
MVS3L2
Type
4-Cycle Water-Cooled Diesel Engine
Aspiration
Natural Aspirated
Number of Cylinders
3
3
Bore and Stroke (mm)
76X70
78 X 92
Displacement (cc)
952
1318
Combustion system
Swirl Chamber
Rated output(Note) in kW
(HP)
15.4 (20.7)
16.3 (21.9)
17.8 (23.9)
18.4 (24.7)
16.4 (22.0)
19.6 (26.3)
19.9 (26.7)
21.3 (28.6)
22.3 (29.9)
Rated Speed (rpm)
3000
2200
2400
2500
2600
2600
2700
2800
3000
Engine Model
MVS4L2
MVS4L2-T
Type
4-Cycle Water-Cooled Diesel Engine
Aspiration
Natural Aspirated
Turbocharged
Number of Cylinders
4
Bore and Stroke (mm)
78 X 92
Displacement (cc)
1758
Combustion system
Swirl Chamber
Rated output(Note) in kW
21.7 (29)
23.7 (31.8)
26.5 (35.5)
27.5 (36.9)
30.3 (40.6)
34 (45.6)
36.8 (49.4)
Rated Speed (rpm)
2200
2400
2700
2800
3000
2800
3000
All ratings are without fan
All spec & ratings are subject to change without prior notice