AIRCRAFT, DEFENSE & SPACE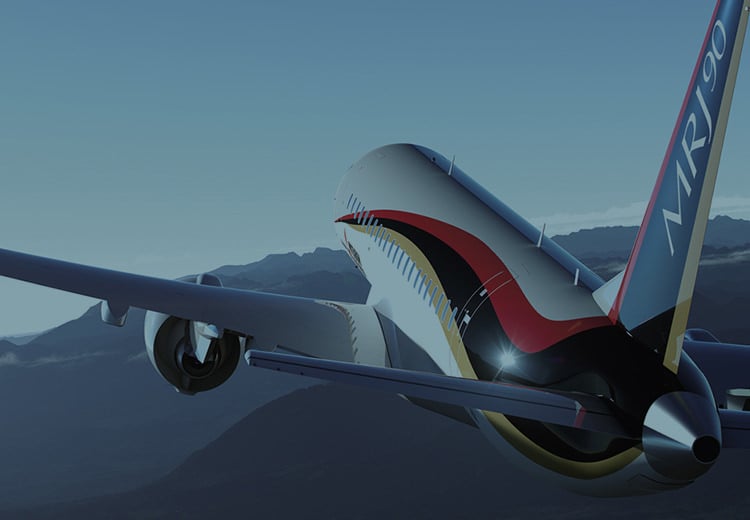 BUSINESS SEGMENT OVERVIEW
AIRCRAFT,
DEFENSE & SPACE
In the Aircraft, Defense & Space, we deal in structural parts, such as fuselage panels and main wings, for commercial aircraft, which are increasing their market presence as a means of transportation. In addition, we are currently promoting the development of MRJ. These 70–90-seater regional jets are more environmentally friendly and comfortable. Furthermore, we contribute to safe and secure livelihoods through initiatives such as developing defense equipment and launching space vehicles with payloads such as observation satellites.
Operating Environment and Addressing Social Issues
The number of operating aircraft is expected to double over the next 20 years as travel intensifies due to globalization. Demand for the development of more fuel-efficient aircraft has surfaced in response to emissions regulations regarding future environmental impact and fluctuations in oil prices. Due to these conditions, the commercial aircraft business is expected to expand.
On the other hand, as values diversify, world affairs are becoming increasingly complicated. In the defense and space fields, by the request of our main customer, the Japanese government, we are doing our part to achieve and maintain societies in which people can live safely and securely.
Net Sales by Core Business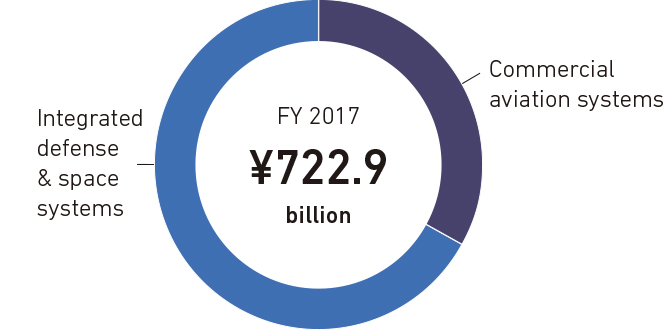 Operating Performance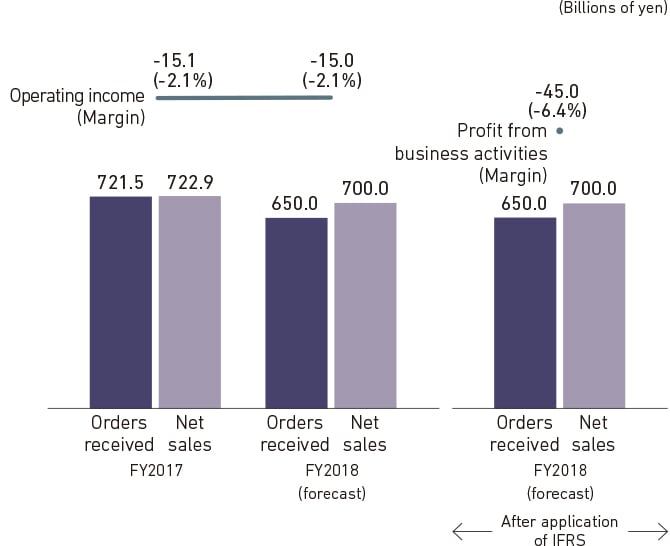 Strengths
Commercial Aviation Systems
Long-term customer relationships, a long history of expertise in manufacturing aircraft, and the creation of relationships with parts suppliers based on the foundation of a domestic aircraft industry

Design and manufacturing technologies for large composite main wing boxes and other structural components

Development of MRJ with high levels of efficiency, reliability, and superior operational economics
Integrated Defense & Space Systems
Leading-edge technologies fostered through the development of defense and space products

Defense

• Ability to make proposals for integrated defense systems, and expertise and channels cultivated through international joint collaboration

Space

• Development capabilities in launch vehicles and launch vehicles engines and world-leading levels of reliability
Weaknesses
Commercial Aviation Systems
High degree of reliance on specific customers

High sensitivity to foreign exchange fluctuations, as business is concentrated on overseas customers

Shortage of experience in commercial aircraft development
Integrated Defense & Space Systems
Defense

• Limited experience in pursuing and leading overseas opportunities

Space

• Inadequate cost competitiveness in global markets
Opportunities
Commercial Aviation Systems
Demand for approximately 34,000 aircraft over the next 20 years

Demand for about 3,500 70–90-seater jet aircraft over the next 20 years
Integrated Defense & Space Systems
Defense

• Cabinet approval of the Three Principles on Transfer of Defense Equipment and Technology
• Accelerating development and procurement of new products in line with the formulation of Japan's Mid-Term Defense Program

Space

• Growing launch market in line with an expanding need for satellites, including the use of space in national security
Threats
Commercial Aviation Systems
Globalization of aircraft production (business being promoted separately in developed countries and emerging countries)

Industry reorganization due to integration and resulting intensification of competition
Integrated Defense & Space Systems
Defense

• Lower domestic budget for front-line combat equipment expenses due to increased overseas procurement

Space

• Concern regarding price-cutting by new U.S. companies entering the market for overseas launch services
The Value We Deliver
In the commercial aircraft business, we are responsible for manufacturing main wing boxes for the Boeing 787, which uses a composite material instead of aluminum alloy. The composite material helps reduce airframe weight and improve fuel efficiency. We are also applying technologies such as cutting-edge fluid analysis in our development of MRJ airframes.
In the defense and space business, we are utilizing the most advanced technologies to offer products and services that contribute to the safety and security of society. For example, our H-IIA launch vehicle, which handles the launch of payloads such as observation and communication satellites, boasts a world-leading success rate of 97.4% (as of June 30, 2018). This success provides evidence of the high quality of the products and services that we offer.
We also use the cutting-edge technologies we have cultivated through this field in various other fields, applying them in product materials, structures, and control. With these diverse technological applications, we are able to demonstrate our strengths, even in fields where competing companies struggle.
We will continue to engage in activities aimed at preserving a society in which people can live more safely and securely while making full use of these sophisticated technology development capabilities.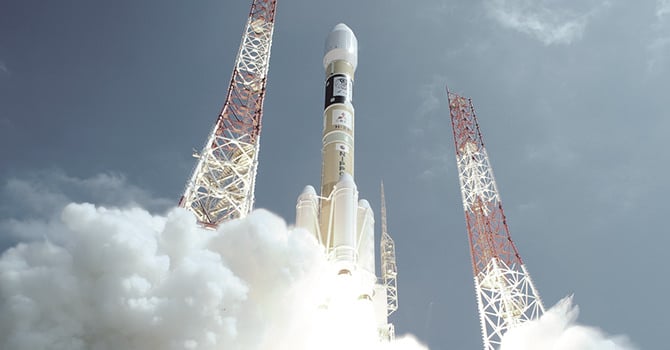 2018 Medium-Term Business Plan: Growth Strategies
In the commercial aircraft business, we continue to proceed with business structure reforms and work to improve productivity through measures such as introducing automated equipment. The Company is aiming to deliver its first MRJ to customers by mid-2020. This product, which is currently under development, is receiving high praise from the market and is expected to become a large pillar for the future of the Company.
Furthermore, we will strengthen the collaborative relationship between our MRJ and Tier 1 businesses and aim to advance into new lines of business, such as airplane operation support and high value-added fields, which include airframe accessories.
In the defense and space business, we are planning to expand into new business fields, such as command and control and unmanned aerial, ground, and maritime systems, while continuing to conduct stable business operations by offering world-class products. At the same time, we will utilize the technologies we have cultivated over the years to expand our overseas business and our existing fields such as MRO(NOTE). In addition, we will promote expansion into advanced security consumer products.
(NOTE) MRO: Maintenance, Repair, and Overhaul
Measures Aimed at Achieving Goals in the 2018 Medium-Term Business Plan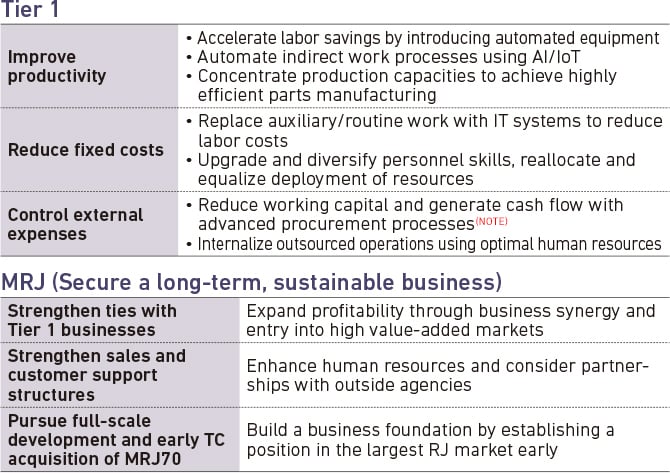 (NOTE) Introduce systems for acquisition of specialist skills, including information systems such as AI/IoT/RPA, production processes, procurement operations, CAD/NC programs, etc.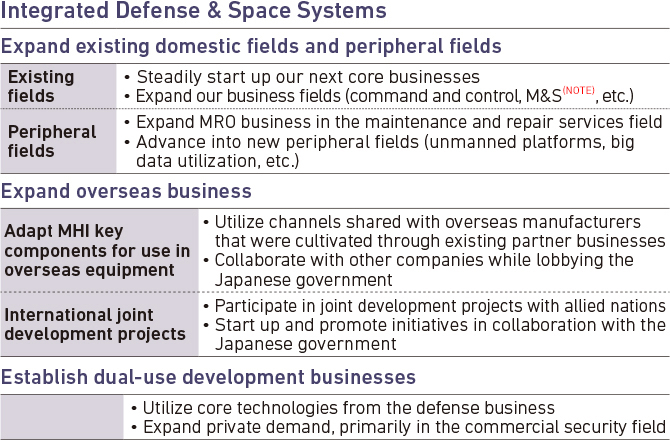 (NOTE) M&S: Modeling and simulation
Breakdown of Sales Plan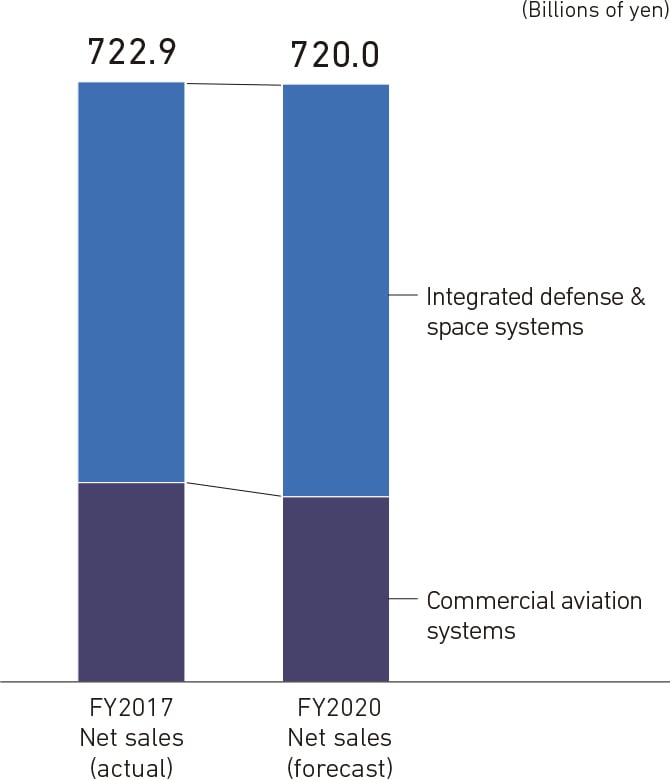 Activities Focused on the 2018 Medium-Term Business Plan and Beyond

As a Member of the Local Community
MHI continually operates its special science classroom, the Tanegashima Space School, in Tanegashima, Kagoshima. This school supports the dreams of children who will lead the next generation by offering tours of launch vehicle production facilities and opportunities to view launches. In this classroom, our engineers provide education regarding aerospace science and technologies and conduct mock launches using plastic bottle rockets that the children make. Through activities such as these, the Tanegashima Space School raises children's curiosity and interest regarding craftsmanship and develops human resources ready to spread their wings and soar into the future.