We have engineered this new state-of-the-art Flexo Folder Gluer (FFG) that is ready to drive value and productivity in your box plant. The innovative stop and start wheel feeder provides continuous feeding, ensuring 100% alignment and quality control. The MC-100 runs at 300 boxes per minute with an ease of operation and enhanced quality control as well as the reliability you have come to know with MHI's premier line of FFG's.
EVOL Technologies Applied
Stable Running at 300 B/M
1) Feeding unit (L.E.F): LEF wheel zigzag arrangement
2) Transfer conveyor: Transfer conveyor with one piece vacuum belt
3) Folding unit: Upper vacuum belt, inlet lower belt
4) Drive and PLC: Siemens applied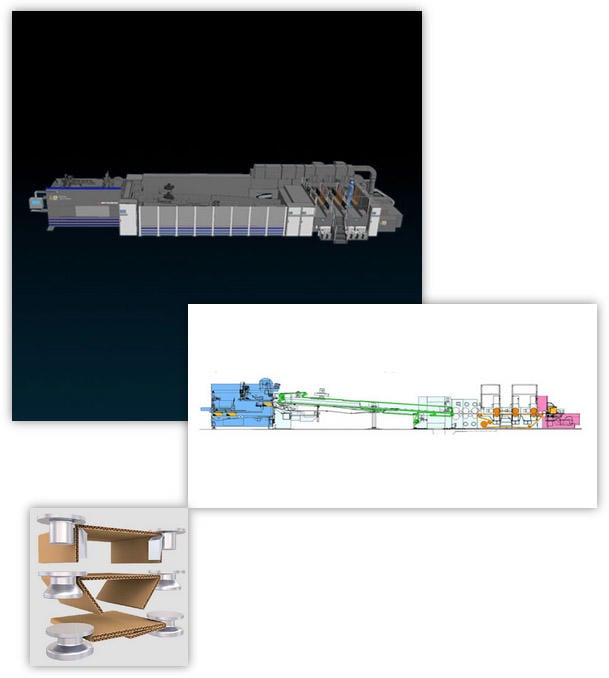 Features
3 colors, 2 and 4 color options available
Die cutting option available
Stable running at 300 B/M
Feeding Unit - LEF wheel zigzag arrangement
Transfer Conveyor - One piece vacuum belt
Folding Unit - Upper vacuum belt, inlet lower belt
Counter ejector - One stage counter ejector
Drive and PLC - Siemens applied
Benefits
2-3 operators
Space Saving
High quality and minimum waste
Speed of 300 boxes/minute
Easy operation and maintenance
Production flexibility
Minimized order change
Possible die change during operation
Accuracy: feeding - 1.0mm (0.04"), printing - .5mm (0.02"), folding - 3.0mm (0.12")
Specifications
MC-100 Specifications
Maximum Machine Speed
BPM
300
Skip Feed
150
Maximum Untrimmed Sheet
mm
950 [1220] x 2555
inch
37.4 [48] x 100.6
Minimum Untrimmed Sheet
mm
350 x 630
inch
9.8 x 24.80
Maximum Printing Area
mm
960 x 2370
inch
37.8 x 93.3
Maximum Die Cut Area
mm
960 x 2370
inch
38.6 x 84.6
Dimensions
MC-100 Dimensions
Min
Max
A
mm
150
955
inch
5.91
37.6
B
mm
90
785
inch
3.54
30.91
AB
mm
300
1250
inch
11.81
49.21
C
mm
60
498
inch
2.36
19.61
D
mm
280
inch
11.02
For brochures or more information about equipment, service offerings or parts, please email [email protected].